Damson Idris Is Your Favorite Celebrity's Favorite Celebrity
The Snowfall and Swarm star sure looks like Hollywood's next leading man.
Written by Ira Madison III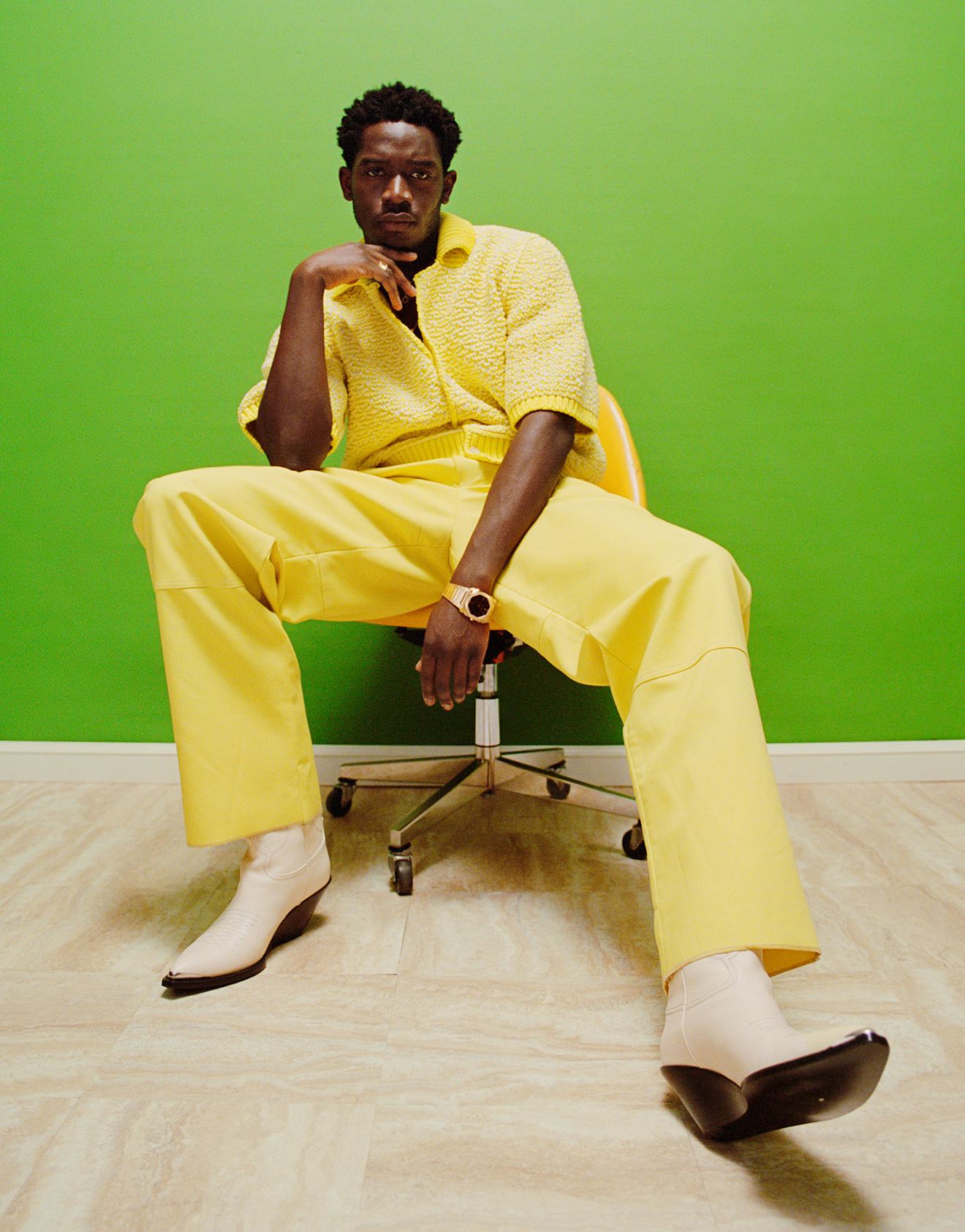 If you've run into Damson Idris while he's visiting New York, it's probably been at Miss Lily's. "It's my thing," Idris says of the popular Caribbean restaurant in the East Village. It was the first place the British-born Nigerian actor ate during his first trip to New York in 2017 for the press tour for Season 1 of FX's Snowfall. "So, every time I come here, it's like I have to visit Miss Lily's," he says. "I get the oxtail, of course; I get jerk chicken too, rice and peas, plantains, and Lily's Rum Punch." (He's got great taste: The Lily's Punch, a specialty, has Wray & Nephew white rum, mixed with pineapple, orange, and cranberry is absolutely one of the best things on the menu.) Though Idris admits that, after six years starring in the critically acclaimed series (the sixth and final season is currently airing), the ritual has changed in some ways.
"I'm used to going Miss Lily's and just chilling. Now it's like, 'Oh, my God, Damson Idris, can I get a picture?' I got half an oxtail in my mouth. I'm like, 'Yeah, sure.' But yeah, I'll still go back there, man, because I really love their food."
It's apparent with one glance that Damson Idris is a star. I've dipped into Bustle's offices where he's in the midst of a photo shoot, gamely trying on look after look. The camera loves him. Only a few years ago, if you uttered Damson Idris' name, someone might respond with "Who?" But now, with the success of Snowfall, a viral role in Donald Glover's Swarm, and a new relationship with model Lori Harvey, he's a full-blown celebrity. If not yet a household name, Idris is certainly one of your favorite celebrity's favorite celebrities. Fans of Idris' turn as burgeoning crack dealer Franklin Saint on Snowfall include Snoop Dogg, Mary J. Blige, and Jay-Z and Beyoncé… you know, just to name a few people you might have heard of.
"Recently was Jonah Hill," Idris says. "He reached out to my team and he was like, 'Yo, this guy is my favorite actor.' And I was like, 'Oh.' I was like, 'Jonah Hill, that was cool.'"
anOnlyChild shirt, pants, and belt, Wales Bonner top (worn under), Fendi hat, Bernard James necklaces and bracelet, Rolex watch, On right hand: Bulgari ring, On left hand: Khiry ring, G.H. Bass shoes
Before Snowfall, Idris was a London drama major with a handful of British television credits to his name, and the way he booked the part of Franklin Saint is already legendary. The late showrunner and director John Singleton dropped Idris off in Compton and told him he'd have the part if he could survive. Compton today isn't the Compton of the series, which is set during the crack epidemic, and far from the South Central that inspired Singleton's Boyz in the Hood, so believe it or not he did survive (because Reagan is not president and it is not 1982). Since then, Idris has been able to learn from the acting veterans on Snowfall, like Michael Hyatt, who plays his mother, Cissy. "If she's having a scene with you and she's being mean to you in the scene or she's not talking with you, then Michael's not talking to Damson that day."
"Once the dust settles, and we look back 10, 20 years, you'll see who the top dogs were."
Damson says he used to be too shy to stand in his confidence as an actor and was hesitant to, say, decline to chat about his weekend minutes before an important shot. But now, he's only interested in servicing the scenes. "As long as it isn't hurting anyone, then I'm fine. I hear so much about Jeremy Strong," he says. (The actor, who plays Kendall Roy on Succession, has become infamous for his method acting.) "He gets so much smack. So I guess there's a line. But I'm still young in the game; I'm still learning. I'm a student of the craft and the process. And one thing I've learned, especially when you're No. 1 on a call sheet, that stuff matters. If you're in a corner looking at the wall and it's an intense scene, everyone from the top down is going to take that energy."
He says he's rubbed off on Isaiah John, who plays his best friend on the series, Leon Simmons. "He might come in all jokey and laughing, and he is like, 'Oh, D's in his zone right now, let me get in a zone too.' And then it makes the scene even better. And then after, we could link up, go grab some drinks and laugh."
Snowfall is often compared to The Wire, another sprawling, gritty crime drama. But whereas The Wire was constantly touted as one of the best things on TV, Snowfall, despite being FX's most-watched series of 2021, remains more of a sleeper hit. And, granted, The Wire didn't win any of the writing Emmys it was nominated for, but Snowfall has been largely ignored by major TV awards. Idris says, "I just think there's a lot of content today, and people constantly need to be entertained. The Wire had a bunch of scenes and episodes where two people or three or four could just be talking and nothing happens. And everyone walks away like, 'Oh, my gosh, that was the greatest episode in the world.' But in today's TV climate, if someone isn't getting their head shot in the first three minutes, all of a sudden it's the worst episode in the world. And it's boring."
He mentions a "beautiful" episode this season that took place in Ghana, which he says was a hit with viewers "who really know about cinema and TV and storytelling." "But the people who are used to jumping from 55 TV shows in one day are like, 'Ah, they're in Ghana,'" he continues. "'Ah, I'll get back to it when they're selling crack.'" Part of the reason The Wire tops TV critics' best-of lists every time one drops is that it's being judged from a distance, as a complete body of work, and Idris is confident about Snowfall's legacy. "Once the dust settles, and we look [back] 10, 20 years, and we're still on these streaming platforms ... [unlike] some of these other shows, which unfortunately will go away, you'll see who the top dogs were."
Speaking of The Wire, Idris' ascent calls to mind the other famous Idris, Idris Elba, who left the United Kingdom for success playing kingpin Stringer Bell. The parallels don't stop there: After years of speculation that Elba would replace Daniel Craig as James Bond, those rumors now have settled on Damson Idris. "Honestly, I credit [Bond rumors] to Idris Elba probably. It's my last name. So I got to give him those flowers. 'Oh, let's get baby Idris if we can't get big Idris,'" he says. "But I think people are just really encouraged by strong Black male leads. And it's almost a compliment and a rite of passage really to be held to the esteem of some of these characters. 'Oh, man, you are tall, Black, handsome, and people gravitate to you, you should play James Bond, you should play Black Panther, you should play this, you should play that.'"
Idris is well aware that, whoever is picked, the public probably won't be happy, at least at first. "It's also a common consensus for you to hate Bond as soon as he's cast. So that's something that everyone's prepared for too. Daniel Craig was absolutely annihilated. I think the headlines read 'Is the world ready for the first blond Bond?' So imagine if he's Black. So anyone who plays that part is prepared for that. But I always say, you keep quiet and let the work do the talking."
Phipps sweater, Theophilio pants, Khiry necklace, Khiry ring, Bulgari ring
As if Idris' acting weren't enough to make him a Hollywood leading man, there is also his relationship with Harvey, a social media powerhouse and the daughter of the iconic host and producer Steve Harvey. Idris and Harvey went viral after going Instagram official on Harvey's birthday in January, and have been photographed outside paparazzi haunts like Giorgio Baldi as well as at the recent Snowfall premiere. But Idris is tight-lipped about their romance. "I can't talk about my girl; that's the only thing [I can't talk about]," he says. He's interested in protecting his peace, and Lori's, above all else. He says his family keeps him grounded by saying, essentially, keep your business private. "Anytime anything's come out in the press that might have been a bit negative, that might have stunned me, that I might not have predicted or calculated or been prepared for, I call my mother up."
As of late, Idris is also going viral again due to a racy scene opposite co-star Chloe Bailey in the new Amazon series Swarm from Donald Glover. The series, a dark satire about the dangers of stan culture, is not-so-loosely inspired by the Beyhive's relationship with Beyoncé. "Donald is someone who casts through essence," Idris says. "He was like, 'Oh, here's a guy who's a bit of a heartthrob, and how does that play into this character?'" Idris echoes some remarks his co-star Dominique Fishback recently made: "As much as it's a show about pop culture and following a Beyoncé-esque character, it's also a commentary on mental health and how we deal with that in the Black community. Donald forces particularly us to see ourselves in different ways. Ways that sometimes might annoy us, but at least it pushes us forward and it creates more space for different types of storytelling. We can't constantly be playing the same characters."
With that, Idris' team arrives to shuttle him to his next thing. The actor is on the tight, grueling schedule of a press tour, and I've been told he has a hard out. As he rises to leave, Idris reveals what the next engagement is that is so urgent. "I'm going to Miss Lily's now," he says, laughing. If you see him there, just let him finish his oxtail before you ask for a picture.
Top Image Credits: Zegna clothing, Bulgari jewelry and watch, Celine by Hedi Slimane boots
Photographs by Ackime Snow
Styling by Jan-Michael Quammie
Set Designer: Lizzy Okpo
Grooming: Cheryl Bergamy-Rosa
Talent Bookings: Special Projects
Photo Director: Alex Pollack
SVP Fashion: Tiffany Reid
SVP Creative: Karen Hibbert