Dan Levy & Catherine O'Hara Had A PFW Schitt's Creek Reunion Fit For The Roses
David and Moira Rose would undoubtedly approve.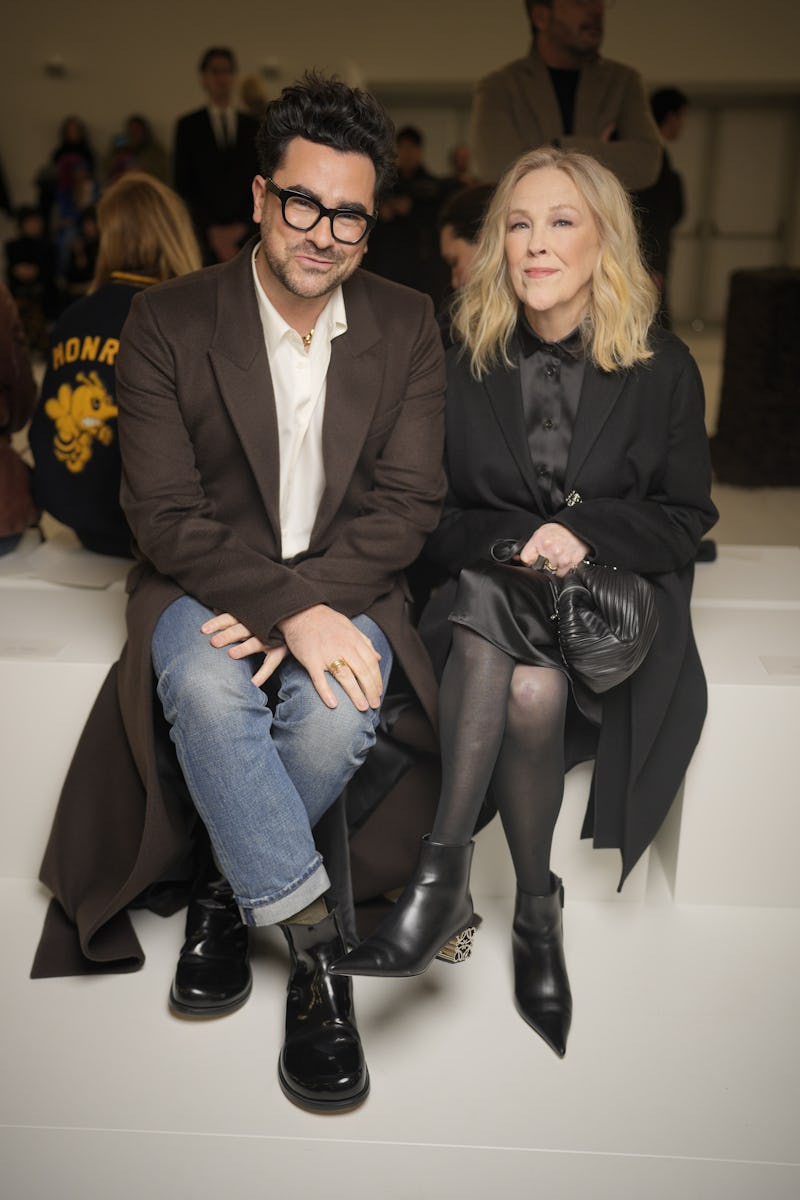 Swan Gallet/WWD/Getty Images
The Rose family hath risen again. Though Schitt's Creek had to end in 2020 after six wonderful seasons, the hit comedy's stars didn't say goodbye to each other for good. Just as we like to imagine their TV family would do post-finale, the cast still finds time to see each other, and in lavish locales to boot.
Most recently, Dan Levy and Catherine O'Hara, who starred as David and Moira Rose, reunited at the most apropos event: Paris Fashion Week. The onscreen mother-and-son duo took in the Loewe Fall 2023 women's runway show on Friday, March 3 at the imposing Château de Vincennes. There, they sat front row together, with O'Hara next to none other than Vogue icon Anna Wintour.
Levy was kind enough to give fans an up-close look at the Rose reunion. Both he and O'Hara were beaming at the camera in the selfie he posted on Instagram. His caption also showed how good it felt to be together again with a simple face-holding-back-tears emoji. For Schitt's Creek fans, the moment was just as sweet; numerous commenters shared how happy they were to see the "bébés." "David and Moira sitting front row at Loewe erases everything else at Paris Fashion Week," one person wrote.
At the Loewe show, Levy and O'Hara's outfits weren't quite as dramatic as what they wore on Schitt's Creek, but they both looked runway-ready nonetheless. Levy's brown overcoat went over particularly well with his followers; many let him know in the comments that he was giving Mr. Darcy from Pride and Prejudice. Meanwhile, O'Hara's all-black look was reminiscent of Moira, though not as edgy and without a wig.
Given how many outrageous ensembles David and Moira were known to wear, a joint Paris Fashion Week appearance seems on brand for the characters. Former teen model Alexis Rose would have fit in alongside them as well, but alas, actor Annie Murphy was nowhere in sight. Then again, maybe her character would be busy behind the scenes with work for Alexis Rose Communications.
Levy and O'Hara's reunion fueled fans' ongoing hopes of seeing the cast reprise their roles in the future. While numerous people commented that they'd like a Schitt's Creek movie or more seasons of the show, one suggested a "David and Moira in Paris" spinoff. The possibilities are rife, and the cast has been clear about their willingness to continue the Rose's story in the future.
"I would love to work with these people again," Levy told Variety in September 2020, explaining that they'd need the right idea after finding "such a nice way to say goodbye" to Schitt's Creek. More recently, his father and co-creator, Eugene Levy, told Radio Times that they've "never stopped thinking" about what could happen. Although he said "there's nothing in the works right now," he reiterated that they're open to "the right idea" presenting itself.
Until the potential Schitt's Creek revival becomes a reality, seeing its stars live lives even the Roses would aspire to is a pretty great option. That, and rewatching David and Moira's forever-hilarious "fold it in" scene, among others.