Good Luck To You, Daryl McCormack
The Leo Grande actor opens up about laying it all bare with Emma Thompson and life after Peaky Blinders.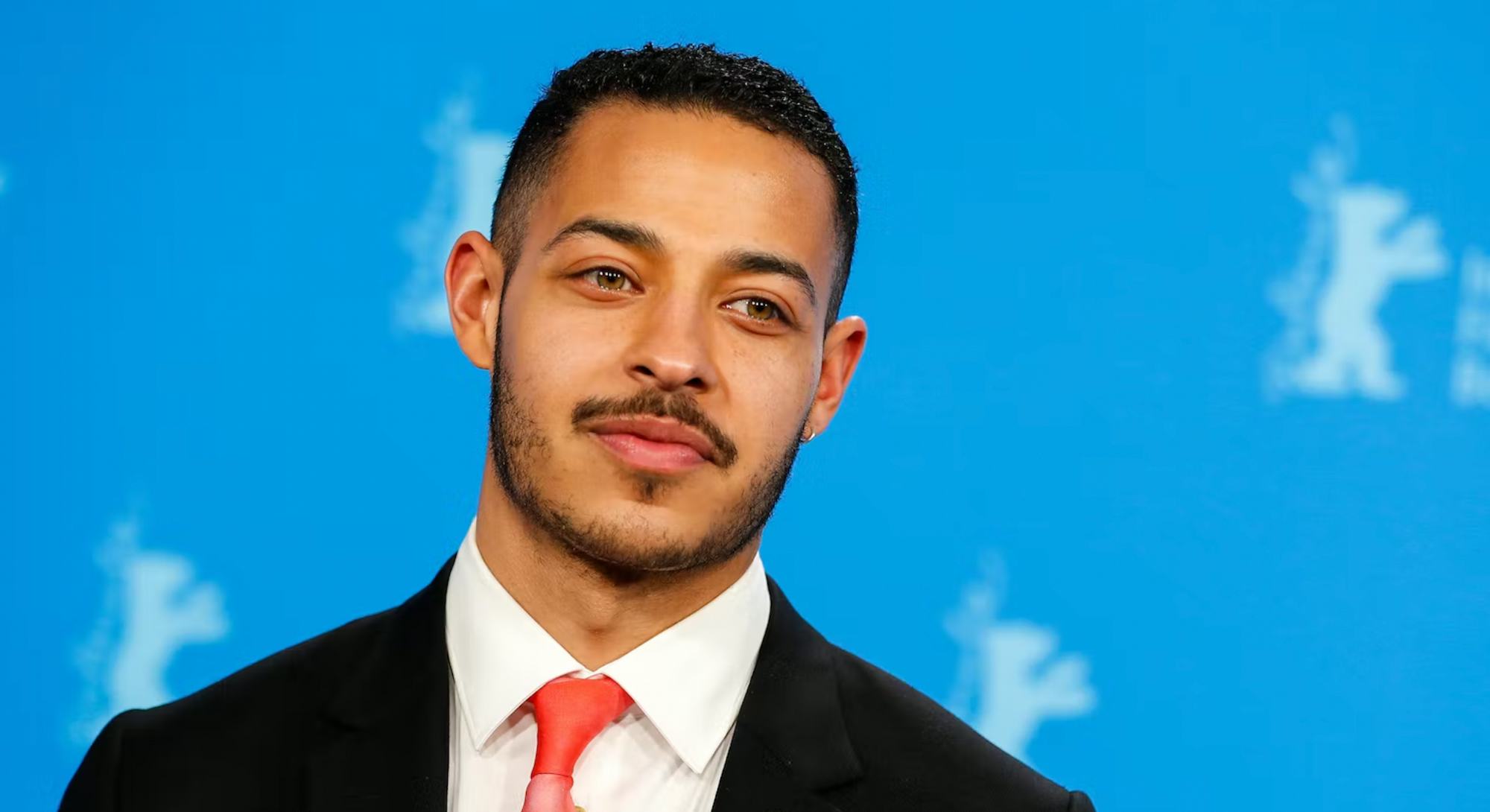 Getty Images/Picture Alliance
"I definitely felt the pressure in a major way," Daryl McCormack tells me, as he looks back on signing up to lead a film alongside Dame Emma Thompson. Good Luck To You, Leo Grande introduces us to 60-something widow Nancy Stokes (Thompson), who has never had an orgasm. Eager to change that, she makes the uncharacteristic decision to hire a male escort. Enter McCormack's Leo Grande. The majority of the action — physical and emotional — takes place in one hotel room, with just McCormack and Thompson hosting the audience. "The film really just falls on our two performances," the actor notes. "There's not many moving parts, so you do have to feel really anchored in who you are portraying. We felt very naked, open, and exposed."
This film undoubtedly marks a significant moment in McCormack's career. The Irish actor got his big break in 2015, when he landed a role in Ireland's popular soap drama Fair City, in which he portrayed Pierce Devlin. However, it was some four years later that McCormack, now 29, came to the forefront of UK audiences, when he took over the role of Isiah Jesus in BBC's slick gangster drama Peaky Blinders. McCormack replaced British actor Jordan Bolger, who had been in the role since Season 1. Although it was undoubtedly an impressive gig to land, and a life-changing one, at that, joining a cult-favourite show several seasons in came with challenges of its own. But we'll get to that later.
In Good Luck To You, Leo Grande, we see Nancy and Leo — and by extension, Thompson and McCormack — bare all as they share an intense encounter with one another, both opening up in ways they never have before. It's common for actors who share a lot of scenes together to do an on-camera chemistry test, so that the makers of the film are confident that the required spark is there. Bridgerton diamond Charithra Chandran met with Jonathan Bailey for a chemistry read prior to her securing the role. However, McCormack and Thompson's journey to the screen was a little different. In fact, McCormack's first "audition" with his future co-star was nothing like you'd expect.
"I auditioned on a Monday, went for a call-back the following day, and then I met Emma that weekend for a walk," he recalls. "It was actually really sweet. We just walked around a park and chatted." Commenting on the unique aspect of their first meet, McCormack notes: "For a film like this, you need to get a sense of the [other] person. You need to feel safe and that you can trust them." The day after their jaunt in the park, Thompson text McCormack with some exciting news: he was to play Leo Grande.
What came next was something of an education for McCormack, as he delved into research for his role, seeking out information about the sex work industry. As such, he went straight to the source and met with sex workers. "My main thing was to listen to them. I just wanted to hear their own experiences. But I had to remind myself that it isn't my job as an actor to represent sex workers as a whole," he explains. "It's such a vast and widely different experience for each person. I really wanted to take the essence of the people I was meeting and place them in Leo."
In recent years, it's become commonplace for TV and film sets to employ the services of an intimacy coordinator to help actors navigate potentially vulnerable on-camera moments. Gentleman Jack actors Suranne Jones and Lydia Leonard have both praised the efforts of the intimacy coordinator who worked alongside them on the BBC show. However, despite the vulnerable nature of Good Luck To You, Leo Grande, the film's lead duo — along with director Sophie Hyde — opted not to use an intimacy coordinator. Instead, they mapped out the scenes among themselves. "We felt like it was something we could do together, so we did," the actor remarks. "It feels that little bit more special because it's our own unique thing." Ahead of filming the nude and intimate encounters, McCormack and Thompson spent time choreographing the scenes, ensuring they both felt completely safe and comfortable with what was going to happen.
"It started with simple things. Just talking about our body: the things we like and don't like," says McCormack. "There's something about detaching judgment from yourself and just seeing the potential in your body and what it can offer you. That gives you access to step into the intimate nature of the film." Thanks to their rehearsal sessions, and the concerted effort the actors took in getting to know each other, when it came time to film the more personal scenes, they fully embraced the moment. "It didn't feel awkward, giddy, or anything like that. We enjoyed what we were doing and felt safe doing it. We were such a team," notes McCormack.
We have to get away from intimacy being something we should hide or be shameful about. Let's bring it to the surface and talk about it.
While there are several deep-thinking conversations throughout the film, there are also moments of light and laughter as both Nancy and Leo unlock something within themselves and each other. In one particular scene, in an effort to get Nancy to loosen up, Leo has her dance around the hotel room with him. Although she's initially out of her comfort zone, Nancy soon commits to the moment and allows herself to be truly free. In reality, McCormack and Thompson worked with a choreographer to nail down this liberating encounter. "Nancy isn't someone who would be out breakdancing in the club. She's not popping and locking," laughs McCormack. "The dance was about finding a happy medium, where Nancy can feel like she can participate, and where she can get out of her head and into her body." When McCormack and Thompson first heard the song chosen for the scene, "Always Alright" by Alabama Shakes, they knew they were onto a winner. "It got us naturally moving," the actor remembers, fondly.
In promoting this project, both McCormack and Thompson have partaken in unflinchingly open conversations about intimacy and sex. And it's something that McCormack hopes people will take away from the film. "Leo really taught me that intimacy is deeply intertwined in almost every facet of who we are as people," he notes. "We have to get away from intimacy being something we should hide or be shameful about. Let's bring it to the surface and talk about it."
McCormack's emotionally sensitive portrayal of Grande is in stark contrast to the character which people most commonly associate him with: Peaky Blinder Isiah Jesus.Looking back on the experience, McCormack notes: "It's quite daunting joining a show when it's built up and the people within it have formed their own friendships and connections." However, due to his strong respect and affinity for the drama, McCormack vowed to get stuck in and "not drop the ball." Both his co-stars and the audience at home welcomed him, and when it came to filming Season 6, the secondary cast member had more than found his stride. "I really felt I could embody the character as my own," he says. "It was an amazing show to be involved in. I'm sad that it's done, but I'm so grateful that I got to be a Peaky Blinder."
As for what's next for the actor, I speak to McCormack just days before he is due to jet off to Hamburg to film The Tutor, a thriller he's appearing in alongside acting heavyweight Richard E. Grant. The rising star tells me he's "excited" for the project to get underway. And with that, it's goodbye and good luck to Daryl McCormack.