Why Dear Child Is Unlikely To Return For A Potential Season 2
Netflix's dark, twisty thriller has a decisive ending.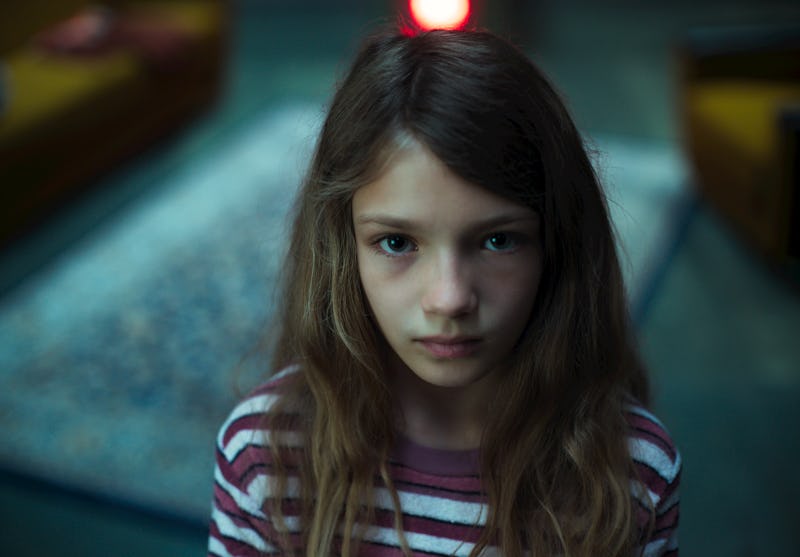 Naila Schuberth as Hannah on the set of 'Liebes Kind,' aka 'Dear Child,' via Netflix's press site
Based on the 2019 German novel by Romy Hausmann, Netflix's Dear Child begins where other traditional thrillers might end. Living isolated in a highly secured home with her two children, Lena (Kim Riedle) escapes her controlling captor — only to suffer a near-fatal accident shortly afterward. Believed to be a young woman who'd been missing for almost 13 years, Lena is hospitalized with her daughter, Hannah (Naila Schuberth), and the six-part psychological thriller's mystery quickly ramps up when the real Lena's parents arrive and discover the woman is not their daughter. Though the series eventually unravels the mystery, viewers may wonder if a potential Dear Child Season 2 might continue to follow the surviving characters.
For now, it seems that Dear Child (aka Liebes Kind) is unlikely to return, however. In addition to the fact Netflix billed the German-set drama as a limited series, the Isabel Kleefeld-penned adaptation covered the entirety of Hausmann's book and comes to a decisive conclusion — though the final scenes play out slightly differently than they did in the literary version. What's more, the author has not revealed any plans to write a sequel, though that doesn't necessarily rule out a continuation past the source material. Several characters still have traumas to work through, but the central mystery element is solved.
"I read the book in one night and saw the whole story very vividly in my mind. The material fascinated me immediately," Kleefeld, who also directed the series, explained in a Netflix interview. "Dear Child is told from the point of view of each of the participants, and the perspective changes again and again. The result is an exciting game with reality, a puzzle that the audience can always add to and reassemble. It is the story of a crime that has many victims, directly or indirectly."
As Hausmann added in a sitdown with the streamer, "I hope my readers feel like I did: There will be many things that are familiar from the book, and at the same time it will feel totally new. There also is, for example, a new character (Haley Louise Jones' Aida Kurt), who really excited me because she lives the complete opposite of the perpetrator's imagination. It's subtle and incredibly well told. Why didn't I think of that?"
She previously described her intentional approach to writing the Dear Child ending, too. "Although I let the story — and especially the characters — guide me, my feeling on how everything has to end establishes itself very early on," Hausmann shared during a September 2020 Indies Introduce Q&A. "Without giving too much away, I knew from the start I was going to write this particular epilogue because the person from whose point of view it is written shouldn't just remain a victim. I would have found that unfair."