Demi Lovato Will Help The Glee Cast Honor The "Incredible, Talented" Naya Rivera
Lovato played Santana's girlfriend Dani in Season 5.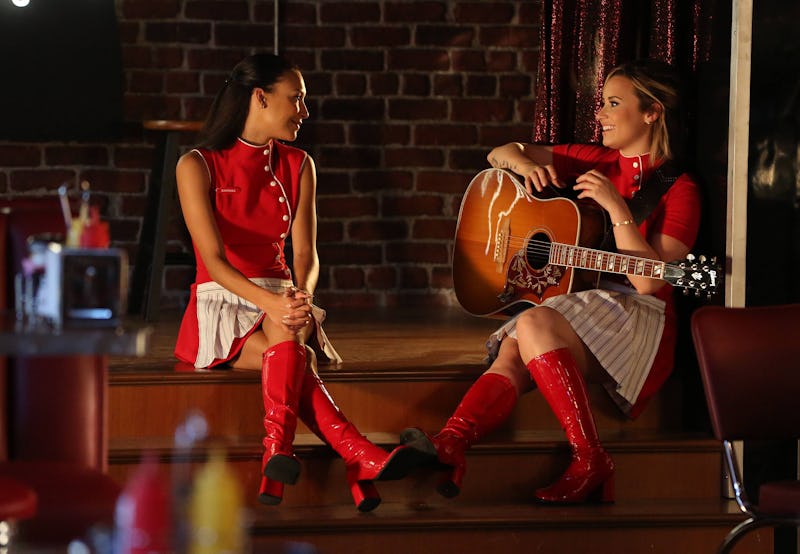 FOX/FOX Image Collection/Getty Images
The cast of Glee is coming together once again to remember one of their biggest losses. Demi Lovato is joining the Glee reunion at the 2021 GLAAD Awards to honor the late Naya Rivera, as announced on Wednesday, March 24. The cast of the musical comedy, which ran for six seasons from 2009 to 2015, will reunite virtually to honor their co-star and pay tribute to her groundbreaking character Santana Lopez, one of TV's first Latina and lesbian high schoolers. The reunion will also mark the 10th anniversary of Santana's coming out on the show.
While not a main cast member, Lovato appeared on four episodes throughout the show's fifth season, playing Santana's girlfriend Dani after Santana moved to New York.
Lovato is set to introduce the tribute: "I'm honored to join the cast of Glee at the upcoming #GLAADAwards to pay tribute to the legacy of Santana Lopez, who was played by the most incredible, talented, and beautiful Naya Rivera," she wrote on Twitter. The reunion will also include cast members Chris Colfer, Darren Criss, Jane Lynch, Kevin McHale, Heather Morris, Matthew Morrison, Amber Riley, Harry Shum Jr., Jenna Ushkowitz, Jacob Artist, Vanessa Lengies, Alex Newell, and Becca Tobin.
Rivera died in a devastating boat accident, with her body being found on July 13, 2020, the seventh anniversary of her co-star Cory Monteith's death. After the news was announced, Lovato paid tribute to her onscreen love interest on Instagram, revealing that Santana's coming-out journey was influential in figuring out her own identity as a queer woman. "I'll forever cherish the opportunity to play your girlfriend on Glee," she wrote. "The character you played was groundbreaking for tons of closeted queer girls (like me at the time) and open queer girls, and your ambition and accomplishments were inspiring to Latina women all over the world."
The singer has continued to remember Rivera in the months following her death. In December, Lovato shared a video from her hike on her Instagram Story, with The Beatles' "Here Comes the Sun" playing in the background. Lovato and Rivera covered the Beatles classic in their only duet on Glee, marking a turning point for both of their characters. "Miss you @nayarivera," she wrote, a sentiment that all fans can agree with.