Dianna Agron Rejects Your Timeline
The star of the new horror movie Clock on surviving Glee mania, setting boundaries, and loving your 30s.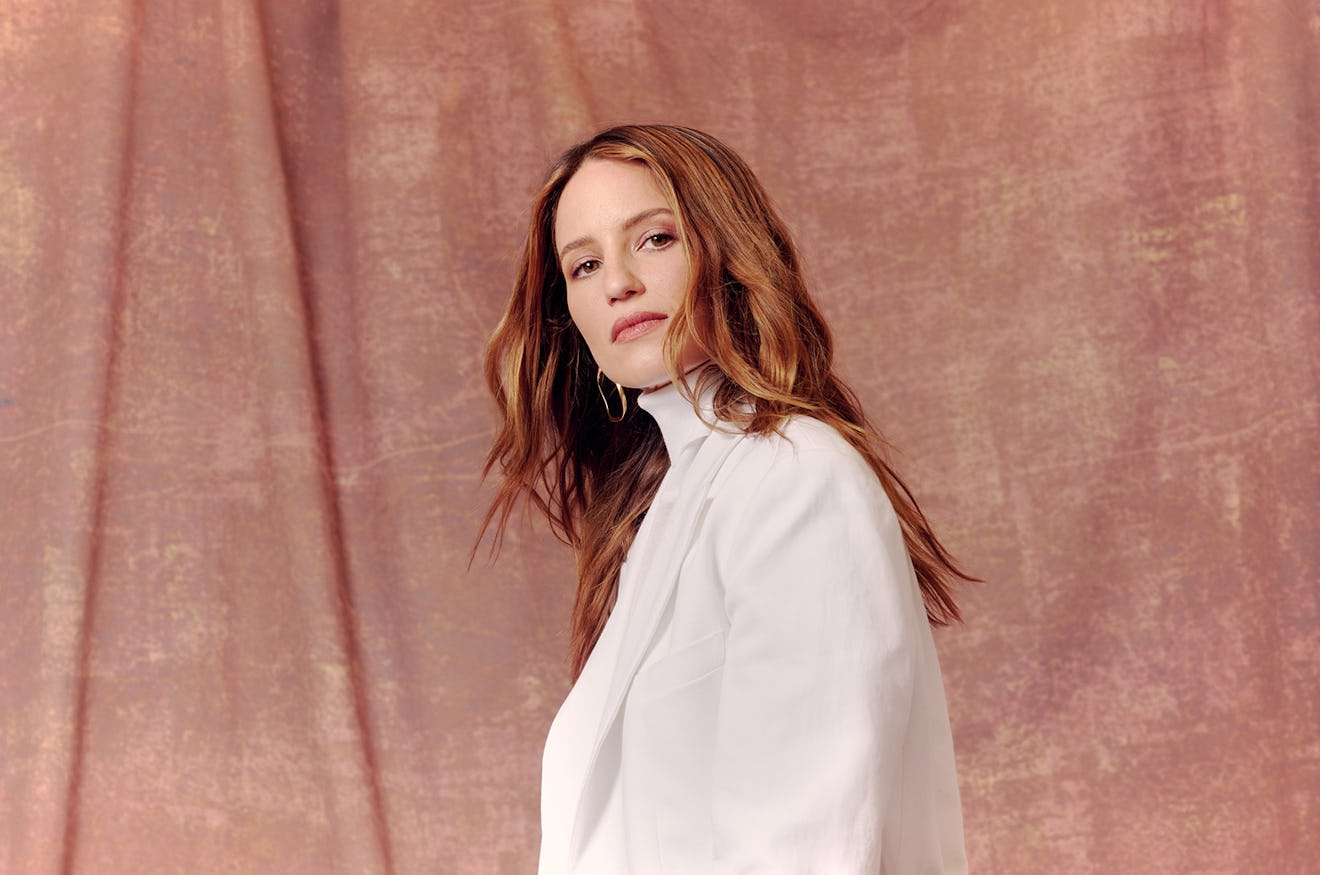 Dianna Agron is running late — she's stuck on the subway. I have no problem believing this because I am on the exact same train a few cars away, as we learn when she sends me a heads-up text. My phone slowly receives a selfie of Agron waving through a grainy train window, face curtained by long light-brown hair, along with another message about how tickled she is that we're sharing a classic New York experience. And it's one we continue when we finally make it to The Odeon, the iconic Tribeca bistro. "It's been a staple since the 1980s, which is what I love about this place," she says in her lilting voice as we mull over the menu. "This is a place that was happening when I was born and didn't even know that it would be waiting for me when I moved to New York City." We get two dirty martinis and a plate of fries before gleefully cheering to being in our 30s. "I love this time, though," she adds.
Agron has been thinking a lot about her 30s, and not just because we're meeting up two weeks before her 37th birthday. Her new movie, Clock, out now on Hulu, is a sci-fi horror film that explores the immense societal pressures women, in particular those without children, face in that decade of their lives. But the film's messages about making your own choices also resonate within the arc of her career. Agron spent six seasons on the pop culture juggernaut that was Glee — and enduring the intense public scrutiny that came with it — before more recently finding acclaim with a string of indie movies like Shiva Baby and Novitiate. With Clock, Agron pushed herself again. There are big action scenes (hanging from cliffs, elbow-deep gore), as well as dark emotional depths (involving painful family secrets coming to life). "Collected experience really does add up," she says. "And I think that the life I've lived the last 10 years in some ways has been more magnificent and more challenging than my more formative years."
Agron never thought she'd try her hand at horror, but the Clock script hit too close to home to resist. She plays Ella, a 30-something who doesn't want kids but eventually gives into the pressure of prying family and friends and enrolls in an experimental clinical trial, under the leadership of Dr. Simmons (Melora Hardin), that promises to help women who don't experience having a biological clock. "The moment I turned 30," Agron says, "the amount of questions that I felt were far too personal — and from truly everyone — just intensified year by year."
Even for an actor who came up in the Perez Hilton era of celebrity blogging and is used to skirting prying questions, Agron still finds herself surprised sometimes. Just last year, she was on a red carpet at the Tribeca Film Festival promoting the sci-fi drama Acidman when a journalist asked her out of the blue if her mother's name, Mary, would be "top of the list" for her. "I truly had no idea what she was talking about, so I asked for clarification and she said, 'The top of your baby list,'" Agron says. "I said, with all of the kindness, 'You have no idea what my personal journey is. And I'm quite surprised that you asked me that at my workplace when I'm here to discuss a film that I'm in.'" The message didn't land. "She had no remorse. She just bopped along to the next question."
Michael Kors Collection clothing and belt, Agmes earrings
Chanel clothing and accessories
Clock only took on more meaning throughout production. Agron was in Texas shooting the last day of principal photography when the draft Supreme Court opinion overturning Roe v. Wade leaked. "It did not feel good, that's for sure," she says. "But then felt in some ways good that we were making [a movie that speaks] to some of the perils of being a woman and making choices that are more aligned with your own sense of self, as opposed to making choices for other people." She dips a fry into one of the many condiments we've ordered. "All it takes is a film or a piece of journalism [for people] to open their eyes to different experiences that they could never imagine for themselves and have no personal touch points for. As a woman and one who very much loves women and loves the immense and enormous abilities that we have to carry so much, I wish that we had to carry less."
When writer-director Alexis Jacknow was looking to cast Ella, she knew what she wanted: "It was very important to me that that character just already have a natural, grounded nature, a gravitas to her." And she knew right away after meeting her that Agron could deliver. "There was absolutely nothing she wouldn't do," Jacknow says. "She pushed me, and there was just no hesitation on her part. She showed up every single day, 110%, and gave us everything."
That is not an exaggeration. During one scene, Ella cracks open eggs into a frying pan and begins to eat them raw with a spoon. Jacknow didn't want anyone to flaunt food safety guidelines, but Agron thought the only way to sell the scene was to actually do it. "Beef tartare, a whiskey sour," Agron says, listing all the indulgences with raw ingredients she already enjoys. (There are reasons those are safer than raw eggs, but just go with it.) Jacknow proposed a compromise: Agron could put the raw eggs in her mouth as long as she spat them instead of swallowing. Agron agreed — or at least pretended to. "I winked at our [director of photography] and motioned at him like, 'Don't cut,'" she says, laughing. "I go to pick up the egg, I swallow it and go to take another bite. And I just hear, 'Dianna, what the f*ck?!'"
Agron hasn't always felt such autonomy in her career. When she was in her early twenties, she booked a role in a "big studio film" that, though ultimately a positive experience, involved an eye-opening screen test. "It was like, 'We don't like her hair like that, we need her to be more girly. We don't like those clothes,'" she recalls. "I kept getting moved off set, changed, put back on stage, taken off again. I didn't feel that I had any say in the matter, even if I had suggested something nicely. I was just a product at that point."
Glee did not exactly help things. Agron says she was the last person cast for the show and describes getting the job as nothing short of fate. She grew up watching musicals with her mother in hotels on account of her father's job as a manager at Hyatt. "Look, I moved to Los Angeles and I set out to find a musical. They were my absolute bread and butter. I told anybody that would listen to me, 'I really want to do a musical,'" she says. "And [agents] were like, 'No, try to be on Broadway.' I just had this staunch faith that I was meant to be in Los Angeles and I would find a musical. And then it happened."
But while she credits the show with changing her life, the show's explosive popularity tested her boundaries. "There was a moment in time where there was not only a lack of acknowledgement in respect to personal space, there have been times where I've been put in a headlock and kissed on a plane. There have been times where mothers were grabbing you by the arm to meet and take a photo with their child," Agron says. "There were so many personal attacks in a way that are just truly not what you do to a human. That feels specific to that time and that intensity of the feelings that people were feeling watching the show."
So she moved to New York in 2016, eager to escape Los Angeles and its "predatory nature of people with lenses down there that just doesn't exist in the same way in other places." For a few years, she split her time between London — from 2016 to 2020, Agron was married to Winston Marshall of British folk-rock group Mumford & Sons — but now calls New York "my only home." "Following my personal life is really not going to yield anything that interesting," Agron says of public attention. And it's true, the few times I tactfully (I hope) bring up topics that might lead Agron to open up about other aspects of her personal life, she gently deflects them. It's clear she's figured out a way to maintain her privacy while still being incredibly personal in the context of her work.
In New York, she's able to follow her muse more freely. She's reconnected with music through a string of residencies at the famed Café Carlyle, where she's performed jazz standards and '60s covers. She served as a producer on Acidman and would like to do more behind-the-scenes work. And she's relishing the chance to be a "waving the Jewish flag" kind of actor, choosing projects like Shiva Baby and As They Made Us that let her honor and explore her heritage. "I went to Jewish weekend school and Wednesday school for my entire upbringing up until my Bat Mitzvah and spent a lot of time with Holocaust survivors," she says. "So it was a weird experience to then have many people say [in Hollywood], 'You don't look Jewish.' It is weird to have somebody deny you your own personal experience."
Next, she'll make her return to television with The Chosen One, a multilingual adaptation of Mark Millar's American Jesus comic book that follows a 12-year-old boy who gains the biblical powers of Jesus after a freak accident. She's bonded with the younger actors on the show who have asked her for career advice — a full-circle moment for the now bonafide industry veteran. They've even watched Glee and marveled to Agron about how young she looks and seems. Her response? "I am!" she says, laughing.
By this point, our martini glasses have long been empty. Neither of us want to brave the train again, so Agron walks me up the street and, like a true New Yorker, gives me directions with a McNally Jackson tote slung over her shoulder. She gives me a hug, then turns to head deeper into Tribeca, forging a path all of her own.
Top Image Credits: Michael Kors Collection clothing, Agmes earrings
Photographs by Evelyn Freja
Styling by Jarrod Lacks
Hair: Christopher Naselli
Makeup: Samantha Lau
Talent Bookings: Special Projects
Photo Director: Alex Pollack
SVP Fashion: Tiffany Reid
SVP Creative: Karen Hibbert