Did The Irregulars Feature In The Original Sherlock Holmes Books?
Netflix's adaptation of Arthur Conan Doyle's story focuses on a gang of misfits hired by Holmes.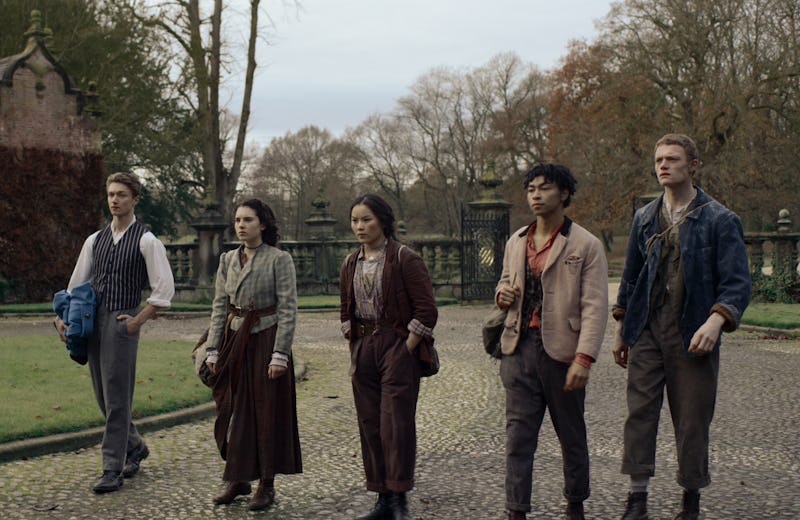 Netflix
Based on the works of famed writer Sir Arthur Conan Doyle, Netflix's The Irregulars follows a group of troubled misfits who investigate a series of supernatural cases in Victorian London on behalf of the mysterious Dr Watson and Sherlock Holmes. The crime drama offers viewers a modern take on the classic Sherlock Holmes tales, but were The Irregulars featured in the original books?
The short answer is, yes, The Irregulars are indeed featured in several of Arthur Conan Doyle's original stories, including the first-ever novel to feature Holmes, A Study in Scarlet, published in 1887. In the book, the Irregulars are presented as a gang of street youths hired by Holmes and Watson to investigate certain cases. However, unlike the Netflix adaptation, the crew are very much on the sidelines of the story.
The Irregulars crew have popped up in several other small-screen adaptations of Sherlock Holmes stories over the years, including the BBC's 1983 series The Baker Street Boys and the 2007 TV film Sherlock Holmes and the Baker Street Irregulars. More recently, the fictional gang have also appeared in the hit U.S. drama Elementary and the BBC's Sherlock starring Benedict Cumberbatch, during which The Irregulars are referred to as the "homeless network."
This new eight-episode crime drama revolves around a gang of street teens known as The Irregulars who are manipulated into solving crimes for the mysterious and elusive duo Doctor Watson and Sherlock Holmes. However, as the cases lean further into the supernatural, dark powers begin to emerge that threaten not just London but the entire world.
Leading the show's cast is Curfew's Thaddea Graham as The Irregular's no-nonsense leader Bea, The Bay's Darci Shaw as the troubled Jessie, The Gentlemen star McKell David as Spike, Sex Education's Jojo Macari as the antagonistic Billy, and Catch-22 star Harrison Osterfield as the mysterious Leo. Per iNews, the characters of Sherlock Holmes and Doctor Watson are portrayed by The Inbetweeners star Henry Lloyd-Hughes and Line of Duty's Royce Pierreson, respectively.
As the Daily Mail reports, viewers can look forward to a fresh interpretation of the Victorian-era Holmes universe, and the creator of Netflix's The Irregulars, Tom Bidwell, took great inspiration from author Conan Doyle's exploration of supernatural themes. Commenting on the new series, executive producer, Jude Liknaitzky, explained Bidwell's adaptation is "very different to any other," and teased "fans will love the big mysteries and analysing the clues throughout the story."
The Irregulars is available to watch on Netflix as of Friday, March 26.