Dwyane Wade Gave A Beautiful Speech For Daughter Zaya At The NAACP Image Awards
"As your father, all I've wanted to do was get it right."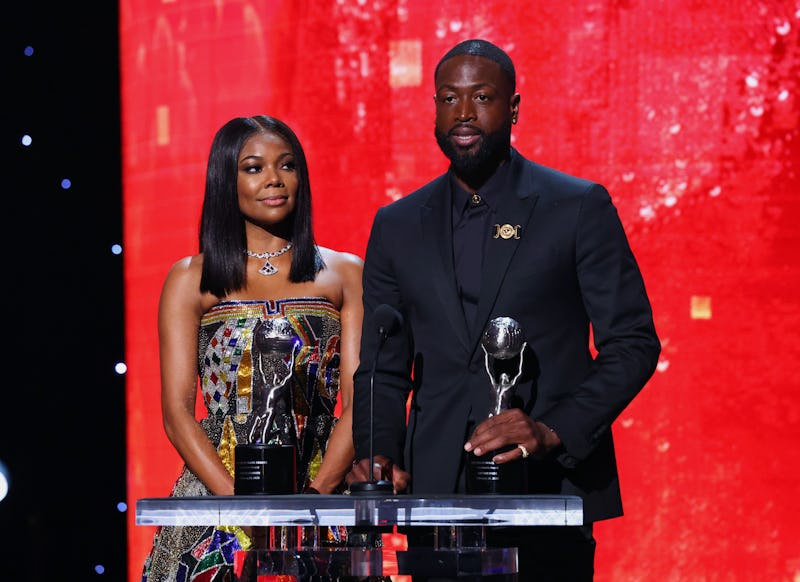 Leon Bennett/Getty Images Entertainment/Getty Images
The 2023 NAACP Image Awards on Feb. 25 had several highlights, from Angela Bassett doing "the thing" to Zendaya "serving, serving, serving." One beautiful moment still stood out, though: Dwyane Wade addressing his daughter Zaya Wade directly. As he and wife Gabrielle Union accepted the President's Award, he let everyone know how much Zaya has taught him and how proud of her he is.
It was Wade and Union's "tireless humanitarian work as they continue to advocate for equality and acceptance for all" that earned them the honor, as NAACP President and CEO Derrick Johnson shared in a statement ahead of the show. Yet, Wade explained it has been 15-year-old Zaya who inspired him. (Zaya was granted a legal name and gender change a day prior to the awards show, three years after coming out as transgender, per Page Six.)
"I want to take this moment to publicly speak to our daughter Zaya," he said, in part. "Zaya, as your father, all I've wanted to do was get it right. I've sat back and watched how gracefully you've taken on the public scrutiny, and even though it's not easy, I watched you walk out of the house every morning as yourself. I admire how you've handled the ignorance in our world. I admire it that you face every day. To say that your village is proud of you is an understatement."
Wade went on to share how Zaya has taught him the importance of communicating with not only his mouth but also his "two ears" and "two eyes." "As your father, my job isn't to create a version of myself or direct your future," he added. "My role is to be a facilitator to your hopes, your wishes, and your dreams."
The former NBA star concluded his speech to Zaya by elaborating on how she's helped him become a better person. "You've made me a better human just simply by being who you were born to be, our baby girl Zaya Wade," he said. "So baby, thank you for showing the world what courage looks like. I'm proud that I was chosen to stand in place as your father."
Throughout Wade's speech, audience members appeared to be visibly moved. Onstage, Union, Zaya's stepmom, was touched as well. Her voice showed her emotion as she followed up her husband's words and explained that they've been fighting as parents and trying to build bridges. She called on viewers to take an intersectional approach to equality, noting that LGBTQ+ communities are often left behind in the fight for Black rights. "Will we fight for some, or will we fight for all of our people?" Union asked.
Both Wade and Union have stood with Zaya since she went public with her true self in February 2020. "We decided to listen to her and she's leading us on this journey," Wade told Good Morning America at the time. About a month later, as Zaya made her red carpet debut at the 2020 Truth Awards, the trio wore coordinated outfits that nodded to the genderqueer flag. As designer Rich Fresh aptly wrote at the time, "Love is an action" — an idea the family seems to have fully embraced.