Dylan Llewellyn On Life After Derry Girls
The "Wee English Fella" on taking the lead In Big Boys and his friendship with Nicola Coughlan.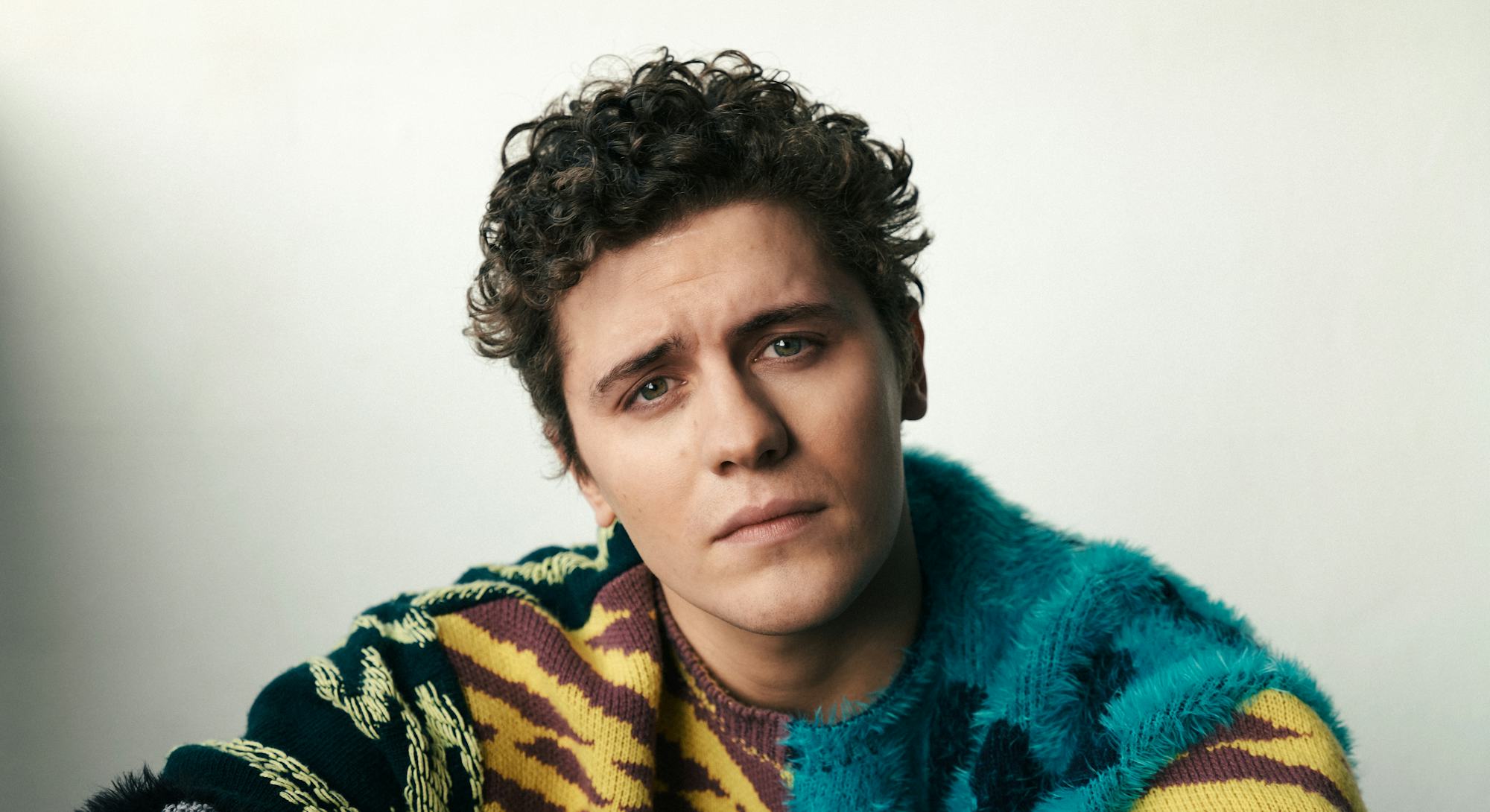 Joseph Sinclair
It's been a whirlwind few months for Dylan Llewellyn. The actor bid farewell to the role that changed his life during the emotive Derry Girls ending, but it wasn't long before he was back on our screens. Llewellyn delivered a short but memorable performance in Danny Boyle's Disney+ drama Pistol, starring Maisie Williams. And the rising talent got to showcase his leading man abilities in Channel 4's Big Boys. "It's an amazing experience to lead a show," Llewellyn tells me. "I'm really grateful for it, and the ensemble cast made my job easy because they're so talented." It just so happens that Llewellyn's Derry Girls co-star and close friend, Bridgerton's Nicola Coughlan, played a key role in his journey to taking centre stage on a major TV comedy drama, but we'll get to that later.
Llewellyn, 29, has been acting since his teens and honed his craft by studying at RADA, the Royal Academy of Dramatic Art. He got his big break in 2011 with a year-long role in long-running TV soap Hollyoaks, portraying Martin Johnson, typically referred to as Jono. In 2018, Llewellyn got the call of a lifetime when he was cast as James "The Wee English Fella" Maguire in Derry Girls. With an impressive resume behind him, it's hardly surprising that the Surrey-born actor threw his hat in the ring when he heard that esteemed director Danny Boyle was auditioning young males for a Sex Pistols biopic.
However, Llewellyn's journey to the screen wasn't without its difficulties. "I did an amazing self-tape. I thought I smashed it," the actor tells me of his first audition for the series. "Sadly, I didn't get that part, but the casting team asked me if I would be happy to read for a different role on a Zoom call with Danny Boyle." Admitting it was a big moment for him, Llewellyn recalls: "It was so surreal. I was a bit starstruck when I first jumped on the call." The actor politely declines to reveal what role he initially auditioned for. "The guy who got the part is perfect for it, and looks more like him," he says, graciously.
Llewellyn wound up getting cast as Wally Nightingale, an original member of the Sex Pistols, who was unceremoniously cut from the band before they even adopted their world-renowned name. In fact, the band was called The Swankers when Nightingale was still on board. "I was quite jealous of everyone else's characters as they had so much footage of Sid Vicious and Johnny Rotten," Llewellyn says of playing a real-life character who isn't in the public eye. However, playing a relatively unknown person did have its perks. "I liked that there was more mystery in my character as I had more to play with," he muses.
The actor got to experience "band camp" alongside his co-stars, and it was somewhat of a challenge. "I can't play an instrument to save my life. I was terrible on the recorder at school," he laughs. "I had to learn guitar. The team was amazing, we had Underworld [the music group] teach us how to play the instruments to perfection. I learned the one song we needed to perform." Due to Nightingale being cut from the lineup, Llewellyn didn't get to experience the wild on-set performances that occurred later in the series. Revealing he experienced a little bit of FOMO, the star notes: "I would have loved Wally to be a part of that. It's quite sad the way things panned out really, but you've got to tell the story with as much truth as possible."
A lot of young LGBT people never had TV representation growing up. I feel proud and honoured to be a part of something that will help get us to a place of true equality.
In Llewellyn's most recent TV gig, he took a front-and-centre role as Jack in Channel 4 comedy drama Big Boys. The series is a semi-fictionalised retelling of the university years of the show's creator and writer, comedian Jack Rooke. Interestingly, Llewellyn had met Rooke and heard about his upcoming TV series during a chance encounter. "I met Jack through Nicola. I went to Edinburgh Fringe to be Nicola's cheerleader, as she was performing," he tells me. "We came across Jack's show after. Nicola became good friends with him, and then she told me he was making a pilot. A couple of weeks later, my agent had me audition for the part."
In the opening episode of Big Boys, we meet Jack as he's embarking on his first week at university, which has been deferred for a year following the passing of his dad. As well as dealing with grief, Jack is also experiencing the typical things 19-year-old boys are — namely, coming to terms with who he is and what he wants from life. For Jack, who's learning about his sexuality as a gay young man, the opportunity to join the university LGBT+ group offers up a whole new world of learning. And he's not alone in dealing with this, as his flatmate and instant BFF Danny (Jon Pointing) helps him along the way. We soon learn that Danny, who struggles with his mental health, is also in need of a supportive friend. With Jack's unabashed mum Peggy (Camille Coduri) making frequent visits, there's plenty of laughs to be had.
On screen, Jack and his mum share a special connection. When he's feeling down, she reads the TV guide to him. In a show littered with pop culture references, it makes perfect sense that hearing about what's coming up on Loose Women may well calm his nerves. In reality, this was one of many reasons that Llewellyn could relate to Jack. "I'm similar with my mum," the actor muses. "I always make cups of tea for both of us, and we'll watch The Chase and Tipping Point together." The actor could also relate to the grief aspect of the show, as he, too, dealt with the death of a loved one during his teenage years. Of the show's exploration and discussion of young men and mental health, Llewellyn says: "It's not really on TV too much. It's swept under the carpet, but it's important we talk about things such as toxic masculinity." Praising the series' approach to the topic, he adds: "Men do bottle things up, we find it hard to open up, but shows like this will help people deal with troubling thoughts. These are important things we're discussing."
Much like Netflix's hit teen drama Heartstopper, Big Boys also champions and celebrates LGBT+ experiences, showcasing Jack's journey of self-discovery. The responsibility of taking part in this vital representation is not lost on Llewellyn. "A lot of young LGBT people never had that growing up. It's amazing that we're taking a step in the right direction," the actor remarks. "I feel proud and honoured to be a part of something that will help get us to a place of true equality."
While Llewellyn has most certainly shown his range as an actor, many will continue to think of him, affectionately so, as "The Wee English Fella" from Derry Girls. Luckily, Llewellyn has more than embraced the title. Revealing that people often use the address in real life, he says: "It's always from Irish people. There's nothing better than hearing 'The Wee English Fella' in an Irish accent. I feel like I'm an honorary Irishman, which I love." At present, Llewellyn is still processing the fact that Derry Girls has come to an end, and he has mixed emotions about it. "It's sad and shocking, but I'm also really happy with the response and how beautiful the messages have been from everyone," he says. "Performing Lisa McGee's writing was so fun, and I'll definitely miss playing James."
It's a good job then that Llewellyn has so many happy memories to take away from the series' four-year stint. When I ask him of his highlights, two instantly come to mind. "Being Posh Spice was iconic," the actor says, referring to the episode whereby the Derry Girls lead cast dress up as the Spice Girls to try and win a spot on Stars In Their Eyes. But his most memorable on-set moment involved a certain man with a particular set of skills. "It's got to be The Big L, Liam Neeson," says Llewellyn, excitedly recalling the Oscar-nominated actor's cameo. "He's so cool. He's a Hollywood star! It was such a surreal experience."
There's no doubt that fans will eagerly be awaiting Llewellyn's next move. As it happens, he's very much focused on landing another gig. "I'm just grinding and auditioning, trying to get that next job," the actor says. Displaying a refreshing honesty about the tough nature of the industry, he concludes: "The life of an actor is sometimes either feast or famine. Fingers crossed, I can land something soon."