At 28, Edie Falco Was Thankful She Didn't Earn Her Sopranos Money Just Yet
The Bupkis star splurged on cigarettes and stressed about paying rent before catching her big break as Carmela Soprano.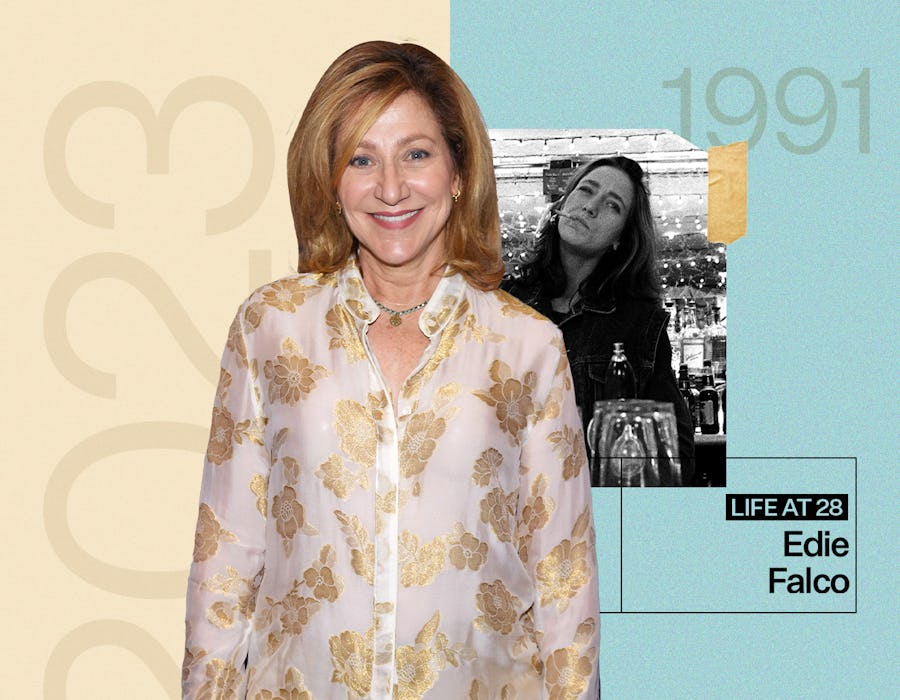 Caroline Wurtzel/Bustle; Gary Gershoff / Stringer, Catherine McGann/Getty Images
Edie Falco's role in Bupkis sees her as Pete Davidson's mom as he navigates a fictitious version of his chaotic life in his late 20s after he launched to fame because of Saturday Night Live and his status as Hollywood's most eligible bachelor. At that age, Falco's life was also chaotic — but she spent less time in the limelight and more time under dimmed lighting of West Village hotspots.
In 1991, then-28-year-old Falco wasn't a household name. Her rise to fame didn't come until the early aughts with The Sopranos. She was living in New York City, waiting tables, stressing about her next paycheck, and auditioning for acting gigs. She drank heavily. "Things were getting bad, and I was putting myself in danger," Falco, who is more than 30 years sober, tells Bustle.
Known for playing Carmela Soprano and the eponymous Nurse Jackie, Falco, 59, now keeps things more low-key. "My 28-year-old self would be pretty surprised what a nerd I've turned into, all these years later," she says, noting she likes to play games with friends, read books, and go to bed early. "The things that bring me tremendous joy would've been a terrible bore for me at that time."
Falco became enamored with acting early while growing up and tagging along with her mother to auditions and rehearsals. "I thought it was the most miraculous thing that a grownup could do," Falco says of her mother, Judith Anderson, who performed at community theaters in Port Jefferson, Long Island. "A bunch of grownups got together and put on costumes, and it was like, are you kidding me? I couldn't believe this was something we were allowed to do."
Looking back, she is relieved that her career took off when it did. "Don't worry, it works out, you'll be very surprised," she says when asked to give advice to her younger self. After all, it did.
Below, Falco discusses crying to Joni Mitchell and paying rent in the West Village at 28.
Take me back to 1991, when you were 28. What was life like, and where were you living?
Oh my God, 1991. I was living in the West Village. I am now living in the West Village, so that hasn't changed. It was a crazy time. I was chain-smoking and doing a fair amount of drinking. It was a year before I got sober, so it was about as wild as my life got at 28.
How did you navigate becoming sober?
I realized that if I continued the way it was going, it would be a short-lived experiment. I knew a fair amount about alcoholism, and I at a certain point realized, all right, well, it's decision time. A lot of the friends that I hung out with in high school and in college had gotten sober already and they kind of fell out of our little group. I started[asking], so how'd you do this? And I followed them.
What was the soundtrack to your life at 28?
Joni Mitchell for as long as I can remember. Dan Fogelberg, and James Taylor — sort of folksy, nerdy. I guess they'd call them emo now. [I'd] sit in my room and I'd sing with Joni Mitchell, and cry about some boyfriend. Oddly enough, Joni Mitchell is still the soundtrack of my life, all these years later.
How were you feeling about your life and career at that point?
I was doing what I thought I would always do, which is a little play here and there, an indie film, if one was around. All I wanted to do was quit my waitressing jobs, and I was beginning to wonder if that was ever going to happen.
Were there any roles at that point that you had turned down?
For the longest time, I didn't say no to anything because I wanted to be doing something. No matter the project, there was something I could glean from it. Learn something, meet somebody. I never said no.
What was your biggest challenge at 28?
Money was always a problem. I lived in a teeny apartment on West 4th Street in the West Village. [Rent was] $450 a month, and I still couldn't wrangle it sometimes on a waitressing salary. On a slow week, I wouldn't be able to cover. I was a chain smoker at the time. I was always worried about money.
What did you splurge on at 28, when you did have a good week waitressing?
Cigarettes. I'm embarrassed to say I would buy them by the carton. That way I knew I'd have them during lean times. Cigarettes came before everything else. It's incredible. It feels like I'm talking about somebody else, but that was me.
As your career progressed, you attracted an entire fandom playing Carmela Soprano. Do you think you would've been equipped for that kind of fame at 28?
No, I know I wouldn't have [been]. The thing you learn when you're in a self-destructive cycle is that you'll screw it up. You will screw it up one way or another. You won't mean to. But that's built into that cycle — sabotage. I'm lucky in the way things rolled out in my life. I didn't plan any of it, but I look back now like, what a gift. All of it. Thank God that happened when it did. I wasn't meant to have much success. If I had money back when I was not taking care of myself, it could have been bad.
What was the most important thing you learned about life at 28?
That you do the hard thing, even when you don't know how it's going to happen, how it's going to work, what the details will look like. Do the hard thing that you know you have to do.
This interview has been edited and condensed for clarity.