GoT's Emilia Clarke Says She "Just Can't" Watch House Of The Dragon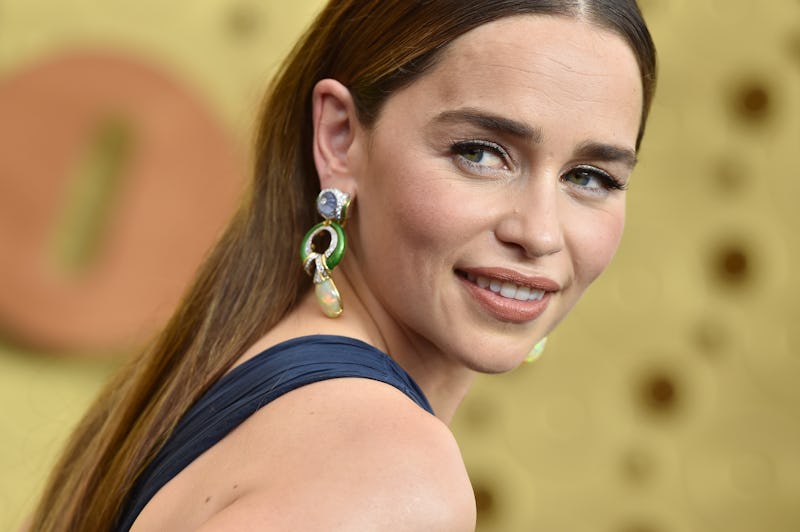 Axelle/Bauer-Griffin/FilmMagic/Getty Images
The Mother of Dragons hasn't been exploring her family history. HBO's House of the Dragon — the first Game of Thrones spinoff, following the 2019 series finale — centers on House Targaryen approximately 172 years prior to Daenerys Targaryen's birth. The prequel set viewing records when it premiered in August, but Emilia Clarke, who played Daenerys for all eight GoT seasons, wasn't watching the story of her character's ancestors along with everyone else. "I just can't do it. It's so weird. It's so strange," Clarke admitted to Variety at Sundance 2023, adding that she's nevertheless "so happy it's happening" and was "over the moon" about the show's recent Golden Globes win and other award nominations.
The reason Clarke hasn't watched HotD? "It's kind of like someone saying, 'You want to go to this school reunion that's not your year? Want to go to that school reunion?'" the four-time Emmy nominee explained, while promoting her new film, The Pod Generation, adding, "That's how it feels. I'm avoiding it."
After HBO released the first photos of the newest Targaryens in May 2021, Clarke wished the cast well, though. "It's very surreal. I mean, I've been prepped for this because Miguel [Sapochnik], who's the co-showrunner, is a really dear friend of mine," she told The Hollywood Reporter in June 2021. "But yeah, it's crazy! Those pictures came out and I was like, 'Whoa! Whoa!' I was on my own last time. I didn't know I had pals. I could've had a bunch of friends to hang out with, but yes, it's mildly surreal to be seeing all of that again. But good luck to them is what I would say. I really mean that."
She wasn't the only GoT cast member to weigh in, either. Months later, Clarke's onscreen love interest (and nephew) Kit Harington, who played Jon Snow, told the Associated Press that it "might be painful" for him to watch HotD. When Insider asked him to elaborate on why that might be, the actor explained that he has "real emotion" connected to the series. "I think to see people get into outfits and costumes that resemble what we wore for all those years, and it [has] the same music and style and tone, but not be in it is always going to feel... There's going to be a rawness there," Harington explained, adding that "of course" he was still going to watch the show, though.
Fast-forward to September 2022, and Harington gave his honest review of the GoT spinoff. "I'm really enjoying it ... I think they've done a fantastic job," he told Entertainment Tonight Canada. "It's a weird one to start a whole new show in the same kind of realm and to make it its own thing, and I think that they've really done that."
Should Clarke decide to give it a shot, too, she'll have plenty of time to catch up ahead of an already-confirmed HotD Season 2.