The Lionesses Call For Equal Access To Football Has Finally Been Answered
"This is the legacy we want."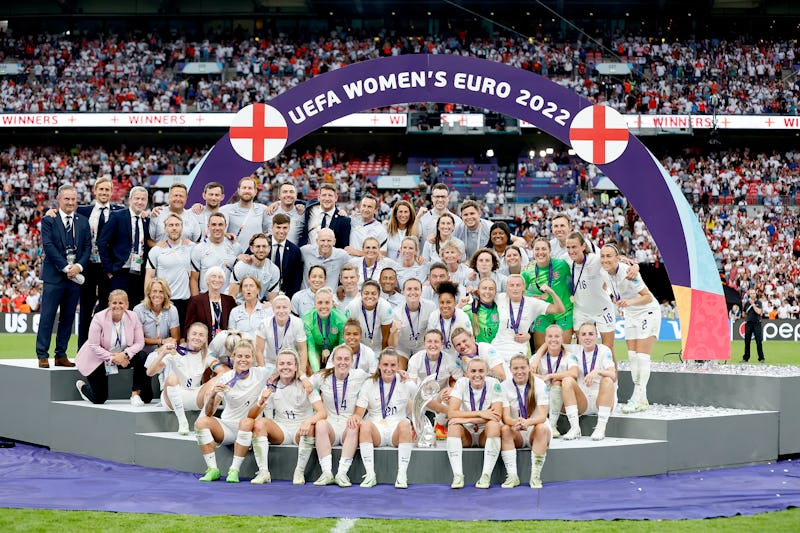 Lynne Cameron - The FA/The FA Collection/Getty Images
In August 2022, following their historic win at the UEFA Women's Euro 2022 Championship final, the Lionesses called on the UK Government to invest more in girls' football at school. In a joint statement addressed to Rishi Sunak and Liz Truss shared across social media, the England Women's squad wrote that while they "spoke about our legacy and goal to inspire a nation" during the competition, their work has only just begun.
And now, on International Women's Day, the Lionesses' call has finally been answered. In a landmark announcement on Mar. 8, the government made access to sports equal for girls and boys in schools. The plans will ensure that all students, irrespective of gender, can pick from the same options of sports during PE lessons and at after school clubs. These measures make a minimum of two hours of playtime compulsory for all pupils as requested by the Lionesses in their letter.
The team called on the Prime Minister to provide more investment and support for female PE teachers. "Their role is crucial and we need to give them the resources to provide girls' football sessions," the squad writes. "They are key role models for which so many young girls can flourish."
Over the next two years, the government will spend £600 million to recruit and train more female PE teachers and increase accessibility to sports. Ministers also announced that schools who successfully fulfil equal opportunities will be rewarded through a programme called School Games Mark. In the statement, Sunak said, "Young girls know when they take to the pitch that football is for them and, thanks to the Lionesses, they too could be a part of the next generation to bring it home for their country."
"We want schools to build on this legacy and give every girl the opportunity to do the same sports as boys, as well as provide a minimum of two hours of PE. This means every child can benefit from regular exercise and we are proud to provide them with the support needed to do so," he continued. Presently, only 67 per cent of all schools and 41 per cent of secondary schools offer sports equally to girls in PE lessons. Whilst only 46 per cent of schools provide girls with the same extra-curricular opportunities as boys.
The Lionesses squad asked that the Prime Minister, who ever that may be, help achieve change by making "it a priority to invest into girls' football in schools, so that every girl has a choice." The team wants girls to have more opportunities than they did. "We were often stopped from playing… so we made our own teams, we travelled across the country and, despite the odds, we just kept playing football," they wrote.
"This generation of school girls deserve more," the team concluded. "They deserve to play football at lunchtime, they deserve to play football in PE lessons and they deserve to believe they can one day play for England. We want their dreams to come true."
This article was originally published on