The Queenmaker
Felicity Blunt is the literary agent behind the bestselling debut novel Lessons in Chemistry, now a TV show. She also represents her husband, Stanley Tucci.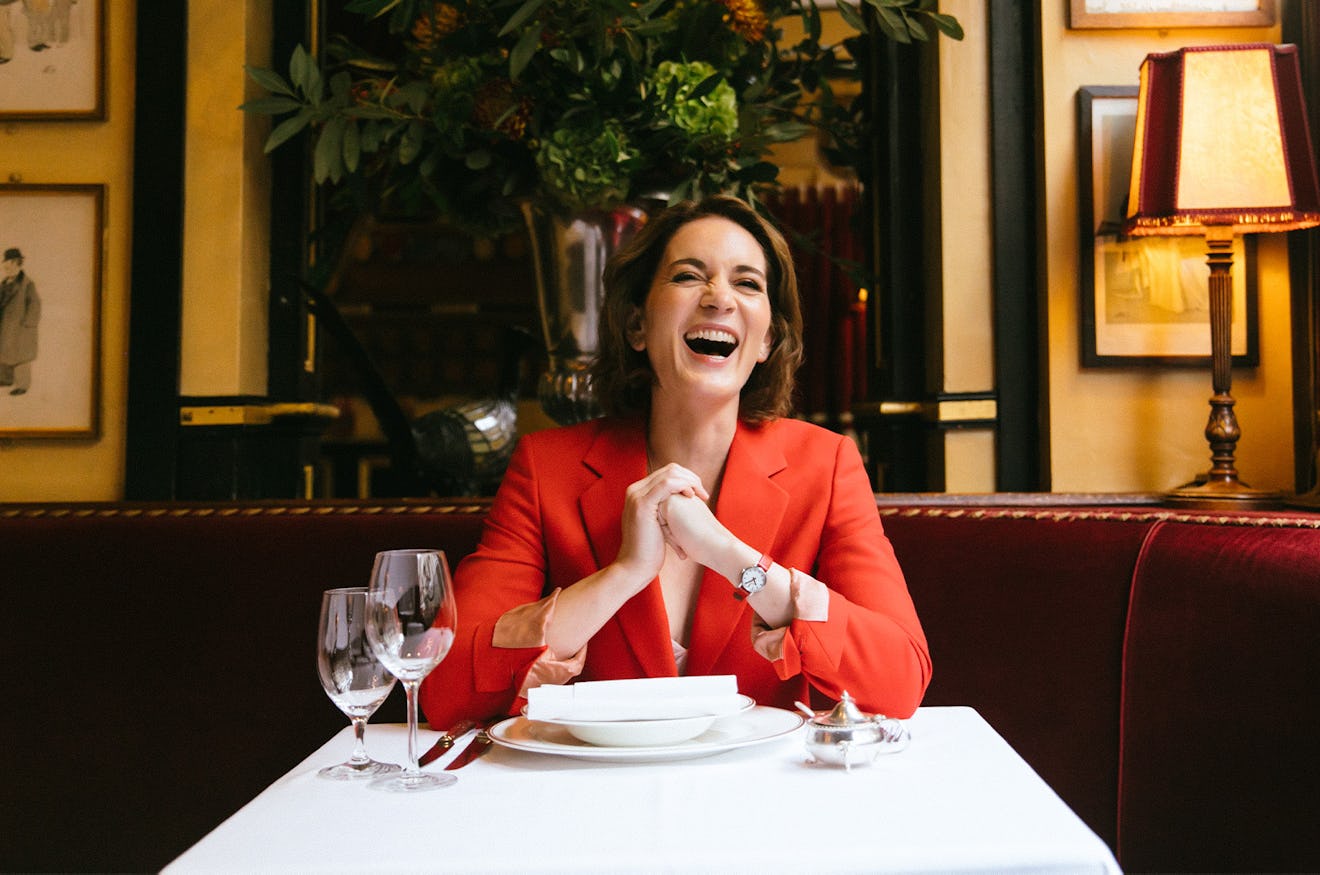 If you have been to a bookstore in the last year and a half, you have probably seen it. Usually found on a table toward the front of the store, it has a friendly coral cover depicting an illustrated woman with blond hair and cat-eye glasses. A pencil pierces her bun. It is called Lessons in Chemistry and it is the debut novel by Bonnie Garmus. The book has been on those front tables for a long time — as I write this, 17 months after publication, it is still No. 8 on the New York Times hardcover fiction bestseller list. And it is not going anywhere anytime soon: it has been adapted into a TV series starring Brie Larson that will premiere on Apple TV+ on Oct. 13.
The novel, which is about a thwarted woman chemist named Elizabeth Zott who launches a successful cooking show in the early '60s, might appear at first to be engineered in a lab for success. You get this sometimes in publishing — an author who has studied the industry and cynically produced a book designed to be a smash hit. But read it and you'll find that it is the opposite of cynical. It is in earnest and its publication rested on a leap of faith by the literary agent who signed Garmus on a partial manuscript, worked with her to polish it, and then sold it at a 16-way auction.
The literary agent's name is Felicity Blunt, and she is arguably the most glamorous person working in books.
***
Felicity Blunt is worried that this profile will be boring. The 42-year-old London-based agent with Curtis Brown who represents, in addition to Garmus, Ann Patchett, Meg Mason, Claire Keegan, Jilly Cooper, and more, who parents two children and three step children, who is now dabbling in TV production with an adaptation of Cooper's book Rivals, who co-authored a cookbook with her husband Stanley Tucci, in addition to selling that book, and who (way down at the bottom of the list) is Emily Blunt's older sister, thinks there will not be enough to say about her life or work for a magazine feature.
I speak to Blunt on Labor Day. She is at home in London, where it is afternoon. She is dressed casually in a blue sweatshirt. Late summer light spills in through a window. It is her younger kids' (Emilia, 5, and Matteo, 8) first day back at school. She is working from home so she can meet them when they return, though she tells me she also likes "going into an office, seeing my colleagues, talking to them, having a division between the private and the professional."
Throughout our conversation, in addition to being glamorous, she is also: forthcoming, kind, effusive, smart, and self-effacing about her accomplishments. And it's not just that, it's that everyone I speak to about her is exactly this way, from her assistant Flo, to each of her authors. Possibly she surrounds herself with this type of person — like gravitates to like — or possibly she invites this behavior. She is delightful and it makes people want to be delightful too. Speaking to her, I want to be delightful. I want to be forthcoming, kind, effusive, smart, and self-effacing.
Ann Patchett, who has been her client in the U.K. for four years, tells me, "Felicity is the antithesis of awkwardness. [She] manages to make everything feel effortless." This is an asset for a literary agent, a job that requires not just selling books, but advocating for authors at every stage of the publication process, anticipating and soothing their sometimes-irrational anxieties.
"If you get Felicity Blunt you get a champion for your work," says Bonnie Garmus.
As Keegan puts it, "What sets her apart is that she's always there and cares about her authors and the work at every stage of its development, from the moment the text is submitted to the publisher to the quality of the paper on which it's printed… She protects you from excessive publicity engagements, listens, enjoys what she does and also leaves you alone to write."
Blunt and I speak about Lessons in Chemistry as a way to begin discussing her career. Blunt calls the runaway success of the book "exceptionally unusual."
"I mean I've had books go very big at auction," she says. "Maybe they've gone to three territories really big, or it might be Germany and the U.S. and the U.K." But this book went big in every market.
Blunt first read Garmus' work in a writers' anthology produced by Curtis Brown Creative, the creative writing school at her agency. Agents were brought in to meet students and sample their work. She was drawn to Garmus' voice: "On the first page, she made me laugh twice." The book is an unconventional commercial hit. For starters it is told from many distinct points of view, one of which is a dog. Garmus tells me another type of agent might have made her cut the dog, or trim the perspectives. "I have 10 points of view," she says. "She never said that's a bad idea. I guarantee you, everybody else would have said that's a bad idea... I remember somebody at Curtis Brown saying if you get Felicity Blunt you get a champion for your work, and that is exactly what happened."
The role of the modern agent is almost as the book's initial editor. Increasingly, publishers seek out the most finished manuscripts possible. It's an open secret that no one knows what exactly what will succeed. But it helps if the book is not exactly flawless, but as close as possible, on arrival in an editor's inbox. Blunt and Garmus went back and forth many times getting Lessons in Chemistry there. "There were some things that you know, we disagreed on," says Garmus. "But what I really loved about her was that she would listen to that. And she would honor that and she gave me really good ideas."
It was difficult for Garmus to stop editing and rewriting her own work, but after more than a year, it was time to take the book to market. According to Garmus, Blunt "finally said, 'Look, I want to take this to Frankfurt [Book Fair] this year. Are you ready?' And I said, 'I'm going to be ready.'"
The book's oddball success paints a picture of publishing during peak Covid, when no one had their footing, and the books that might have hit were even less predictable than usual. "You weren't in bookshops in the same way and you weren't seeing what was on the tables," says Blunt. "I just think it hit a great big church bell because there was something that was so certain about Elizabeth Zott in a time of profound uncertainty."
On the first page, Bonnie Garmus made me laugh twice.
Blunt's list is made up of mostly women authors across genres, from thrillers to literary fiction to cookbooks. Early in her career, she recalls walking into agent Vivienne Schuster's office and seeing books on her shelf by Jilly Cooper, Margaret Atwood, and Jeffery Deaver. "I was like, I want that. That is amazing that she's got these three authors from three completely different genres, and they are all recognizably brilliant in their fields."
Blunt had read widely and without snobbery all her life. She is the oldest of four siblings; Emily and Sebastian are actors, and Susannah is a veterinarian. "I think we're all readers," she says. "My mum is a brilliant reader. My dad loves a whole range of books as well. They both are predominantly fiction readers. We didn't really read a lot of nonfiction growing up. It was always novels that seemed to be around my house."
But books had not always been the planned trajectory. Blunt's father is a barrister and her original plan was to follow him into the law. She graduated from law school and was set to start a pupillage (an apprenticeship to become a member of the bar in the U.K.), but decided against it at the last minute.
"I loved arguing," she says, "Which I still do, but I was about to start doing my pupillage and was just filled with that, oh God, you know, like when you see a horse and they've got all their hooves in and they will not go to water?" She mimes a horse spooking, locking its knees in refusal to move.
"But the thing that I've always loved most in life and the thing that had been my ultimate hobby was reading." She realized she could actually attempt to make a career of this ("it dawned so late," she laughs) and applied for an internship at the Wylie Agency in 2005, and later became an assistant at Curtis Brown. She sold her first book, Sister by Rosamund Lupton, in 2008 ("It was her enthusiasm that meant I had the courage to keep writing," Lupton tells me), but she says it took her until around 2012 to start feeling like a real literary agent.
Despite her long climb — typical of the profession — Blunt is wary of being seen as having succeeded due to her entertainment industry connections. "That makes me feel a bit nauseous," she says. "If all people are interested in, or more interested in, or whatever level of interest is because of those people in my life… I fear being given things that aren't earned because of that."
But the publishing industry does not always respond to fame in the expected ways. Outcomes are slippery. Celebrity can sell a memoir, or in a recent example, a novel authored by Millie Bobby Brown, but for a book to be a sustained hit, for a book to be shortlisted for the Booker Prize like Keegan's Small Things Like These or the Women's Prize like Mason's Sorrow and Bliss, it must also appeal to readers. It must, by some rubric — whether it be literary value, or its story, its characters, its voice, its ability to grab and sustain attention, its 10 rollicking points of view, one of which is a dog — be good.
When I ask her how she gets it done, in light of her considerable career responsibilities and many children ("Luckily you can count them on one hand still"), she describes sprinting from her office to Waterloo station so she can get home as fast as possible. "It's just an exercise in living off adrenaline," she says. The same was true when she lived in New York for two years with her husband at the beginning of their relationship, trying to get down Fifth Avenue and to Grand Central in time to make the 5:27 train.
"I think some days I manage and some days I don't."
Blunt married Tucci in 2012, after meeting him years prior at the premiere of The Devil Wears Prada, which featured her sister Emily. Tucci's first wife, Kate Tucci, died of breast cancer in 2009, leaving him with twins, Isabel and Nicolo, and another daughter, Camilla, all under the age of 10. Those kids are in their 20s now, and have different needs than their younger siblings, but need her nonetheless. "I'm just trying to fail upwards," she says. "By which I mean, I know that I'm going to fail a lot, but I'm just hoping that the trajectory is still positive rather than a kind of nosedive."
Tucci says of Blunt: "I consider myself very, very lucky to be married to her. We met after I had experienced a great loss and she brought joy into my life and still does."
Blunt's career requires a lot of travel — international book fairs, in-person events, and now TV production — and so does Tucci's. But they try to balance it with time spent at home. "When you have kids, they don't want you to go away. It's healthy to leave them occasionally. It's a good thing," she says. "But also, disruption doesn't always feel great."
When I first started dating Stan, I was like, 'Do you know that your cookbook sells for $300 on eBay, this book that's out of print?' He was like, 'What?' So I reverted the rights, and we resold that one.
Family life at the Tucci/Blunt household is focused on the kids and on food. "We love our work and it occupies a great deal of our time," Tucci tells me. "But really, we love to be home with the kids and play with them, draw with them, play games with them, take walks with them, travel with them, and so on. And of course, we also love to shop for food, cook food for the kids and for ourselves and friends, drink wine, go to restaurants, and so on. Food is the thing that connects us to each other and the world."
On a typical night at home, the couple cooks together. "I made gnocchi the other night and then he made the sauce," says Blunt. When it comes to eating, she says the children are "not brilliant, but they're not terrible." They'll eat steaks and ask for more blood, but then reject something like tomato sauce.
Tucci, in addition to acting, is the host of Searching for Italy, a CNN travel show focused on Italian cuisine. The two first worked together on a reissued cookbook Tucci had published shortly after starring in 1996 Italian restaurant dramedy Big Night. The reissue was Blunt's idea. "When I first started dating Stan, I was like, 'Do you know that this sells for like, $300 on eBay, this book that's out of print,' and he was like, 'What?' So I reverted the rights, and we resold that one." It was rereleased by Simon & Schuster in 2012 as The Tucci Cookbook. Two years later, they co-authored a follow-up called The Tucci Table.
Tucci says, "Working with her on the cookbook was a joy as she is a great cook and very knowledgeable about the process of putting a cookbook together." And as an agent? "I have had many agents over the last 40 years (and I have wonderful agents now)," he says. "But I wish those in the past had all been as good as she is."
***
All of Blunt's clients praise her almost to excess. Endorsing Blunt for a British Book Award, Jilly Cooper wrote, "Felicity Blunt is well named. Like the word 'Felicity' she brings happiness to both clients and authors, particularly me. But she is also blunt, but in the gentlest way." (Blunt was shortlisted for literary agent of the year.) Nina Stibbe writes, "She is ambitious but realistic, tough but fair, and great fun when off-duty." Emilia Hart writes, "She is endlessly patient and has a remarkable editorial eye."
I could have talked to Blunt for hours more about the publishing industry (she thinks the biggest challenge right now is discoverability) and her authors' upcoming projects. She tells me her ambitions are focused on her clients and the people in her orbit. She wants her former assistant, now associate, to find her footing as an agent. She wants her current assistant to advance. She wants her TV project with Cooper to be a success.
"I was laughing with my best friend, my oldest friend the other day," she says. "About the thing where you say if you were an animal, what would you be? And I said I think like I'm a shark, by which I mean not that I'm kind of aggressive and going to kill you, but it's just like I have to keep moving."
As for the idea that she may have gotten where she is because of her connections, Tucci tells me, "She would have had this success even if she did not have close relatives in show business. She is the one who has carved out a brilliant career for herself. If anything, it is those of us in show business who are close to her who have benefitted profoundly from her knowledge of all things literary… Her anxiety is unwarranted. She is the one we all look to."
It goes back to what makes a book a hit. Maybe there's a little magic involved, a little luck. But in the end, it can't be faked.
Photographs by Cris Fragkou
Hair and Makeup: Isabel Concetta
Photo Director: Alex Pollack
Editor in Chief: Charlotte Owen
SVP Fashion: Tiffany Reid
SVP Creative: Karen Hibbert