Blood Lust Meets Real Lust In Netflix's Lesbian Vampire Show First Kill
Two girls fall for each other while hunting each other — what more could you ask for?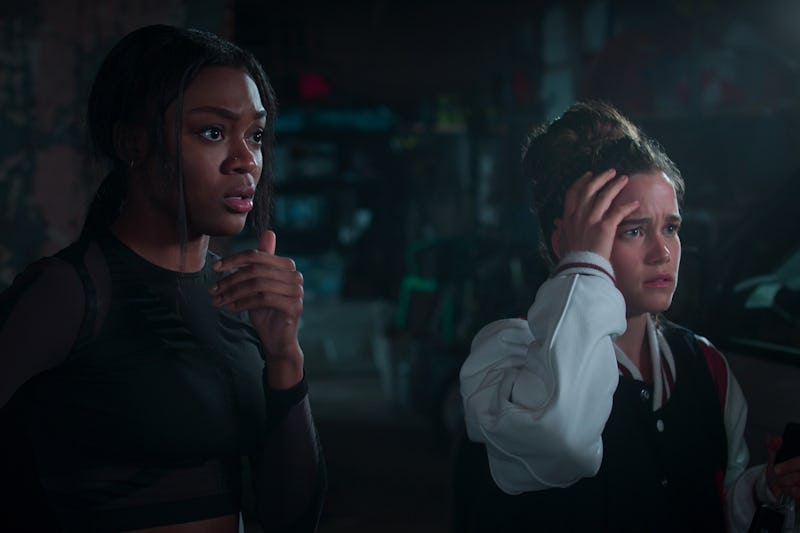 Netflix
Romeo and Juliet gets a queer and vampiric spin with Netflix's First Kill. The drama centers on teenage vampire Juliette (Sarah Catherine Hook), who's tasked with making her first kill so she can finally take her place among her powerful vampire family. She sets her sights on classmate Calliope (Imani Lewis), a new girl whom Juliette can't help but be drawn to. But Juliette doesn't realize that Calliope comes from a long line of celebrated monster hunters, and she wants to kill Juliette just as much as Calliope wants to kill her. Despite everything, the star-crossed lovers end up falling for each other, and the series follows them as they navigate their two very different lifestyles and warring families.
Netflix has adapted a number of comic books and novels into series, but First Kill is based on a short story by V.E. Schwab. The bestselling author has also penned the fantasy novels Vicious, The Invisible Life of Addie LaRue, and the Shades of Magic book series. First Kill is from the book Vampires Never Get Old: Tales with Fresh Bite, an anthology series of 11 short vampire stories written by young adult fiction writers and edited by Zoraida Córdova and Natalie C. Parker.
As Schwab explained to Geek Girl Authority, Netflix bought First Kill and originally had her adapt the short story for the series' pilot episode. They were happy with the end result, so they then brought on showrunner Felicia D. Henderson, along with a team of writers. That's when they really got to "expand it even further," she explained.
"Getting to work in a [writer's] room took me from being a single creator to a participant in something so much bigger than myself," Schwab said. "It allowed us to take this beginning and look at ways that I, myself, would have never thought to expand it. That is one of the most beautiful things about this experience. Being a novelist is such a solitary profession, and the same as being a screenwriter. But to get to work in a writer's room and have a team allows you to think so far beyond your own experiences and build a more diverse story."
Read as an e-book, Schwab's story is shorter than 50 pages long, so it makes sense that the show would have to expand on its source material. But despite its brevity, the story does read like a teaser or prequel to a much larger tale. The first episode pretty much follows it exactly. The short story kicks off with Calliope and Juliette noticing how beautiful the other is, and how they each became fascinated with each other as "a kind of idle curiosity." Just as in the show, Juliette's family encourages her to "hurry up and bite someone" already because her headaches are becoming too much and the blood pills aren't quite cutting it for her anymore.
Calliope, meanwhile, is shown to be the younger of two very adept monster hunters, who can completely show her up. Later, she accepts Juliette's invitation to a party, where a truth-or-dare game — in the show, spin the bottle — lands the two of them in a room alone together. From there, the tension takes over, they each draw blood, and the hunt begins.
It's a mixture of blood lust and actual lust, a duality that will no doubt be fully explored in the Netflix series.