Florence Welch Just Dropped A Major Tease Of Yellowjackets S2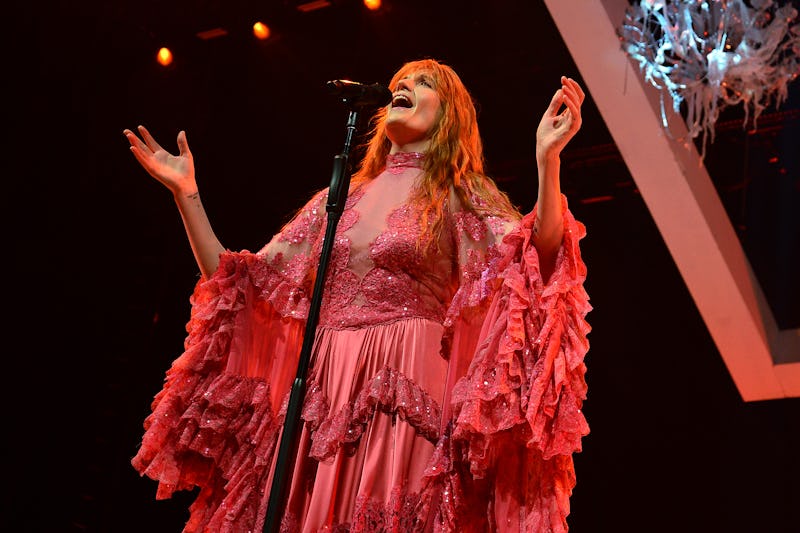 Jim Dyson/Getty Images Entertainment/Getty Images
Just when we thought that the Yellowjackets team couldn't get any cooler, Florence + The Machine goes and proves us wrong. In an Instagram video, lead singer Florence Welch revealed that the band covered No Doubt's "Just A Girl" for the drama's second season, set to premiere on Mar. 24. In the video, Welch flips through a series of beautifully embellished tour outfits hung on a clothes rack until she finds a yellow and blue varsity jacket with the Yellowjackets logo on the back.
Whilst Welch picks out the jacket and slings it on, the boppy cover of "Just A Girl" cues in. The 36-year-old singer cheekily captioned the post, "so happy I got picked for the team this year," only to have the show's official Instagram respond with, "we make one hell of a team." And, of course, fans of Florence + The Machine and Yellowjackets rejoiced in the comment section. One comment read, "the cover we didn't know we needed," whilst another fan wrote, "this is a team up I didn't expect."
Besides the exciting collaboration, the song itself is a fitting choice for the coming-of-age horror series. Yellowjackets follows a girls high school soccer team from New Jersey after their plane crashes on the way to a tournament in 1996. Split between the '90s and the present day, the show explores the role gender played into the athletes' experiences. Similarly, in "Just A Girl," Gwen Stefani expresses the all-too-familiar frustration felt by women.
Season 2 of Yellowjackets will introduce Elijah Wood as Detective Walter along with Lauren Ambrose and Simone Kessell. The cast from the last season including Melanie Lynskey, Juliette Lewis, Christina Ricci, and Tawny Cypress will return as well. When the trailer for Season 2 dropped in January, Lynskey said, "Other than my siblings, I have never felt this level of pride and respect and adoration for a group of people. I can't believe their talent and their hearts."
Yellowjackets Season 1 is available on Sky and NOW in the UK and Showtime in the U.S.