The Foundation Creator & Cast Addressed Season 3 Rumors
Filming reportedly shut down amid the ongoing Hollywood strikes.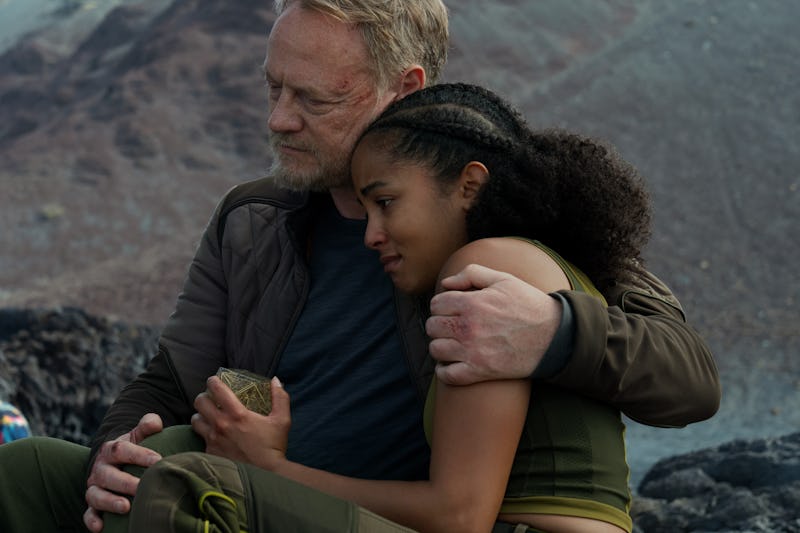 Apple TV+
Based on Isaac Asimov's books, Foundation follows a band of exiles on their journey to save humanity and rebuild civilization amid the fall of the Galactic Empire. Like the Apple TV+'s sci-fi drama's characters, creator David S. Goyer had his sights set on the future long before Foundation's Season 2 finale dropped on Sept. 15. In fact, when the Emmy-nominated series premiered in September 2021, the showrunner said he'd already pitched an eight-season plan to the streamer. "Apple knew that this was a big undertaking and they wanted to make sure that I was writing towards something," he told Decider at the time.
Having just completed its second outing, Foundation Season 3 is naturally on viewers' minds, though Apple has yet to announce a renewal. Still, multiple outlets reported that filming had already begun in the spring. The Midgard Times claimed in April that principal photography on Season 3 was underway in the Czech Republic, with crews also reportedly slated to film in Ireland afterward, and the seven-month shoot had a wrap date of Oct. 26. Meanwhile, The Prague Reporter posted in June that cameras began rolling in late May and filming would take place in Prague through the early fall.
Goyer isn't spilling any secrets just yet, though. "I won't be able to speak to that," he replied to TechRadar in July when asked about Season 3 filming rumors. "We just put the finishing touches on Season 2 around a month ago [May 2023], and so much of what happens with Season 3 will depend on how well this season is received in the first few weeks."
Cast members Lou Llobell (Gaal Dornick) and Leah Harvey (Salvor Hardin) were equally tight-lipped. "I don't know who started that rumor," Llobell told the outlet, adding, "But I hope it's true! We're on Season 2 right now. Like the first season, we can't get ahead of ourselves." Joining the duo in the Foundation Season 2 cast were Jared Harris (Hari Seldon), Laura Birn (Eto Demerzel), Lee Pace (Brother Day), Terrence Mann (Brother Dusk), Cassian Bilton (Brother Dawn), and Alfred Enoch (Raych Foss).
Though Goyer didn't share any Foundation Season 3 details, he confirmed in July that his eight-season plan for the show remained intact. "We'll see whether or not I have the resolve to actually get there," he admitted to Den of Geek ahead of Season 2. "It's already taken five years of my life. So the idea of it being another 10 years, at least, is kind of daunting. But if the audience is there, and I'm still having a good time, and the cast are still having a good time, then absolutely."
Season 2, which included a 138-year leap in time, pulls from "two or three stories" in Asimov's books, but the show made major changes to the source material. (He created Pace's Brother Day as a new character, in addition to several gender swaps, for example.) "What I promised Apple TV+ is that each season would deal with a crisis," Goyer explained, noting that Season 2's crisis is the quest of whether or not Foundation would survive Empire's war. Any updates to Asimov's works were intentionally implemented to serve his long-term plan for the series to reach his planned 80 episodes.
"For the show to succeed and go eight seasons, it's got to appeal to a broad audience," he added in his Den of Geek interview. "Yes, we want to delve into all those heady ideas, but we want to make sure that the audience actually cares about the characters in our story and whether or not they live or die or who they love."
However, these plans were all reportedly in place before Hollywood's WGA and SAG-AFTRA strikes, which were reportedly expected to impact Foundation Season 3. According to the Midgard Times, production shut down in July and is expected to remain on pause until the labor disputes are resolved. That being said, Foundation isn't likely to return for Season 3 until 2025, but given the ongoing nature of the strikes, anything is possible at this point.