Freaky Friday Producer Shares First Update Of "Brilliant" Sequel
Jamie Lee Curtis and Lindsay Lohan are expected to reprise their roles.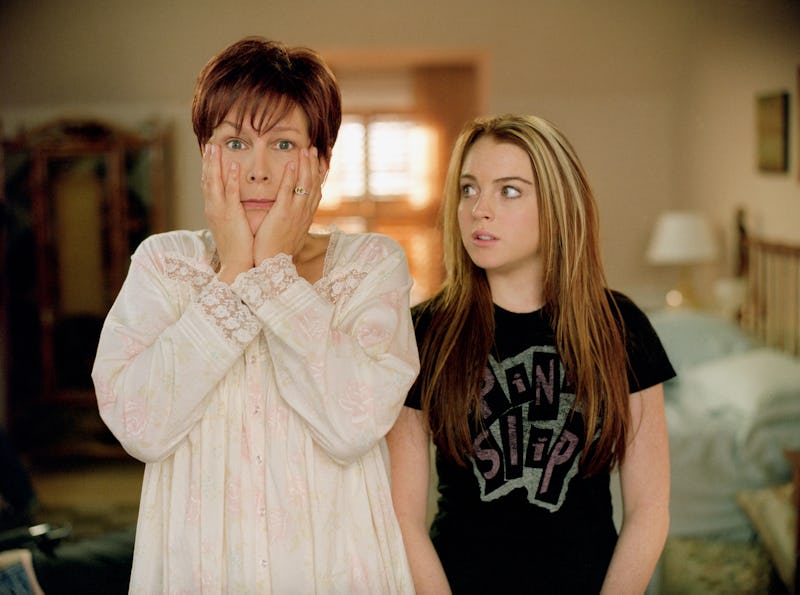 Disney
Two decades after its premiere, Freaky Friday is coming back for another round of body swapping. On May 10, The Hollywood Reporter confirmed that Disney was working on a sequel to its 2003 remake, with stars Jamie Lee Curtis and Lindsay Lohan expected to reprise their roles. The film, based on Mary Rodgers' 1972 novel, famously stars Curtis and Lohan as combative mom-and-daughter duo Tess and Anna Coleman, who end up swapping bodies during a very freaky Friday.
The duo previously spoke to The New York Times to celebrate the film's 20th anniversary, where they opened up about working with each other, keeping in touch for the past 20 years, and how they felt about the possibility of making a sequel. "Jamie and I are both open to that, so we're leaving it in the hands that be," Lohan said, before clarifying that they "would only make something that people would absolutely adore."
Curtis took a more proactive approach to making a sequel happen. "As I went around the world with Halloween Ends, people wanted to know if there was going to be another Freaky Friday," she said. "Something really touched a chord. When I came back, I called my friends at Disney and said, 'It feels like there's a movie to be made.'"
Another exciting sequel update arrived in Sept. 2023, when Freaky Friday producer Andrew Gunn confirmed that the band Pink Slip will be featured in the forthcoming sequel. As fans will recall, the fictional band is fronted by Anna (Lohan) and her fellow bandmates, Maddie (Christina Vidal) and Peg (Haley Hudson), in the original film, and their angsty teen track "Take Me Away" remains a fan favorite to this day.
"We got a draft of a script for the sequel right before the writers' strike, and it was really good," Gunn revealed to Cosmopolitan. "A writer came up with the most brilliant idea. It uses music and the band in a great way."
Meanwhile, during an October 2022 appearance on The View, Curtis revealed she had been pitching sequel ideas to the network. "I've already written to Disney, my friends at Disney," she said. "Creatively, I am wide open." Giving insight into what the sequel could entail, Curtis continued: "Let me be the grandma, let me be the old grandma who switches places. So then Lindsay gets to be the sexy grandma, who's still happy with [my on-screen husband] Mark Harmon in all the ways you would be happy with Mark Harmon."
Curtis also commented on the differences in their age since filming the original — Curtis is now 64 and Lohan is 36. "I would like to see Lindsay be the hot grandma, and I would like to see me try to deal with toddlers today," she said. "I want to be a helicopter parent in today's world."
This article was originally published on