Friends Star Maggie Wheeler Offers Support To Matthew Perry After Reading His Memoir
"It's brave and extraordinary and I'm certain that he's helping people by doing it."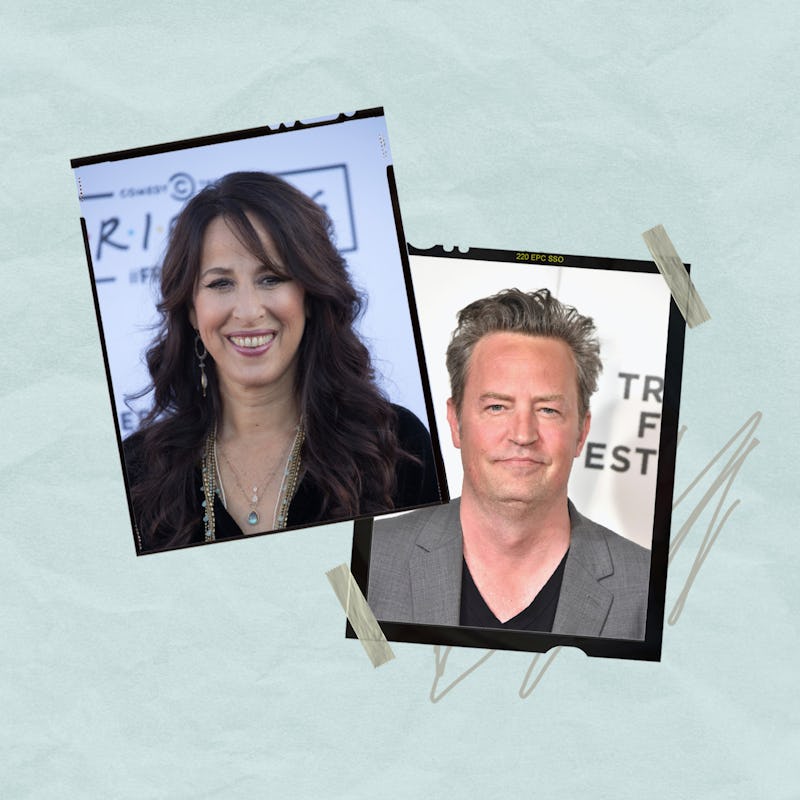 Photos by Luca Teuchmann/WireImage/Getty Images and Taylor Hill/Getty Images Entertainment/Getty Images
Trigger Warning: This piece contains mentions of substance use disorders. Chandler Bing was thriving on Friends. He married the love of his life, had a lucrative career, and he flawlessly delivered perfectly-timed retorts. But behind the scenes, actor Matthew Perry suffered from addiction. In his memoir Friends, Lovers, And The Big Terrible Thing, he details his struggles with alcohol and substance use disorder while being in one of the biggest shows in the '90s.
While there are some lighter anecdotes about his bad date with Cameron Diaz and his breakup with Julia Roberts, the 2022 memoir is full of big revelations, including a near-death experience. The 53-year-old recounts how close he came to dying in 2018. His colon burst from opiate overuse and was in a coma for two weeks. He was even told he had "a two percent chance to live." The details can be heartbreaking to read especially for those who know him. And one Friends co-stars recently shared her thoughts on the book.
Maggie Wheeler, who plays the fan-favorite Janice, Chandler's on-again, off-again girlfriend, said she "read every word" of Perry's memoir. "I lost my brother to drug addiction, so I'm no stranger to how difficult a journey it is and a struggle it is," Wheeler told Us Weekly, on Jan. 25. "I'm so proud of Matthew and how hard he's fought for his life."
Friends aired from 1994 to 2004 and Perry doesn't remember three years of filming the show. He still tried to hide his disease from the cast, however, before his co-star Jennifer Aniston confronted him. He also writes that there is, however, a glaring tell for viewers — his weight. "You can track the trajectory for my addiction if you gauge my weight from season to season. When I'm carrying weight, it's alcohol; when I'm skinny, it's pills. When I have a goatee, it's lots of pills," he writes.
Attesting to how well Perry hid the extent of how bad things were, Wheeler continued, "I read so many details that I wasn't aware of. He has had struggles that have been so dark and so unbearable and he's such a survivor to still be here and to be out and sharing his story with the world."
Calling Perry "brave," she told the outlet, "I think it's brave and extraordinary and I'm certain that he's helping people by doing it."
She also gave an update on whether she's had a chance to tell Perry her thoughts on his memoir yet. "We haven't spoken since I've read the book," she said, adding that she's meant to. "I really need to write to him and let him know how much I love him and that I was honored to read it."
If you or someone you know is seeking help for substance use, call the SAMHSA National Helpline at 1-800-662-HELP (4357).