20 Years Ago, Friends Released The Most Meme-Able Episode
You can thank Ross Geller for one of the best memes to come out of the classic sitcom.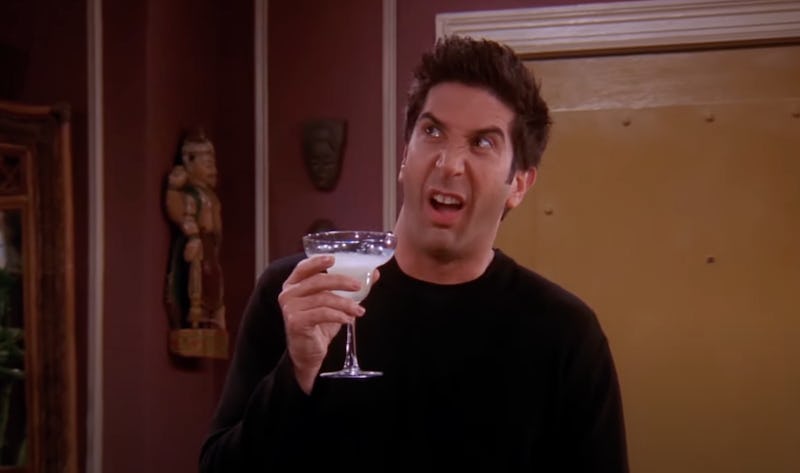 NBC
Friends gifted fans with memorable quotes that have remained part of their everyday lexicon throughout the decades. "The One Where Ross Is Fine" episode, for example, spawned one of the most meme-able moments from any sitcom ever. Season 10's second episode might have not been one of the best ones as far as plot momentum goes, but it sure gave Friends fans plenty to meme about for years to come — and we have David Schwimmer to thank for.
In the episode, which first aired in October 2003, Ross finds out that Rachel (Jennifer Aniston) and Joey (Matt LeBlanc) are hooking up after walking in on them in Joey's apartment. Ross, though apparently stunned, insists he's "fine." Each time Ross claims, "I'm fine," and his voice gets higher, Rachel and Joey grow more doubtful. It's painful but very relatable for many.
In order to smooth things over, Ross suggests Joey and Rachel go to his apartment for a small dinner party with his current love interest, Charlie (played by Aisha Tyler). Spoiler: It doesn't go well. As expected, Ross is uncomfortable with the idea of Joey and Rachel hooking up and ultimately self-sabotages with margaritas.
Ross then gives a speech about love, margarita in hand. "Ah, love. L-O-V-E love. 'L' is for life. I mean what is life without love?" he begins his brutally awkward statement. "'O' is for OH WOW! 'V' is for this very surprising turn of events which I am *still* fine with by the way. 'EEE' is for how extreeemeely normal I find it that you two are together and that one day you might get married... and have children of your own..." Cue the major secondhand embarrassment.
Understandably uncomfortable, Charlie takes off for the evening. Joey and Rachel try to do the same, asking Ross if he's alright. Ross, once again insists he's fine. "Hey, hey, it's fine, it's totally fine. We've got plenty of margaritas, it's all good." Is it though?
Though many Friends fanatics thought that the Joey-Rachel romance didn't fit into the rest of the show, Schwimmer's performance through the arc made it watchable, redeeming what otherwise felt like filler episodes. Ross' discontent and subsequent reaction have become relatable over time. Even 20 years later, fans are still talking about the episode, referencing Ross and his ill-fated margarita rendezvous.
One margarita, please!