A Viral TikTok Made Rachel's Super Gross Friends Dessert Edible
Finally, a recipe that doesn't "taste like feet."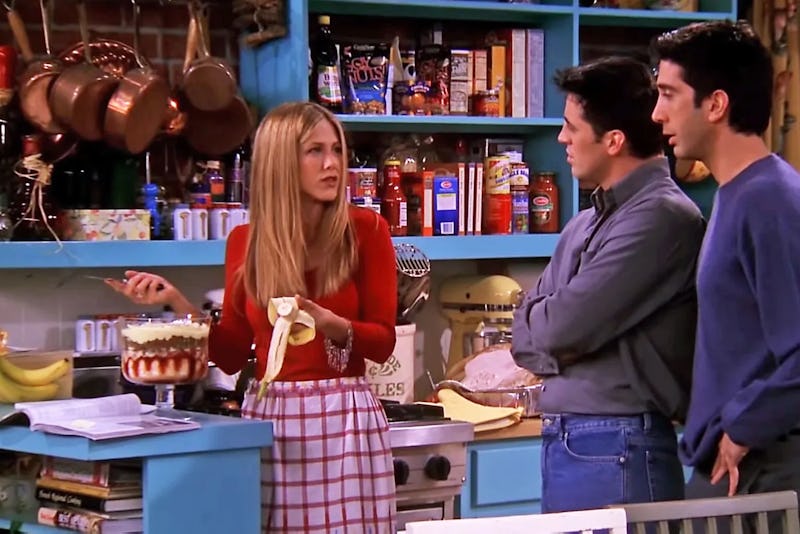 Warner Bros. / 'Friends'
The Friends Thanksgiving specials have provided some of the most memorable moments from the beloved sitcom's 10-season run, and the 1999 episode "The One Where Ross Got High" stands out as a fan-favorite. As viewers might recall, the episode shows Rachel Green's hilarious attempt at making a traditional English trifle for Thanksgiving dinner. However, a culinary-challenged Rachel accidentally mixes up the trifle recipe with that of a Shepherd's Pie, and winds up serving an interesting hybrid of the two.
Not wanting to hurt her feelings, Monica, Ross, Phoebe, Chandler, and Joey pretend to enjoy Rachel's attempt at a Thanksgiving dessert, and while sharing her mixed-up recipe with the group, Rachel explains that she mistakenly added "beef sauteed with peas and onions" to the trifle — which, according to Ross, "tastes like feet."
Over on TikTok, Friends fans have now discovered a way to make an "edible" version of Rachel's infamous trifle. First, add a layer of ladyfingers, then a layer of jam, followed by custard, raspberries, and more ladyfingers. As a substitute for Rachel's beefy Shepherd's Pie ingredients, add a mixture of crushed cookies and coconut flakes, followed by more custard, bananas, and a finishing touch of whipped cream on top.
The slightly altered trifle recipe has caught the attention of many TikTok, and some users are eager to try it for themselves. "Oh I'm definitely making this," wrote one enthusiastic fan, while another added: "What's not to like? Custard? Good! Jam? Good! Meat? Good!" referencing a joke from the original episode.
Meanwhile, fans can also find several other iconic Friends recipes on the platform, including Ross' "moist" Season 5 Thanksgiving sandwich, along with its secret ingredient, Chandler and Rachel's irresistible (and stolen) Season 7 cheesecake recipe, and more.