Gemma Atkinson & Gorka Márquez Are Strictly The Sweetest Couple
Ahead of them welcoming a second child, we look back at their relationship.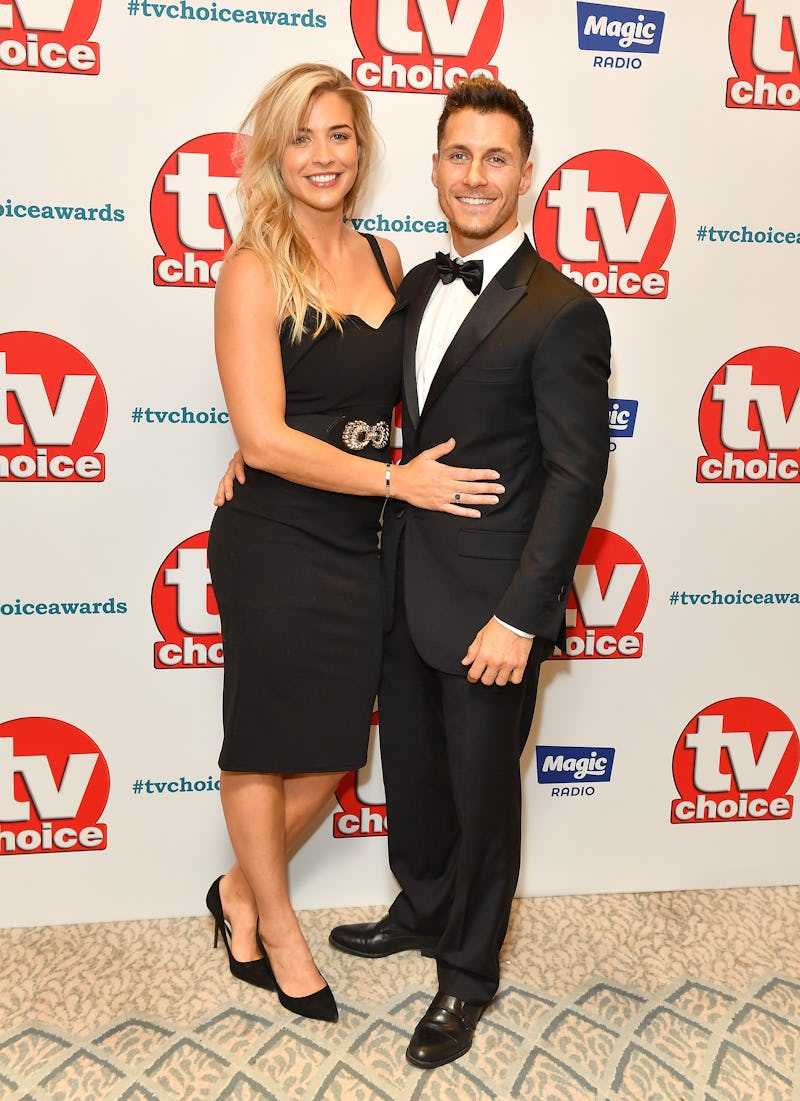 Getty Images/Mike Marsland
Gemma Atkinson has come on quite a journey since she took a punt and entered Strictly Come Dancing back in 2017. As well as making it all the way to the finals, the actor and broadcaster arguably experienced the opposite of the "Strictly curse," instead finding the love of her life through the dancing competition. Gemma and Gorka Márquez have been together ever since, weathering the challenges of becoming parents for the first time together, as well as Gorka's touring commitments taking him away from home. And today, the couple have shared the very happy news that they're expecting their second child together.
But how did the pair first meet, and how long have they been official?
September 2017: Strictly Come Dancing
Though Gemma and Gorka weren't coupled-up together on the dancefloor, the couple originally met for the first time while taking part in the ballroom dancing competition as fellow runners-up and on-screen rivals. Actor and eventual finalist Gemma Atkinson was paired off with Strictly professional Aljaž Skorjanec while fellow pro Gorka Marquez teamed up with singer Alexandra Burke – but spent time together during group rehearsals. Both couples made it to the final.
Though dating rumours began to swirl after Gemma and Gorka began posing for social media pics together,, the actor insisted that they weren't officially dating – yet. "Maybe once the series is over, but not right now… we'll see what happens," she hinted to The Sun.
February 2018: Making things official
The fifteenth series of Strictly… drew to a close on Dec. 16, and without their respective competitive streaks to focus on, the pair spent even more time together on the Strictly… tour and happily shared their joint pictures along the way on Insta. By Valentine's Day the following year, they had made things official, sharing a romantic beach snap to confirm the adorable news.
"Here's to many more kid. Happy Valentine's Day," Gemma wrote, tagging Gorka in her post. "We were never hiding anything," she later told The Sun. "But now that we've said, 'Yes, we are together and we're very happy', we can all just get on with it and things can calm down a bit. We only saw each other for the live show at weekends, and what was happening with me and Gorka was the last thing on our minds - well, on my mind anyway!"
"I couldn't have contemplated a relationship while the show was on, it was just too stressful. So it was a gradual thing," she added. "There was no lightning bolt moment, unfortunately. Not like in the movies."
Dec. 2018: Moving in together
While Gemma has been based in Manchester for her whole life, Gorka grew up in the Northern Spanish city of Bilbao. After conducting tours around their respective hometowns, the couple officially moved in together towards the end of December 2018, with Gorka joining Gemma and her two dogs Norman and Ollie. "He's the chef in the house," Gemma told Lorraine. "He's nice and tidy, and it's fun! It's just like living with my best mate."
February 2019 Baby Number One!
Exactly a year after revealing that they were an item, the couple shared that they were expecting their first child. Using their dogs Norman and Ollie as surprisingly compliant models, Gorka and Gemma revealed the happy news with two amusing dog necklaces. "Guess what… mum's pregnant" read the first. "We're going to be big brothers," said the second. "And what Amazing big brothers they will be! Myself & Gorks are beyond excited and happy and feel incredibly blessed to be meeting our new family member later this year," Gemma wrote. "Baby Marquez!!! We love you loads already."
In July that year, the pair welcomed their first-born Mia Louise Marquez, with Gemma later opening up about the realities of pregnancy and birth in a candid post. Mia was born by emergency C-Section, and Gemma also suffered further complications following the birth, but "the trauma was over & thanks to our NHS & incredible hospital staff we were ok," she said.
"I'm going to remind Mia of this story any time she has doubts about what she can achieve in life," she said. "The odds were against her from the start, but she's been a little fighter from day 1. Feeds perfectly & is gaining weight like I do on an all inclusive holiday! We're SO proud of her, she's our little soldier & I'm so Grateful."
February 2021 Wedding bells…?
Valentine's Day seems to be the date of choice for these two – and in 2021, on their 3-year anniversary, Gorka popped the question. "Valentine's forever…" she wrote. "Of course I said yes"
The pair haven't tied the knot yet, with Gemma saying that Gorka's busy schedule is a large factor in taking their time over the wedding plans. "Gorka is literally on tour all of this year. We've only got four days off together," she told New. "He's got the two Strictly… tours back to back, and then he'll be going on Strictly in the autumn. We don't even have a minute to sit down and begin making plans!"
A year later, the couple marked their 4th anniversary with a sweet reel of shared snaps, revealing that 'their' song is Pink's "Leave Me Alone (I'm Lonely)". Fittingly enough, it's a tongue-in-cheek banger about how absence makes the heart grow even fonder: "Go away, give me a chance to miss you".
Two years later, the couple are still engaged. "If I don't marry him, he can't divorce me!" Gemma joked on Hit Radio earlier in 2023.
Jan. 2023 Barbie's on the way!
In an adorable post, Gemma revealed that she and Gorka are expecting a son, adding that their oldest Mia is adamant that her younger brother will be named "Barbie"
"Impossible to hide my belly any longer," she wrote. "I've officially "popped." Our baby boy will be joining our family later this year. We feel so incredibly blessed and Grateful to be on this journey again. Mia is absolutely thrilled! Although we may need to do some negotiating on names…"