Gilmore Girls-Inspired Coffee Cake Cookies Are Taking Over TikTok
The delicious recipe has arrived just in time for Fall.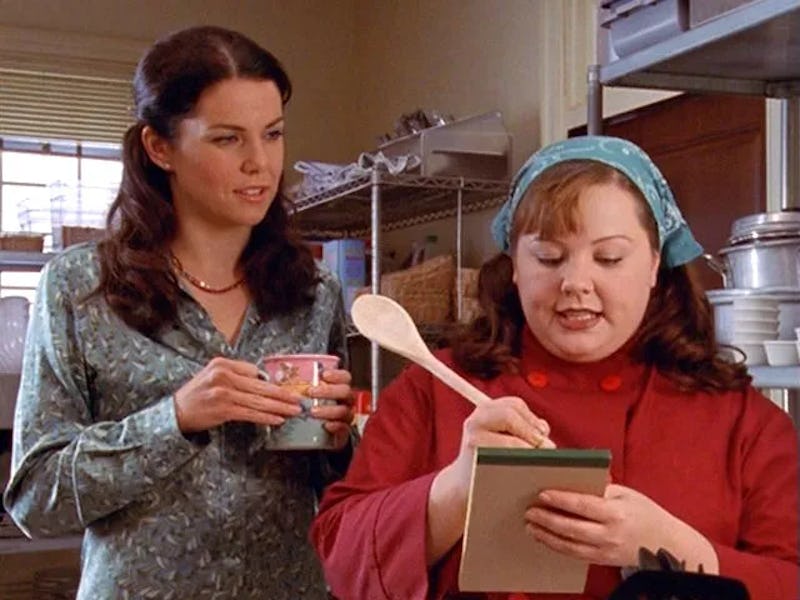 Netflix / 'Gilmore Girls'
The legacy of Gilmore Girls can be felt well beyond its 2000s heyday, as fans of the beloved series continue to share easter eggs, continuity errors, and viral theories 16 years after the show aired its final episode. Now, Gilmore Girls appears to be infiltrating fans' eating habits, as a viral coffee cake cookie recipe inspired by Luke's Diner has taken social media by storm.
Over on TikTok, a user by the name of @thepalatablelife shared the recipe with her followers just in time for Fall — and with more than a million views as of writing, it seems the cookies are a hit with Gilmore Girls fans.
If you'd like to bake some coffee cake cookies to nibble on during your next Gilmore Girls rewatch, put on your Sookie St. James chef hat and start by mixing butter, vegetable oil, and brown sugar in a bowl. Then, add half an egg to the mixture, some vanilla extract, and flour. Using a cookie scooper, form the cookie mix into balls and place on a baking tray, before pressing each of them down into a more traditional cookie shape.
For the cinnamon streusel topping, mix butter, brown sugar, flour, and cinnamon in a separate bowl, and then drizzle the streusel crumbs over your cookies. After baking in the oven for ten minutes, whip up a gooey mix of powdered sugar, milk, and vanilla extract, and drizzle over your batch once they're fresh out of the oven.
Fellow TikTokers have since shared their thoughts on the now-viral Gilmore Girls cookies, with some offering their own take on the "delicious" recipe. "I make these all the time," one user commented. "Trust me, put espresso in the icing instead of milk, and drizzle the whole thing with a bit of sea salt — and thank me later."
Meanwhile, another user joked that the cookies are "perfect to enjoy while you're deciding if you're team Logan, team Jess, or team Dean."