Ginny & Georgia Season 3 Promises "New Relationships & New Challenges"
Netflix renewed the mother-daughter drama for two more seasons.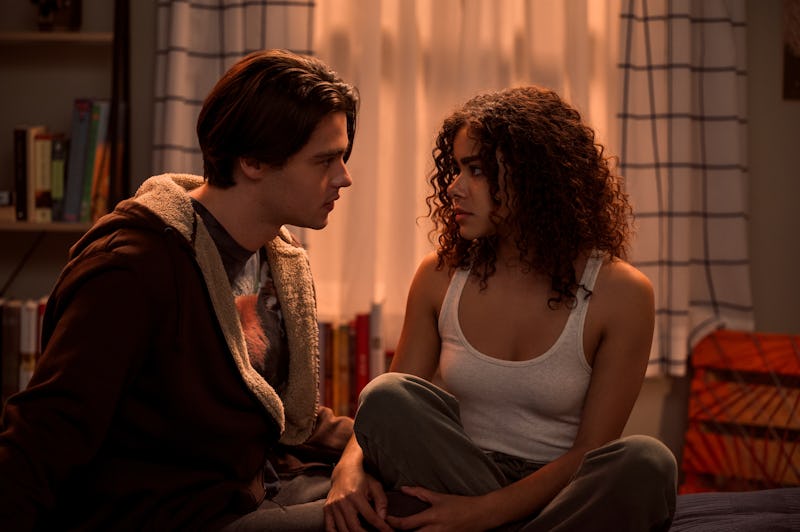 Amanda Matlovich/Netflix
Almost two years after the Ginny & Georgia Season 1 finale left viewers pondering a major cliffhanger, Season 2 picked up right where they left off. For starters, Ginny (Antonia Gentry) had to figure out how to live with the realization that her mom, Georgia (Brianne Howey), murdered her stepfather to protect her. Meanwhile, with a wedding to plan, Georgia preferred to leave the past in the past. By the end of the second season, Netflix left viewers with yet another cliffhanger, making clear what the streamer meant when they teased that "the funny thing about Georgia's past is that it never stays buried for long."
Ending with so many unanswered questions, a Ginny & Georgia Season 3 practically seemed inevitable, and on May 17, Netflix renewed the mother-daughter drama for not one, but two more seasons. The streamer also confirmed that Degrassi: The Next Generation's Sarah Glinski is replacing showrunner Debra J. Fisher for Season 3.
Months before Ginny & Georgia's Season 3 fate was revealed, series creator Sarah Lampert already had some ideas brewing. "Season 1 was a coming-of-age story for both Ginny and Georgia, and I think Season 2 is a continuation of that," she recently explained to Tell-Tale TV. "They're both going to have to really get to know each other on a deeper level this season, specifically to set them up for where I want this to go in Season 3. If we get it."
Now that they did get one, here's everything we know about Ginny & Georgia Season 3.
The Ginny & Georgia Season 3 Cast
Despite the renewal announcement, the Ginny & Georgia Season 3 cast list remains forthcoming. In addition to Gentry and Howey, the Season 2 cast included: Diesel La Torraca (Austin), Jennifer Robertson (Ellen), Felix Mallard (Marcus), Sara Waisglass (Maxine), Scott Porter (Mayor Paul Randolph), Raymond Ablack (Joe), Katie Douglas (Abby), Chelsea Clark (Norah), Nathan Mitchell (Zion), Sabrina Grdevich (Cynthia), Humberly Gonzalez (Sophie), Mason Temple (Hunter), Nikki Roumel (Young Georgia), Tameka Griffiths (Bracia), Rebecca Ablack (Padma), Aaron Ashmore (Gil), Daniel Beirne (Nick), and Alex Mallari Jr. (Gabriel Cordova).
"One of the best parts of Season 2 is we get to see an entirely new side of every single character," Howey told Bustle before Ginny & Georgia's second season premiered in January. "You really see the other side of the coin."
The Ginny & Georgia Season 3 Plot
The second season begins with the titular mother-daughter duo at their lowest points. "The journey from where Ginny starts at the beginning of Season 2 to where she ends is a long one," Gentry explained to ScreenRant. "She has to get from zero back to ten. We start at zero. We start at rock bottom." Of course, the events of the finale could very well dial back that progress though, pending the reveal of Georgia's fate, a storyline that would more than likely kick off the third season.
"When we had to develop the storyline for Season 2, we knew exactly what we wanted Season 3 to be," Lampert explained in a January interview with Netflix's Tudum. "Georgia needed to kill someone and she needed to kill someone in Wellsbury, Massachusetts." As the creator added, the third season will throw "new hurdles, new relationships and new challenges" at Ginny and Georgia "in a way we haven't seen before on the show."
Expect plenty more plot twists, surprises, and heart-wrenching moments, too.
The Ginny & Georgia Season 3 Premiere Date
After the series debuted in February 2021, Netflix announced the Season 2 renewal about two months later. Filming reportedly took place from late November 2021 until late April 2022, ahead of a January 2023 premiere. Howey previously addressed the delay with E! Online, explaining that the streamer translates Ginny & Georgia into 180 different languages. "That takes about four months," the actor noted in October 2022. "So it's actually not the show itself. The show is done." If production on the third season follows the same schedule, Ginny & Georgia likely won't return until 2024.
This post will be updated as more Ginny & Georgia Season 3 details become available.
This article was originally published on