Girls Trip 2 Will See Our Fab Four Enjoy An International Adventure
Here's everything you need to know about the long overdue sequel.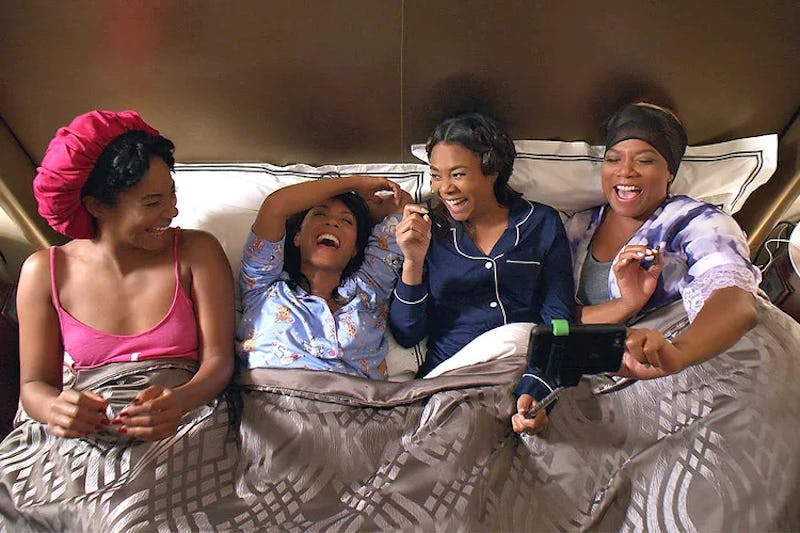 Universal Pictures
Hold tight, as we are *finally* getting a Girls Trip 2. And this time, the ladies are expected to take on more of an international adventure. Fans will remember that the 2017 film saw a group of long-term friends meet up for a trip to New Orleans for Essence Music Festival. From jumping on a zip line to wild nights out, the foursome gave viewers every bit of entertainment anticipated for a classic girls trip. But what can we expect from Girls Trip 2? Below see everything to know about the sequel so far.
Girls Trip 2 Plot
Writer, director, and producer, Tracy Oliver (who co-wrote Girls Trip) shared in an interview with Variety at the Sundance Film Festival that whilst the film's producer Will Packer "might kill me, we're looking to set it in Ghana." So, we can look forward to a vibrant and sunny setting for the upcoming film. Oliver also confirmed that the plot will follow the foursome looking to attend Afrochella Festival, the famous music and cultural event in Ghana.
Girls Trip 2 Cast
Oliver also confirmed that "everybody's coming back" when it comes to the film's casting. That means we can expect the full girl gang to reunite. Jada Pinkett Smith (Lisa), Queen Latifah (Sasha), Tiffany Haddish (Dina), and Regina Hall (Ryan) will all be back on our screens together once again. The returning cast is yet to comment on the announcement of the sequel, however.
Girls Trip 2 Trailer & Release Date
As it's still early days, a release date is yet to be confirmed for the highly-anticipated sequel. When speaking about the timeline of the project, Oliver said "it's definitely due… I need to stop drinking and do more writing." And so, there's still a bit of a wait until we see Girls Trip 2 on our screens again, but do check back here for updates as and when they happen.