Glastonbury 2022 Is Sold Out, But There Might Still Be Chance To Get Tickets
The world-renowned festival will be back after two year break.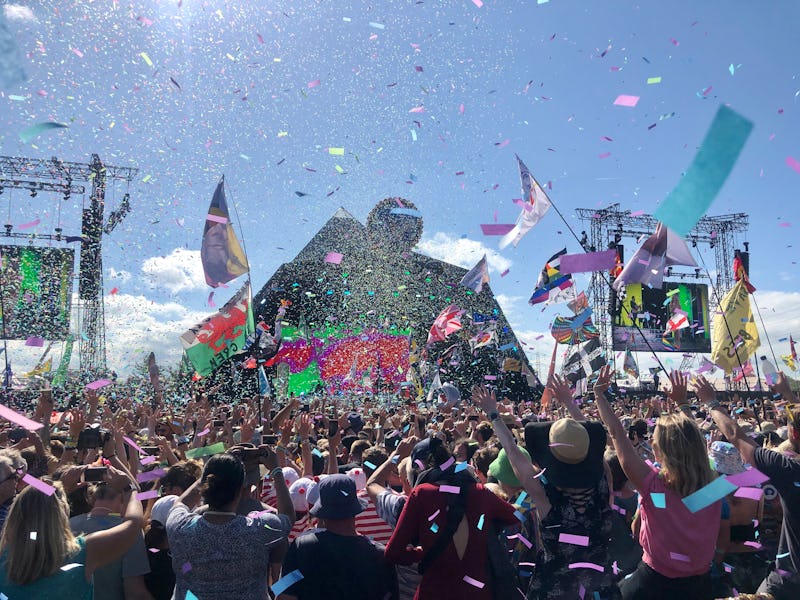 Matt Cardy/Getty Images Entertainment/Getty Images
For those of us who enjoy standing in a muddy Somerset field, listening to incredible music in the height of British summer time, the lack of Glastonbury Festival for two years has been a struggle. But if you were thinking of trading in your wellies for flip-flops this summer; don't. Glastonbury 2022 has finally been confirmed after two years of cancellations and the first wave of acts on its stellar lineup have just been announced ahead of the legendary festival's highly anticipated return.
Glastonbury has been on pause since 2020. Typically, the festival runs every year, but because it takes place on a working dairy farm in a tiny Somerset village, there are intervals every five years to give the locals, land and organisers a break. These are called fallow years. Before the pandemic, the last fallow year was 2018, so you can imagine how festival-goers felt only being back for a single year.
The last Glasto had a variety of performances from some of the most successful artists of all time. Stormzy, The Killers and The Cure headlined the Pyramid stage across the three nights, with other performances from former Fugees vocalist Lauryn Hill, Bastille, Billie Eilish, Lewis Capaldi, and a whole host more.
Keep reading to find out everything we know about next year's extravaganza, from who's performing, to when it's taking place, and how you can get your hands on some tickets.
When is Glastonbury 2022?
Glastonbury is taking place from June 22 - June 26 June 2022, with the main three days of music commencing from Friday June 24.
Who Is Performing At Glastonbury 2022?
Seasoned Glastonbury performer Billie Eilish was confirmed as Friday night's Pyramid Stage headliner back in October 2021. Ahead of lucky punters paying off their final balances for any tickets rolled over from 2020, the festival also shared a more in-depth look at the line-up so far. As well as revealing Beatles icon Paul McCartney and rapping great Kendrick Lamar as the remaining two headliners, the entire bill is packed with incredible music.
Mercury Prize winner Arlo Parks, 'WAP' rapper Megan Thee Stallion, London indie outfit Wolf Alice, generational talent Little Simz, hyper-pop supreme Charli XCX and New Zealand alt-pop hero Lorde are among the many, many acts confirmed so far.
After fans originally celebrated her booking back in 2020, Motown superstar and The Supremes singer Diana Ross has also been confirmed a second time for the legends slot on Sunday afternoon. Previously played by the likes of Dolly Parton, Lionel Ritchie Kylie Minogue, the legends slot holds a particularly beloved place at the festival, hosting bonafide greats on the Pyramid Stage. After originally being booked for the iconic slot back in 2020 in Ross has been reconfirmed for the Sunday afternoon slot. Paul McCartney was also originally slated to headline the cancelled 2020 edition, and returns to claim his Pyramid Stage crown.
With 31 different areas across its whopping site on Worthy Farm, and boasting just over 100 stages (from tiny secret bars to huge dance tents) further announcements will follow as the festival draws closer. Usually, organisers tend to confirm the full line-up in May, a month before the festival.
Can I Get Tickets For Glastonbury 2021?
Unfortunately, tickets for Glastonbury 2022 are sold out, as anyone lucky enough to bag one in sales for the 2020 festival was able to roll their ticket over for a second year. Existing ticket-holders paid their final balances off in Mar. 2022, with any unpaid or unneeded tickets going back into the pot so that festival-goers have one extra chance to secure the goods.
It makes for a tough battle, but if you're bursting to get in on the fun, Glastonbury always host a resale event a few months before the festival. The key? In order to be eligible to buy tickets, you have to be registered which you can do via the official festival website. Otherwise, gear up for the resales later in March. On Mar. 24, anybody after a combined ticket (which also includes coach travel) can try their luck, with a general sale to follow on Mar. 27.
It's worth noting that you can't buy tickets off a mate who's unable to attend. The festival has strict guidelines about reselling and transferring tickets. It's stated on its website: "All tickets for the Festival are individually personalised to the named ticket holder and are strictly non-transferable. Security checks are carried out on arrival, and only the specified ticket holder will be admitted to the Festival."
And if you're unsuccessful in the resale? Do not fear, because all is not lost. As a festival with a strong charity focus, all sorts of organisations have a presence at Glastonbury, and giving up some of your time can be a great and really positive way to bag a precious ticket. Oxfam are just one of the charities taking applications for volunteers and stewards at the moment, and give their volunteers free tickets in exchange for a couple of shifts around the festival along the way.
If there's anything else you need answered; don't worry! More info can be found on the Glastonbury official website.
This article was originally published on