Everything To Know About Good Burger 2
Kenan Thompson and Kel Mitchell will reunite for a delicious sequel.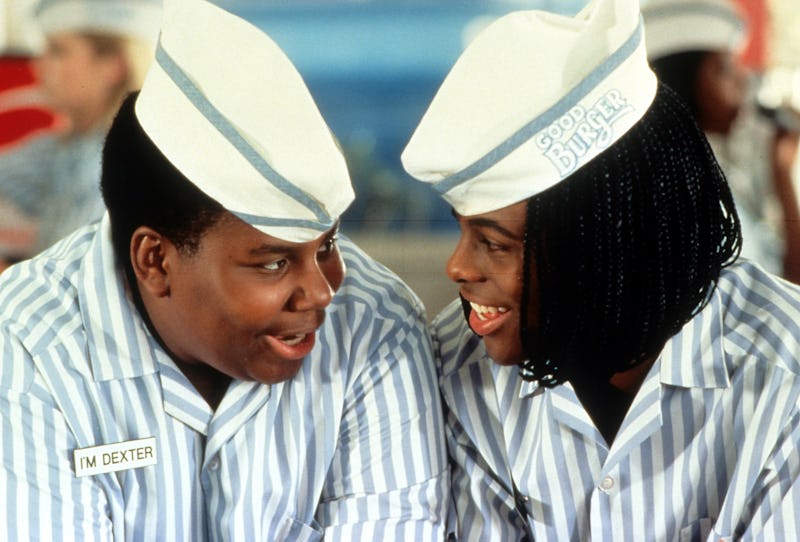 Archive Photos/Moviepix/Getty Images
Fans haven't lost their appetite for Good Burger in the 25 years since the comedy came out, and neither have stars Kenan Thompson and Kel Mitchell. The two actors made a joint appearance on The Tonight Show on March 17 and told host Jimmy Fallon they have wanted to make a sequel "since the first one." The appearance wasn't just an opportunity to reminisce about the 1997 project — they announced that the Good Burger 2 order is officially in and it's coming very soon.
After welcoming Thompson and Mitchell to The Tonight Show, Fallon let his audience know they had something special to share. "Ladies and gentlemen… Welcome to Good Burger, home of the Good Burger, part two!" Mitchell announced, using his character Ed's distinct voice. As the audience immediately broke into cheers, the All That vets and Fallon all jumped out of their seats to celebrate.
What can we expect from part two? Thompson and Mitchell tackled that on The Tonight Show, too, and other details have come out since. Below, learn everything to know about the long-awaited sequel so far.
Good Burger 2 Trailer
On Aug. 22, Paramount+ released the first Good Burger 2 teaser trailer, which begins with Ed nearly running over Dex with his Good Burger car, decorated with fries. The plot details have been kept a secret, but what's clear is that Ed and Dex are truly back.
Good Burger 2 Release Date
As announced on Sept. 18, Good Burger 2 will premiere just in time for Thanksgiving. The sequel will start streaming on Paramount+ on Nov. 22, making it the perfect nostalgic movie to watch after Thanksgiving dinner.
Good Burger 2 Plot
In Good Burger, Ed (Mitchell) and Dexter (Thompson) had to fight to keep the titular fast food joint in business after a competitor, Mondo Burger, moved in across the street. In the sequel, according to Deadline, the duo reunite after another one of Dex's inventions fails to take off. Together, they train a new group of Good Burger employees, but when Dex hatches a plan to get back on top, he risks Good Burger in the process.
Thompson and Mitchell stayed tight-lipped about the specifics of Good Burger 2 on The Tonight Show, but they confirmed the script is packed with "a lot of hijinks" and they were preparing to shoot as soon as possible. "We're going to shoot it this summer, and it'll be out soon," Thompson said at the time, noting that they were waiting for him to have time in his schedule post-Saturday Night Live.
Good Burger 2 Cast
Mitchell and Thompson are coming back, but who will join them? The two made a surprise appearance at 90s Con on March 18, as Us Weekly reported, and they noted that they want to bring back multiple actors fans already know and love. On their list so far are Sinbad, who played teacher Mr. Wheat, and their fellow All That vets Lori Beth Denberg and Danny Tamberelli. They also teased some more very famous faces on The Tonight Show.
Good Burger 2 Cameos
The 1997 comedy was full of celebrity cameos, including Shaquille O'Neal, Carmen Electra, and Matt Gallant. "We want, like, as many cameos as we can possibly get," Thompson told Fallon. He quipped that they'll take "anybody that wants to do it" that is "somewhat famous." With Fallon fitting the bill, they got him to enthusiastically agree.
They have more people in mind. Thompson suggested Harry Styles and former President Barack Obama during 90s Con. Yes, please.
This article was originally published on