Gwen Shamblin's Kids Have Very Different Outlooks On Her Controversial Church
While Elizabeth remains in a leadership role at Remnant Fellowship, Michael appears to have left the church in the wake of their mother's passing.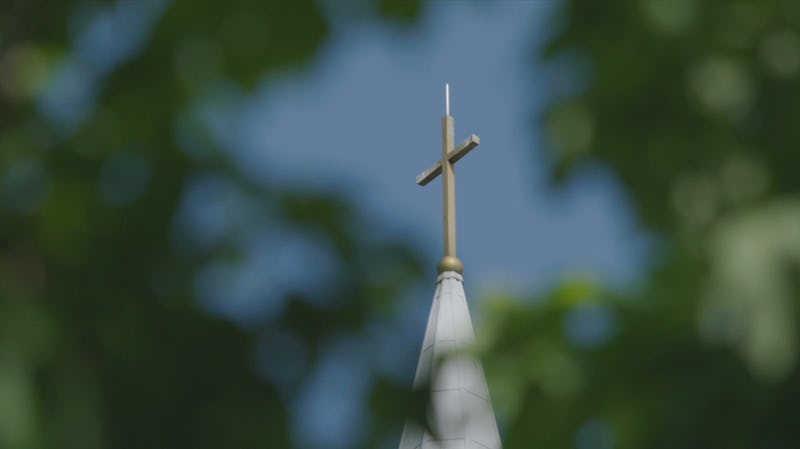 HBO Max
Though the HBO Max docuseries The Way Down largely focuses on the life and death of Remnant Fellowship Church founder Gwen Shamblin, it also mentions her children Elizabeth and Michael, who she shared with her first husband David Shamblin.
As adults, both Elizabeth and Michael have held leadership roles within their mother's church, with Elizabeth leading the Remnant Fellowship youth group and Michael helping to lead worship services and music performances for the church. Elizabeth has four kids — Grace, Gweneth, Gloria, and Charles Grantham — with her late husband Brandon Shannon, who died in the May 2021 plane crash that also killed Elizabeth's mother and stepfather, Joe Lara. Elizabeth had a fifth child, but he died in his sleep at five months old — an incident that was barely discussed within the church at the time.
Similar to his sister, Michael and his wife Erin Shamblin have four children: Gabriele, Garland, Gates, and Christian. Unlike Elizabeth, who has remained loyal to Remnant Fellowship, Michael has left his mother's church repeatedly during adulthood, at least once in order to pursue his own music career. Likely due to Michael's struggles with his mental health, multiple infidelities, and weight fluctuations, his visibility within the church has varied over time. Former Remnant Fellowship members say in The Way Down that Michael felt trapped by his familial obligations to Remnant Fellowship, and that his resentment and disengagement were evident at times.
Where is Elizabeth Shamblin Hannah Now?
After the plane crash that led to her mother, stepfather, and husband's death, it appeared as though Elizabeth Shamblin Hannah would assume a primary leadership role in the Remnant Fellowship Church. According to The Way Down documentary, on the day of the crash, she sent a text message to Remnant Church members telling them to, "be in prayer — and be at peace. GOD IS IN CONTROL, and we will not stop moving forward with WHAT GOD WANTS with this church."
Elizabeth's bio page on the Remnant Fellowship website also reflects on her mother's passing. "At this time in my life, I find myself with the wonderful opportunity to follow in my mother's footsteps in serving our beautiful church, and I am grateful for her example of decades of laying down her life for others," she writes. However, from the looks of Remnant's website, Elizabeth appears to be just one of many leaders within the church moving forward, and she does not have a particular role or title listed.
Where is Michael Shamblin Now?
Less is known about where Michael is, and his present involvement with the Remnant Fellowship Church is difficult to ascertain. His website, which was active as recently as April 26, 2022 and seemed to imply then that he was still producing music for and serving as one of the worship leaders at Remnant Fellowship, has been replaced at the time of publication with a blank page and the words "Under Construction." Former members of the church say in Part Two of The Way Down that he has since divorced his wife; his name has also been entirely removed from the church's website.
Although Michael appears to have both an Instagram page and a Twitter account, neither have been regularly active since 2017 — save one September 2021 tweet of a photo of his baby son wearing a Johnny Cash shirt with the caption "This Christian is following in his daddy's footsteps."
This article was originally published on