Hailey Bieber Shared Health Info A Year After Her "Life Changing" Ministroke
The Rhode founder is raising awareness.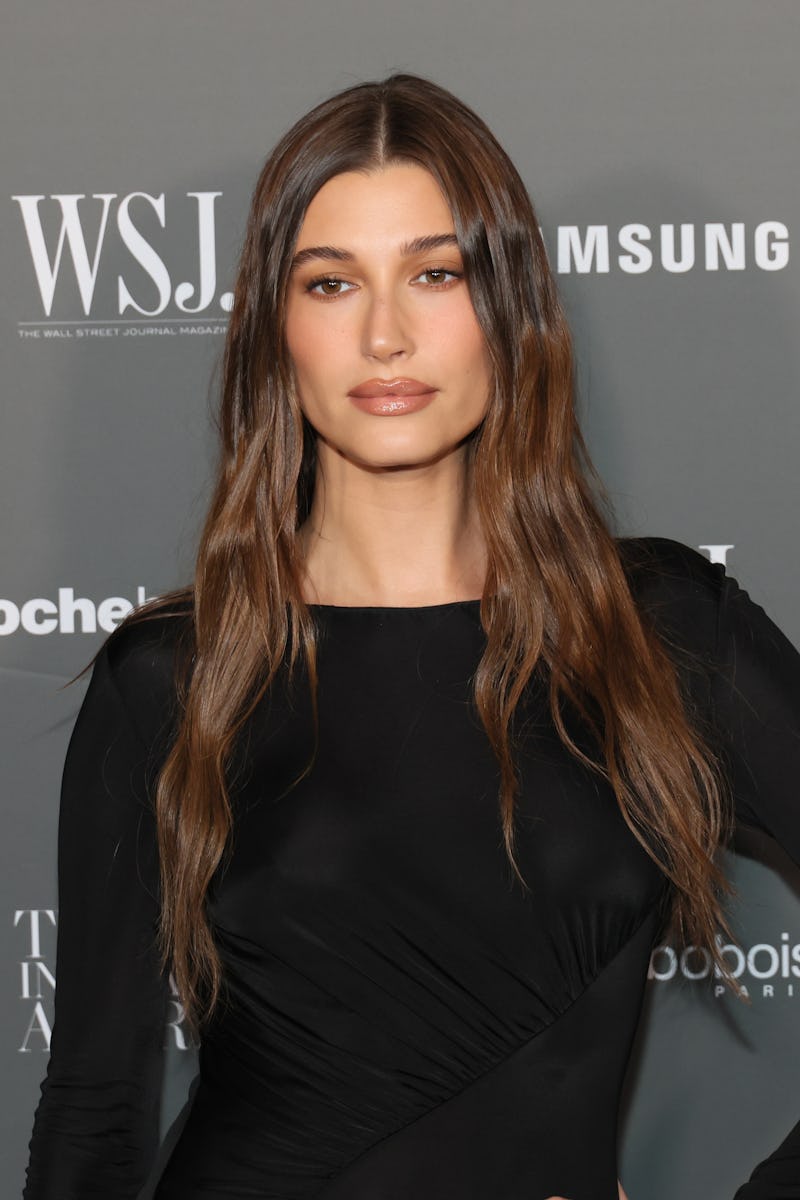 Dia Dipasupil/Getty Images Entertainment/Getty Images
A year ago, Hailey Bieber's "normal" breakfast turned into the "scariest moment" of her life. She was talking to husband Justin Bieber when she felt the first signs of having a stroke, and it took weeks for the "really scary situation" to finally be resolved. Not surprisingly, the experience has stuck with her, and she used the first anniversary of her health scare to revisit her story, share resources, and highlight a brain injury recovery charity.
"Can't believe it's been 1 year since I suffered a mini stroke that led to my PFO diagnosis," Bieber wrote in a March 10 Instagram story. "Given that it's the 1 year mark from such a life changing event, I wanted to share all the information I've learned about PFO and share resources to donate."
The Rhode founder reshared a video she posted on April 27, 2022; it explains what happened with her ministroke, or transient ischemic attack (TIA), and how it led to her patent foramen ovale (PFO) diagnosis after further testing. The condition occurs when a hole between the two chambers of the heart doesn't close after birth, and in her case, it allowed a blood clot to pass to her brain that then caused the ministroke.
Bieber's anniversary stories highlighted some facts about PFO and spotlighted Emilia Clarke's charity SameYou, which the Game of Thrones vet founded after suffering an aneurysm that caused a life-threatening stroke in 2011. Clarke has been candid about the fact that parts of her brain are "no longer usable," as she said on BBC's Sunday Morning program in July, and that it's "remarkable" she can live a normal life.
Bieber was fortunate enough not to suffer extensive damage from her TIA. As she explained in April 2022, her body recovered from the ministroke by the time she was let out of the hospital. Still, she later needed a procedure to close her PFO. It measured between 12 and 13 millimeters, she said, and she was "really nervous" during the wait for her closure procedure. "I understand how life-altering and scary it is," she told viewers who had been through the same experience.
Justin, too, shared how frightening it was at the time. "It's kind of crazy how life randomly throws you curveballs," he told concertgoers on March 16, 2022, per Us Weekly. "You can't really control much. Most of you probably know or have seen the news about my wife … but she's OK, she's good, she's strong. It's been scary, you know, it's been really scary."
Having family support and health care resources was key, and Bieber noted in April 2022 that she was "very lucky" in her situation. By marking the anniversary of her ministroke and PFO diagnosis, she's helping spread awareness and paying it forward.