At 14, Halle Bailey Got This Advice From Beyoncé
The Little Mermaid star spent her early teen years performing with her sister — and daydreaming about her first kiss.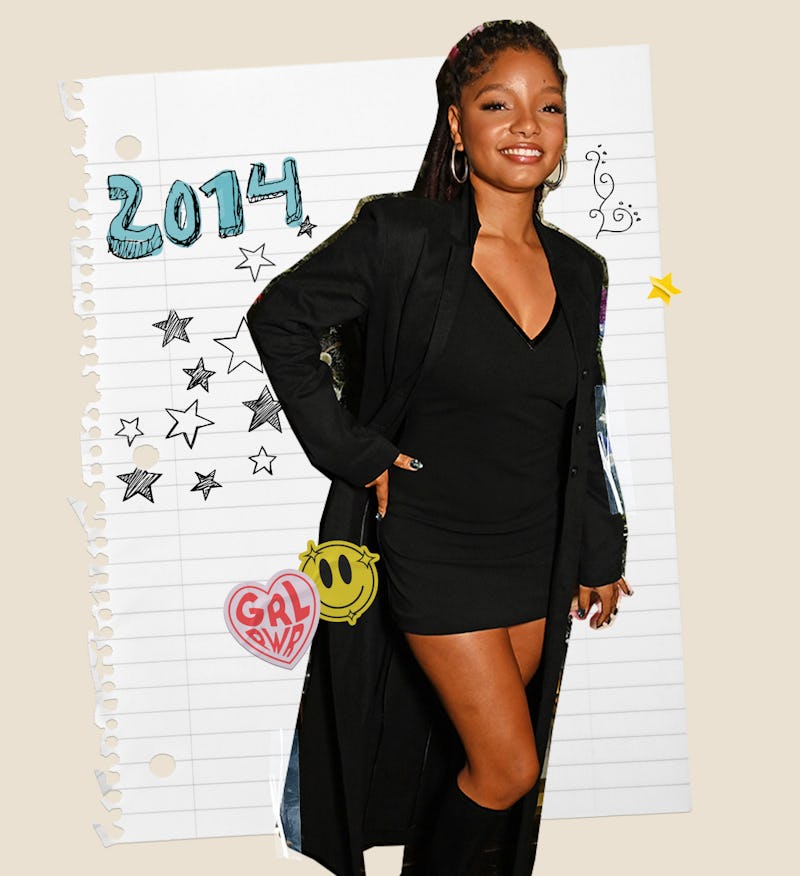 Caroline Wurtzel/Bustle; David M. Benett/Getty Images
When she was 14, Halle Bailey was living in Los Angeles with her older sister, Chlöe Bailey — and already making her dreams come true. The pair had started a YouTube channel two years prior, and after their cover of Beyoncé's "Pretty Hurts" went viral in 2013, the then-teenage sisters from Atlanta found themselves with a rare opportunity to build real careers out of flash-in-the-pan fame.
Shortly after, they'd sign with Beyoncé's management company, Parkwood Entertainment, and hit the road as an opening act on the megastar's Formation World Tour. "I remember being so excited seeing the world," says Halle, now 23. "I was doing my homeschooling while on the road, so it was a very intense lifestyle, but I loved being on the tour bus. I just remember thinking, 'I'm grateful, and this is really cool.'"
As Chloe x Halle, the duo released two studio albums, earned five Grammy nominations, and continued touring under Bey's mentorship. They also booked their first TV roles together, as Jazz and Sky Forster on the black-ish spin-off grown-ish. Now, the two remain a united front, even as they focus on ambitious solo projects: Chlöe's debut solo album In Pieces, released in March, and Halle's first lead in a feature film, as Ariel in the live-action remake of The Little Mermaid out May 26. She's only the second-ever Black Disney princess, following The Princess and the Frog's Tiana in 2009.
It's a future Bailey's 14-year-old self couldn't have imagined. "I do not want to cry right now, but I think she'd be so proud of me and I think she would be in disbelief that we are playing one of my favorite characters of all time," she says. "If somebody were to tell me, 'In five years, you're going to be Ariel,' I [would have been] like, 'Child, you lying. Stop lying.'"
Below, Bailey opens up about her first celebrity crush, the advice Beyoncé gave her at 14, and her love for The Jerry Springer Show.
How were you feeling about the prospect of fame in 2014, just as you were starting out?
The goal was to be able to pursue my love of music and do what I love for a living, [even if it was] at a club in Atlanta on the smallest of scales. As long as I was fulfilling that need, then I was OK without having fame or anything. I think after fame comes, it's like, "Wow, this is interesting and honestly overwhelming," but that was never the goal.
Aside from acting and music, what were your hobbies at 14?
Playing the guitar, doing yoga. I started making jewelry when I was around that age. I love making jewelry out of these crystal beads. I like things that allow me to sit in my solitude and just have moments of quiet — so making things, whether it's a song or jewelry, allowed me to do that and just be one with myself.
What shows and movies were you watching?
I am a sucker for reality television, I always have been. I love all of the Housewives, I love all of the divorce courts, paternity courts, Maury, Jerry Springer, all of them. I would definitely be watching those as guilty pleasure TV.
Did you have a dream role at 14?
I've always wanted to incorporate music and singing into my acting, because music is my first love and singing is what I love to do, so Broadway was something that I thought maybe one day I'd do — and who knows, maybe I'll still do that in the future.
"Kiss the Girl" is such a pivotal moment in The Little Mermaid. How were you feeling about love and kissing at 14?
I've always been such a romantic person, and so I'd be on the tour bus imagining, "Oh, what will my first kiss be like?" Because I think I had my first kiss when I was like 16. It was a lot of daydreaming and the beginning of puppy love feelings.
Did it live up to your expectations?
Oh yeah, absolutely. [Laughs.]
Who was your biggest celebrity crush?
Ooh, I think Bruno Mars was my top one, especially when I was 14. I was obsessed with him when he came out with "Grenade" and his [Doo-Wops &] Hooligans album. I just thought he was so... He still is amazing.
What was your relationship like with social media at the time?
I remember we got our first 1,000 views on a video, and it was like, "Wow, that's amazing." And we had 10 comments, and I remember we read the comments for the first time. At first, comments used to matter a lot to us. And then, as you get older, you realize there's going to be a lot of opinions. If you just release into the world what you love and what makes you happy, and if you feel proud of yourself, that's good. If people like it, they like it. If they don't, that's alright too.
What advice did Beyoncé give you at the time that you've held on to?
While she was backstage getting ready, she would have somebody record our opening set and then review the set after and give us tips and tricks. Just really encouraging us how to get better and better each show — that was something that my sister and I really enjoyed.
What advice would you give your 14-year-old self?
To be more sure of yourself. You are worthy. You are strong. You can and you will. And don't be scared. I know it's easy to be scared of the future and shy and nervous and overwhelmed about what your life may be like in a few years, but just know that you're going to be more than OK, and I'm proud of you.
This interview has been edited and condensed for clarity.