Twitter Is Buying Little Mermaid Tickets After Halle Bailey's American Idol Performance
"Halle Bailey is getting my money based on this performance alone."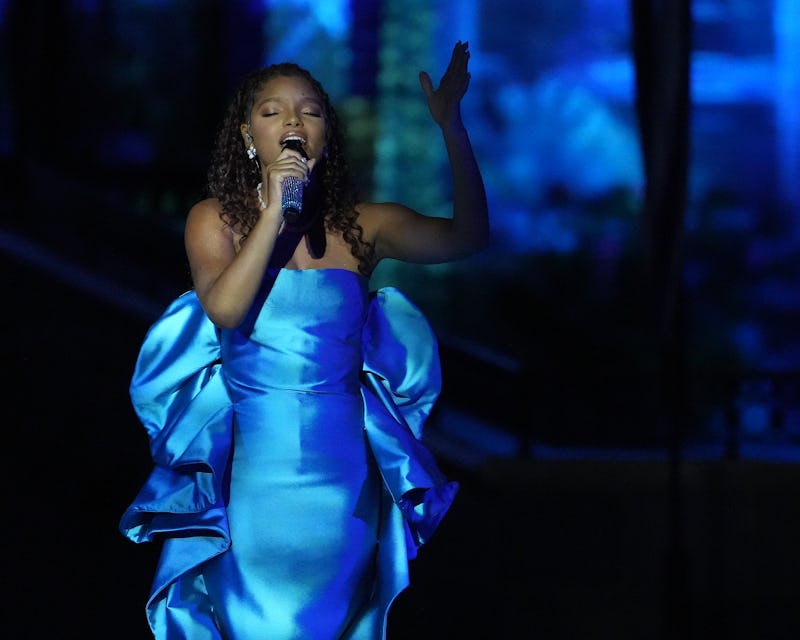 ABC/Eric McCandless
As Ariel in Disney's upcoming live-action Little Mermaid remake, Halle Bailey is going to be part of everyone's worlds soon. On the May 14 episode of American Idol, the star performed her rendition of "Part Of Your World" for the first time live during the show's Disney Night, and Twitter was left gasping for air.
For the performance, Bailey headed to Disney's mecca of Disneyland in Anaheim, Calif., and sang the number in front of Sleeping Beauty's Castle, decked out in a ruffled, fish fin-inspired blue gown, complete with oceanic projections on the famous castle behind her. Taking to Twitter after the show, Bailey revealed that it was her first time singing "Part Of Your World" since shooting the movie, but the picturesque setting actually made for some challenging vocal conditions.
"First time singing part of your world live since filming, thank you @AmericanIdol for giving me the chance to do so on stage at disneyland," she wrote. "Singing vocals in freezing cold weather at 3am while park is closed is no joke but we did it! only 11 more days until you all can watch the film!"
According to Twitter, the effort was worth it, as users lavished praise onto the singer and stated that her vocals will make them buy tickets to The Little Mermaid.
The YouTube comments were equally as glowing, with users calling Bailey's performance "mesmerizing" and particularly praising her vocal technique. "This is a living proof why she was chosen to be the 'Ariel' of The Little Mermaid," one commenter remarked, with another adding, "Anybody that disagrees with her being picked as Ariel seriously needs a reality check."
Ahead of the film's May 26 release, Bailey has received unanimous critical acclaim from early screenings for her portrayal of Ariel. A Variety critic called Bailey "extraordinary," while Next Best Picture praised her "gorgeous singing and empathetic charm." The Little Mermaid, directed by Rob Marshall, also stars Melissa McCarthy as Ursula, Daveed Diggs as Sebastian, Javier Bardem as King Triton, Awkwafina as Scuttle, and Jacob Tremblay as Flounder, who has already been the subject of several Twitter memes.