Tyler Cameron's Relationship With Gigi Hadid Broke Hannah Brown's Heart
"My heart was on the line. And he broke it. With a supermodel," the former Bachelorette writes in her memoir.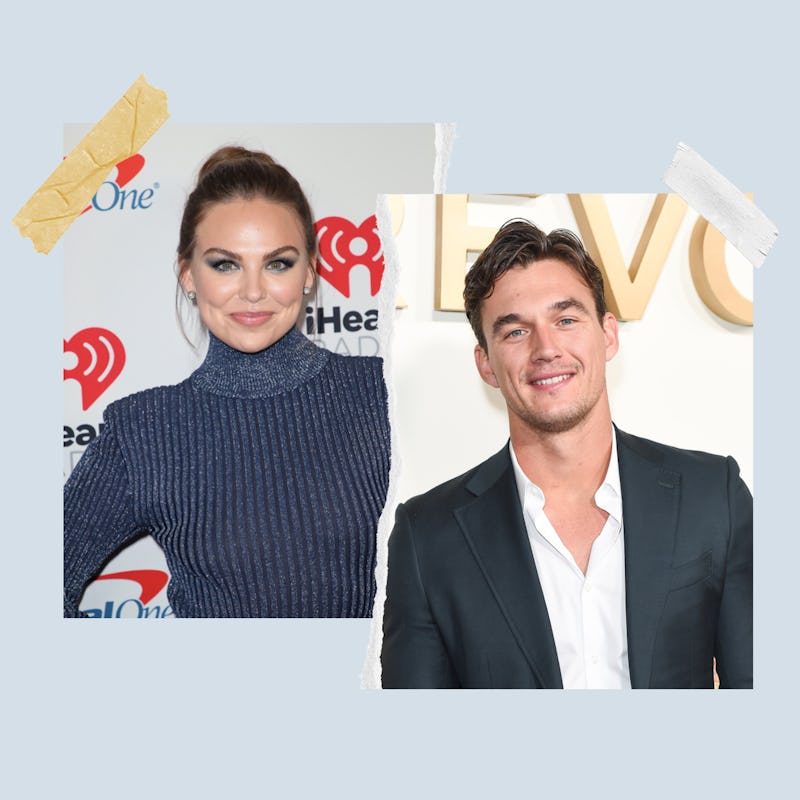 (David Livingston/FilmMagic/Getty Images)/(Presley Ann/WireImage/Getty Images)
The Bachelorette's Hannah Brown is unpacking her feelings in her new memoir God Bless This Mess: Learning to Live and Love Through Life's Best (and Worst) Moments, especially when it comes to her past relationship with Tyler Cameron. In 2019, the former Bachelorette contestant briefly moved on from Brown following her failed engagement to Jed Wyatt and dove into a two-month relationship with model Gigi Hadid. But when Brown found out that her second runner-up was spotted out with the supermodel, her heart was shattered.
In her book, Brown recalls spending one night with Cameron after her split from Wyatt. And while things were "awkward" between them at first, they ultimately confessed that they still had feelings for each other and shared a kiss. "We were pretty hot and heavy there for a while, and a part of me was ready to open myself up to him completely," she writes in her book, per Entertainment Tonight. "But then he stopped. He stopped... which made me fall for him all the more."
Brown, 27, revealed that she and Cameron slept together in her bed that night, but "all we did was sleep." The following morning, paparazzi captured photos of him leaving her apartment, which sent Bachelor Nation into a frenzy. But the former Dancing With the Stars winner remembers the 28-year-old model calling her two days later to confirm that they weren't exclusive. One day after that, reports surfaced that he went out on a date with Hadid.
"Tyler met up with a supermodel after getting off the phone with me. This wasn't a TV show. This wasn't some game," Brown writes. "My time with Tyler at my apartment wasn't some meaningless hookup, the way it was portrayed in the press. My heart was on the line. And he broke it. With a supermodel." In a recent interview with People, Brown said that she was "really caught off-guard" by the whole thing. "I knew we were not together or openly dating, but just from the conversations we'd had, it was so shocking — and so public," she said.
Brown also told the magazine that she felt like she had to pretend as though Cameron's relationship with the supermodel didn't bother her when it did. "I was already on the ground [following her split from Jed Wyatt] and this was another kick. I was deeply hurt," she told People. "I said to Tyler, 'I'd date Gigi Hadid too if I could get it.' But it was not the way I wish it was handled." Cameron and Hadid split in October 2019, and he and Brown stopped talking for a while. However, they reconnected the following year when Cameron's mom died of a brain aneurysm and Brown's brother had an overdose.
"We were both going through these nightmares at the same time, and we seemed to be able to lean on each other," Brown writes in her memoir. "The weight of what was happening was just so much more important than any of the problems we'd had. Our hearts rose above the mess of it all when it mattered most." The two were able to patch things up to the point where they agreed to hunker down together in Floria with their quarantine crew, but it was far less romantic than fans might've thought.
"We slept in the same bed for twenty days, and he never tried to kiss me or anything... After a while, he started treating me like I was just annoying. Like he didn't want me around. Some days, he wouldn't even talk to me," Brown recalls in her book. "... There were moments when it felt like Tyler and I were going to be more than friends... And then he wouldn't talk to me the whole next day." To People, she revealed that she "didn't know how to be there" in a house full of "yucky boys" while she and Cameron were both deeply hurting.
The former Bachelorette went home to Alabama after a month and remembers not hearing from Cameron, apart from a text checking that she made it home safely. The two eventually went on to film a YouTube video in October 2020 to clear up any confusion about their relationship. "I wanted to get away from my own trauma so I would say that I traded Tyler's trauma for mine," Brown said in the video. "I also wanted to be there for you," she told him. Cameron, for his part, said he didn't want to do something because he "was in bad place or vulnerable."
In her memoir, Brown says that their friendship "just got so weird." "No matter how much we talked, and connected, I always felt like his bench girl," she writes. "Like I was the backup player who never got to play in the game. I was the girl he would confide in. He told me I was the only girl he could talk to for hours and hours on the phone. But my vulnerability and availability seemed to get used only when it was convenient for him, in between me watching him go out with other girls in public."
Once Brown figured that all out, she realized that she and Cameron couldn't be friends anymore. "It just hurts too much," she recalls telling Cameron. "I just need some space. Maybe down the line we can try it again." The model, according to the reality star, didn't seem fazed. "His last poetic words to me were, 'Well... if you rock with me, you rock with me. If you don't, you don't.' I wish I was making that up."
This article was originally published on