9 Times Catherine Cawood Was An Absolute Badass In Happy Valley
From squaring up to Tommy Lee Royce to dealing with workplace misogyny.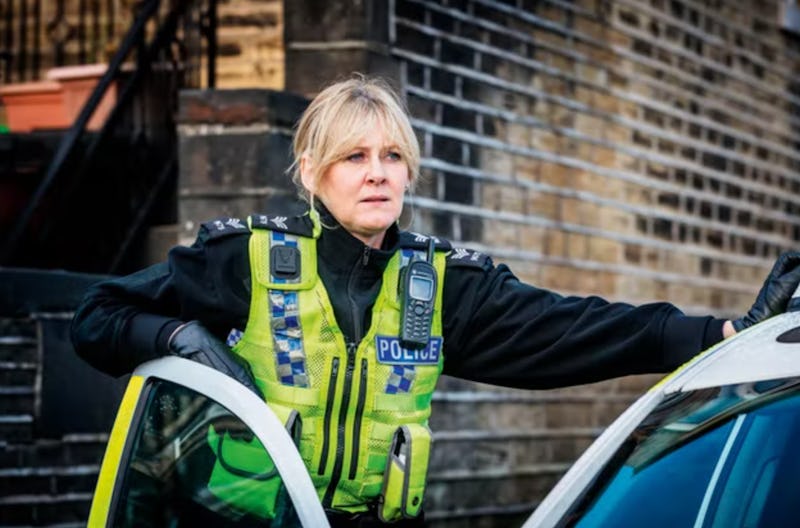 BBC
After a seven-year break, BBC One's hit show Happy Valley returned to our screens, and has captivated viewers all over again. The series features a majorly talented cast, but it's Sarah Lancashire's performance as Police Sergeant Catherine Cawood that consistently steals the show. Skilled at her job and confrontation, Catherine doesn't let anyone treat her like crap. Unsurprisingly, the no-nonsense character has had her fair share of badass moments.
Happy Valley creator Sally Wainwright aptly describes Catherine as a "very funny, competent woman to whom something very tragic has happened," adding that "the older a character gets, the more likely they are to have these complexities." So as Happy Valley is nearing its end, these are some of Catherine Cawood's most memorable moments to date.
Catherine Knows All
Season 3's opening scene is arguably one of Catherine's most iconic moments. After finding a body in a reservoir, she's met with another officer and a Home Office pathologist. As she starts to explain her thoughts, they make it out as if she doesn't know anything. Even though she clearly does, having instantly recognised the body through their teeth and how they've been found. Having told her she should wait for the professional to do their work, she beats them to it.
Catherine tells them it's Gary Gackowski, a man who went missing 18 months after falling from a third-floor balcony seven or eight years ago. As she leaves the scene, she simply says: "I'll leave it with you … t***s."
"I Say It Like It Is"
Seven years after we last saw Catherine, she's very content with life and looking forward to retirement. Sitting with her sister Clare, Catherine looks back at the person she's become and how proud she is to be independent and confident in herself. "I'm just becoming the person who I've always wanted to be," she tells Clare. "Don't take s**t off anybody anymore, I say it like it is, and I know who I am. Finally." She's even planning on travelling to the Himalayas in a jeep by herself, which is a pretty badass feat.
"He's Not Taking My Eyebrows With Him"
Wainwright's season openers for Happy Valley always paint Catherine in a stoic light, and Season 1 was no different. Our first introduction to the police sergeant saw her strutting along to an incident in a new pair of cheap sunglasses and a fire extinguisher to deal with a man threatening to set himself on fire. "He can send himself to paradise – that's his choice – but he's not taking my eyebrows with him," she says after being asked why she bought the sunglasses.
Taking On A Drug Gang
Catherine rarely takes no for an answer, especially when a crime is in progress. During the first season, the police sergeant constantly got irked by a gang using an ice cream van to distribute drugs. Referred to as Operation Greensleeves, she spots the van while on patrol. Having radioed the location, Catherine is warned not to chase the vehicle on foot by herself, to which she replies, "Yeah, whatever."
She quickly defies orders while whacking out her baton and smashing the van's window. But she's not quick enough, and the gang get away. "You're getting too bloody old for this, Catherine, love," she tells herself.
That Taser Placement
Often referred to as the Halifax Mafia, the Kneževićs are one of the many antagonists plaguing Catherine's patch. She's constantly dealing with incidents that either somewhat or entirely involve the gang, especially during the second season when she discovers they're operating a sex trafficking ring.
After one of the trafficking victims escapes and discloses the location of an illegal brothel, the police raid the address, and Catherine finds herself tasering Goran Dragović in the crotch. "Obviously, I was trying to shoot him in the chesticles, not the family jewels," Catherine says as she's retelling the story.
Catherine Cawood v. Tommy Lee Royce
Season 1 of Happy Valley included many horrific moments courtesy of Tommy Lee Royce, including Ann's kidnapping and the murder of Kirsten McAskill. But as the first season progressed, Tommy's luck quickly ran out. And when Catherine discovers Ann in the basement of Tommy's mother's house, she leaps in there to rescue her; all the while, Tommy critically injures her.
Catherine manages to pepper spray Tommy in the eyes before he can do any more damage and manages to get out of the basement with Ann despite being severely injured. A long recovery follows, but this whole sequence is a badass.
Don't Mess With Cawood
In yet another raid connected to the Kneževićs, Catherine is confronted with Josip as he escapes from an address. As the first officer to catch up with him, she tries to apprehend him before he gives her a bloody nose. But ever the badass, Catherine quickly decks the criminal twice, shouting, "F**k you, buster," and grabbing him by the scruff of the neck. To add even more humour to the situation, two other gang members look on in horror from their car.
Putting Clare In Her Place
As Catherine learns that Clare and Neil are taking Ryan to see Tommy in prison, she investigates precisely how they've been pulling it off. The whole sequence is a master in visual storytelling, with one viewer saying that the moment Catherine sits behind Clare in Leeds "like a menacing Michael Myers" should be hung "in the Louvre."
When Catherine finally confronts Clare, her sister seems to be humanising Tommy in some capacity after seeing how he is with Ryan. Catherine briefly reminds her of the criminal he is, with all the gruesome details included, in such a calm yet powerful way.
Not Putting Up With Hepworth's BS
Aside from Tommy, P.E. teacher Rob Hepworth is another villain that Catherine has to deal with. While she has her hands somewhat tied with what the domestic abuser has been doing to his wife, she can intimidate him to hell after he accuses Ryan of defacing his car.
Treating the school meeting like an interrogation, she fights Ryan's corner as he's clearly innocent. When Ryan asks how she knew he didn't do it, she calmly replies: "Cause I've seen how you've drawn a c**k and balls at picture consequences, and it's nothing like that." Classic.
This article was originally published on