Happy Valley Recreated This Moment From S1 In Its Penultimate Episode
Did you spot the repeat performance?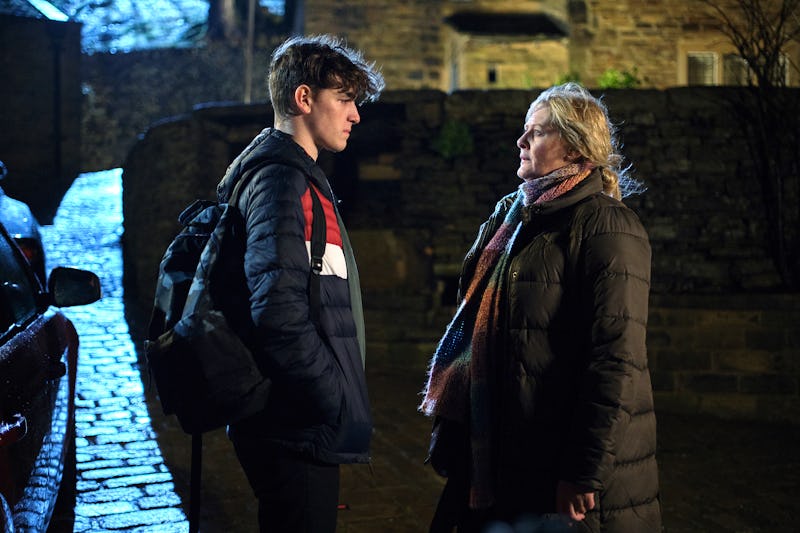 BBC
The penultimate episode of the hit BBC One show Happy Valley certainly had viewers on the edge of their seats. Tommy is still on the run, and is planning to abduct Ryan and put his "unfinished business" with Catherine Cawood to rest. Throughout the episode, Ryan consistently puts himself in danger to the exasperation of viewers as he contends with what his dad is really like. Ann finally exposes Ryan to Tommy's true character, telling him exactly what he did to her and his mum. Having realised how dangerous Tommy really is, the episode culminates in an exchange between Catherine and Ryan, which some viewers have noted is very similar to a sequence in Season 1.
When meeting Ryan outside Nevison Gallagher's house, Catherine reprimands Ryan for the "bl**dy silly decision" he made in travelling by himself despite the risk of being abducted (or worse) by Tommy. During their serious conversation, Catherine corrects Ryan's grammar. "He should'ta gone off. Shouldn't of left me with Ros," Ryan says, referring to his grandad. "Shouldn't have, for f*ck's sake!" Catherine says in exasperation. Some viewers were quick to notice the similarities of this scene with another conversation between the two in Season 1. Way back then, when Ryan was eight years old, Catherine confronted him about ripping a painting. "I might of," Ryan responds. "You couldn't 'of' done anything, 'of' isn't a verb," Catherine interjects.
The mirroring of these moments had fans sharing their admiration of Sally Wainwright's writing, the creator of Happy Valley. "Nothing changes, and that's part of the genius that is Sally Wainwright," one viewer wrote. "A remarkable thing about Sally Wainwright's writing is how she captures the way that people talk to each other. This is so hard to do and she makes it look effortless. What a talent," wrote another.