Harry Styles Just Split His Pants In Jennifer Aniston's Face
No one told Harry life was gonna be this way.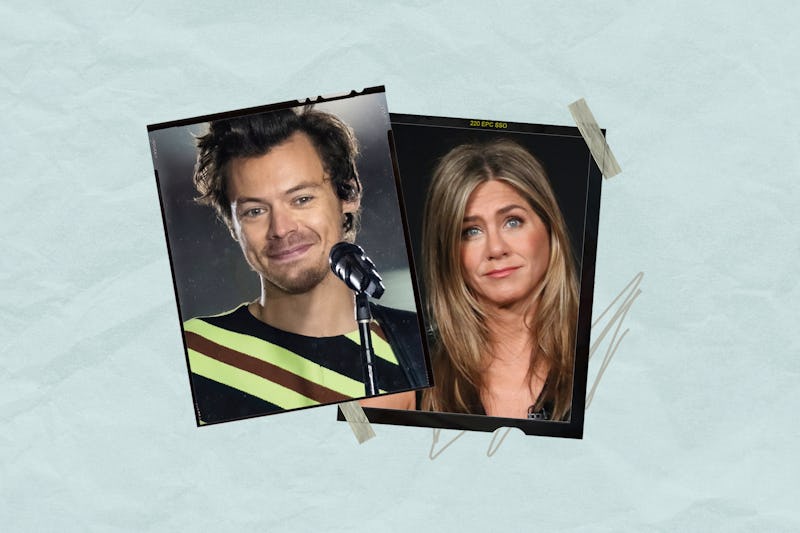 Getty Images / David Livingston/Getty Images Entertainment/Getty Images
Following a brief Christmas hiatus, Harry Styles resumed the U.S. leg of his Love On Tour to a sold-out crowd in Inglewood, California. However, along with some show-stopping performances of the singer's biggest hits, fans at the Kai Forum on Jan. 26 were also witness to a major on-stage wardrobe malfunction.
During a live rendition of "Music For A Sushi Restaurant," Styles crouched down in front of his adoring fans, causing his brown leather pants to rip down the crotch. As shown in one fan video, the "As It Was" hitmaker promptly became aware of the unfortunate trouser tear and covered up his nether region with LGBTQ+ Pride flags grabbed from the crowd. Although, Styles could've headed over to Vinted for a fresh pair of pants, where the singer recently became an accident model.
As per Metro, the Grammy-winner later returned to the stage following a quick wardrobe change and jokingly apologised to his thousands of onlooking fans — which included Friends star Jennifer Aniston, who also happened to be in attendance.
"My trousers ripped. I feel I must apologise to a certain few of you right down in the front there. I mean this is a family show," the singer joked. "I promise it's not part of the show ... It's a family show… or is it? It is. Or is it?'"
Unfortunately for the "Watermelon Sugar" performer, his on-stage wardrobe malfunction spread like wildfire among fans on social media, and many were quick to point out that Styles had ripped his trousers in front of Aniston — who Styles had previously revealed to be his first "celebrity crush."
"Nobody tell Harry that Jennifer Aniston just watched him rip his pants," one fan joked on Twitter. "Harry ripping his pants in front of Jennifer Aniston is most likely a traumatic moment for him," another user commented.