Hilary Duff Recalls Max Azria's "Wild" & Wine-Fueled Shabbat Dinners
Plus, the star gives her best holiday hosting tips, which involve her new home fragrances.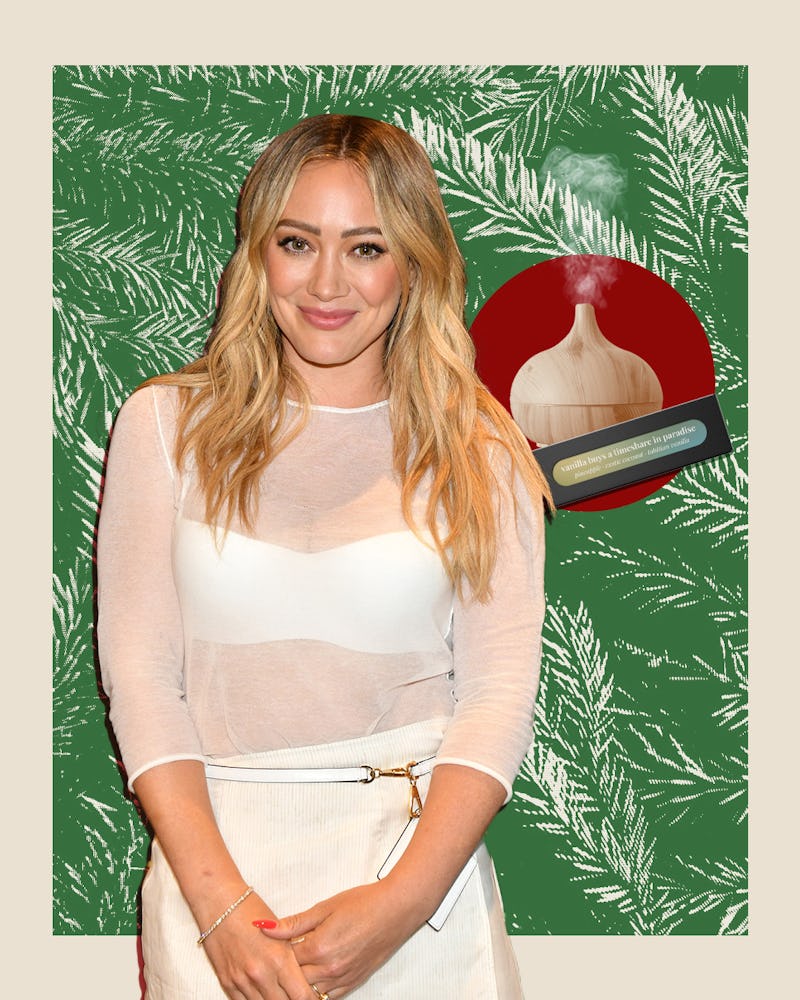 Hilary Duff has always been a fragrance girlie. In 2007, she created her first perfume, With Love, and even wrote her iconic dance-pop hit to go with it — complete with that TikTok-viral choreography.
"It was a really big success and people still come up to me to this day and they're like, 'Why can't I get it anymore?'" she says. "I'm like, 'Girl, because they ain't making it.' I loved it and I wish I still had it because I would wear it."
Now, she's joined the new air fragrance brand Below 60° as Chief Brand Director. "I was really excited that they were willing to have me come along and be really bossy and be like, 'I hate this. I love that,'" she says.
They came up with three scents: Mint Disco on Ice is inspired by "glacial waters" and lavender, If Citrus Had a Feeling meshes grapefruit with earthy notes, and Vanilla Buys a Timeshare in Paradise mixes the classic flavor with pineapple and coconut — a combo even Duff wasn't sure about.
"[It] was not my favorite to begin with," she admits. "It just felt so summery to me... like, 'OK, I feel like I'm on a Hawaiian vacation.' But now I've been plugging it in my hotel room and I love it. I'm like, 'OK, I'm sorry I gave everyone a hard time.'"
This season, she's using the fragrances to transform her home into a holiday haven for her three kids, 130-pound St. Bernard ("she's wonderful, but she's so clumsy"), and incoming guests.
Below, Duff gives her best hosting tips and opens up about her favorite holiday traditions.
How are you planning to celebrate the holidays this year?
We're hosting Thanksgiving, and I'm cooking the turkey, so pray for me. I've had success some years and I've had some major fails some year. But also, most of the people that are coming care way more about the sides than the turkey.
We live in LA, so we always heat our pool because it's cooler, but it's still sunny. We'll have a family swim and we'll probably go for a long walk, we might hike in the morning, and then people will come over by 3:00 and we'll eat. If we have enough energy, we might play a game. And hopefully we're in bed by 10:30.
Do you have any tips when it comes to hosting gatherings for holidays?
Ask for help. One of the best things I learned from Ina Garten was that she would leave a couple of tasks undone that were easy enough for everyone to accomplish, whether it's finishing the last bit of a dish or setting the last bit of a table.
The first guest to arrive, unless of course it's like your very best friend, I think feels a little awkward for being the first ones there. Usually, if you were raised right, you're like, "What can I do to help? Anything?" But actually giving them a job makes people feel comfortable, and then you're working together. It's cute.
What is your least favorite scent, fragrance or otherwise?
Baby powder. I hate when way something is too powdery.
What's your favorite holiday tradition?
Probably going to pick out the tree with the kids. It's usually on a school night and we always play a game of tag once we pick out our tree. I'm sure they hate us because they think we're going to knock down a tree, but it's really fun.
What's one holiday party that you will never forget?
Do you know who Max Azria is? I used to go to his house all the time, and it was a wild time. Every Friday night, he would just throw these monster Shabbat dinners. I was in my 20s and there would always be interesting people there and it was a really fun party to go to. I can't remember who. I just remember always being like, "We drank way too much wine, what did we do?"