21 Years Later, Hilary Duff Referenced Lizzie McGuire On How I Met Your Father
The March 7 episode of HIMYF provides proof that Sophie and Lizzie might be the same person.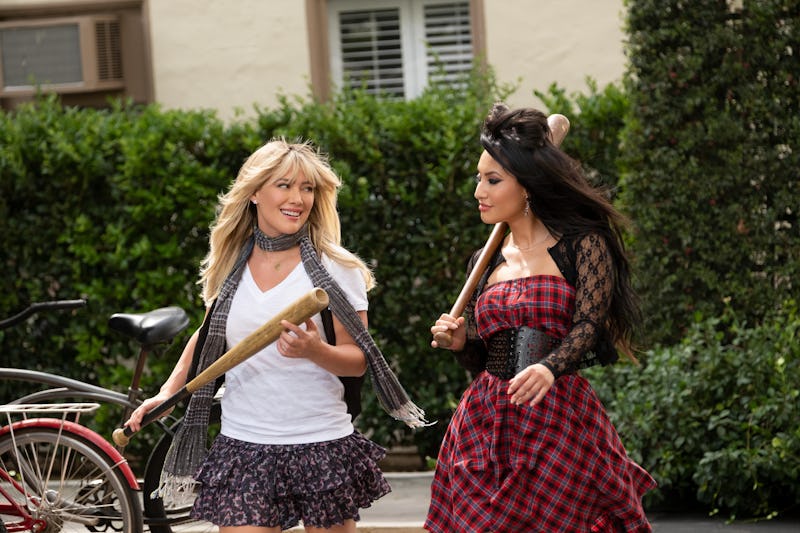 Patrick Wymore/Hulu
Lizzie McGuire has made her grand return. No, the canceled Disney+ reboot isn't resurrected yet. Hilary Duff referenced her iconic Disney Channel role on How I Met Your Father Season 2 with an flashback moment that first aired 21 years ago in February 2002. At the beginning of Episode 7 on March 7, Duff's character Sophie shares a Valentine's Day memory from when she was 13. It then suddenly cuts to a throwback clip from the Season 2 premiere of Lizzie McGuire, which sees Lizzie on the phone with her new boyfriend Ronny and playfully arguing about who will hang up first.
Duff teased Lizzie's pseudo-return on Instagram, warning fans not to miss the new episode. This is not the first time that fans have caught similarities between her two characters, pointing out that one of Sophie's looks in the Season 1 trailer of HIMYF was something Lizzie would rock. The show's newest reference insinuates even further that Lizzie and Sophie may be the same person.
However, executive producer Elizabeth Berger refused to entertain that theory. "I'm not confirming that, but it felt like a really fun thing for us to do," she told Variety. "We got a temperature check from Hilary, who has such good sense of humor. Then it was just about finding the right clip. We loved that we got to bring Lizzie into our world for a minute."
Duff understands why fans think Sophie and Lizzie may be the same person, telling the outlet that "it's hard not to see the similarities" and "they'd definitely be friends." Regardless of the truth, the actor said she loved incorporating her first TV show into her new Hulu series. "I was like, 'Of course I'd be okay with it!' Lizzie makes people happy," she said. "The fact that we could tie it into this show, I was obsessed with it. Someone asked if Sophie would have been a Lizzie McGuire fan, I was like, 'Heck yes, Sophie watched Lizzie McGuire. She came home from school and watched.'"
Hulu is owned by Disney, meaning it was very easy for Hulu to get access to Lizzie clips. Duff maintaining her relationship with Disney through HIMYF could also be why the Disney+ reboot could still happen one day. In a Jan. 26 interview on Watch What Happens Live, host Andy Cohen asked if she'd still do the Lizzie McGuire revival if it "could live up to your vision." Duff responded enthusiastically with, "Of course." But she became hesitant to speak when he asked why it was scrapped. "Disney+ was very new and I think they were figuring out their… and we were figuring out our…," she trailed off, before clarifying that she was "optimistic" about the future of the show.