A Hocus Pocus Reddit Theory Claims There's A Secret Fourth Witch
Get ready to view the Halloween classic in a whole new light.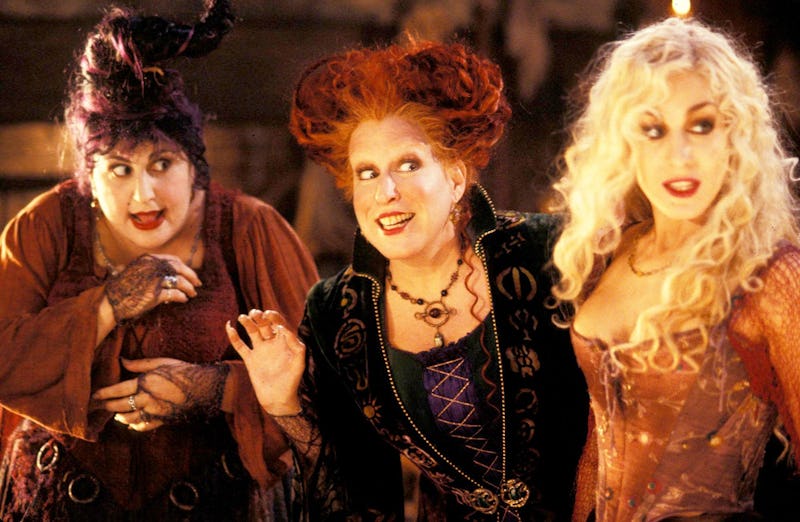 Disney / Buena Vista Pictures
Disney's Hocus Pocus has been a Halloween staple for three decades. But after all that time — and all those rewatches — a viral fan theory is challenging some viewers to see the 1993 film in a whole new light.
For those who need a refresher: The spooky season favorite stars Bette Midler, Sarah Jessica Parker, and Kathy Najimy as the villainous Sanderson witches, who set out to terrorize the town of Salem, Massachusetts after being inadvertently resurrected on Halloween night.
With the help of the sibling duo Max and Dani Dennison, Allison Watts attempts to put a stop to the Sanderson Sisters' diabolical spell, which involves draining the life out of children to maintain the witches' youth. However, one Reddit theory claims that Allison isn't as she seems — and was a secret fourth witch all along.
Outlining their reasoning behind the theory, the Redditor pointed out that Allison's family "descended from the upper crust of Salem's founders" and have a long history in the famed town. Further, Allison also expresses a keen interest in witches throughout the film, and reveals that her mother used to run the Sanderson Sister Museum.
"Alison was anxious to end the black flame candle curse and found her chance in Max. She charms him, takes him to the Sanderson house, and leads him through an adventure to end Salem's 300-year curse," the user added.
In one scene toward the end of the film, Allison also manages to protect herself from the witches by surrounding herself in a circle of salt. "What a clever little white witch," Winifred Sanderson (Midler) quips in response to Allison's quick thinking — a line that, the Redditor believes, gives credence to the theory.
The suggestion of Allison's supernatural powers sparked debate among fans on Reddit, with some declaring the theory a "bunch of hocus pocus."
"I am not sure what to make of this theory," one user wrote. 'That is not to say she is not a witch, just that it is unlikely since she is allied with the 'good' people in the movie."
But Vinessa Shaw, the actor who played Allison, disagrees. In a 2022 interview with The Wrap, she claimed that her character's witchy powers were "intentionally implied" through her wardrobe — specifically, a "pentagram-looking" necklace that features a design commonly associated with witchcraft.
Shaw also told the outlet that she appreciates fans' enduring enthusiasm for the Halloween cult classic. "I love the fans. Can you guys write the next script? After the sequel comes out, we'll have another one that's just written by the fans," she joked.