Fifteen Years After Leaving Playboy, Holly Madison Found A New Mansion
At Disneyland with the former reality star, who almost left showbiz behind — until YouTube and TikTok changed her mind.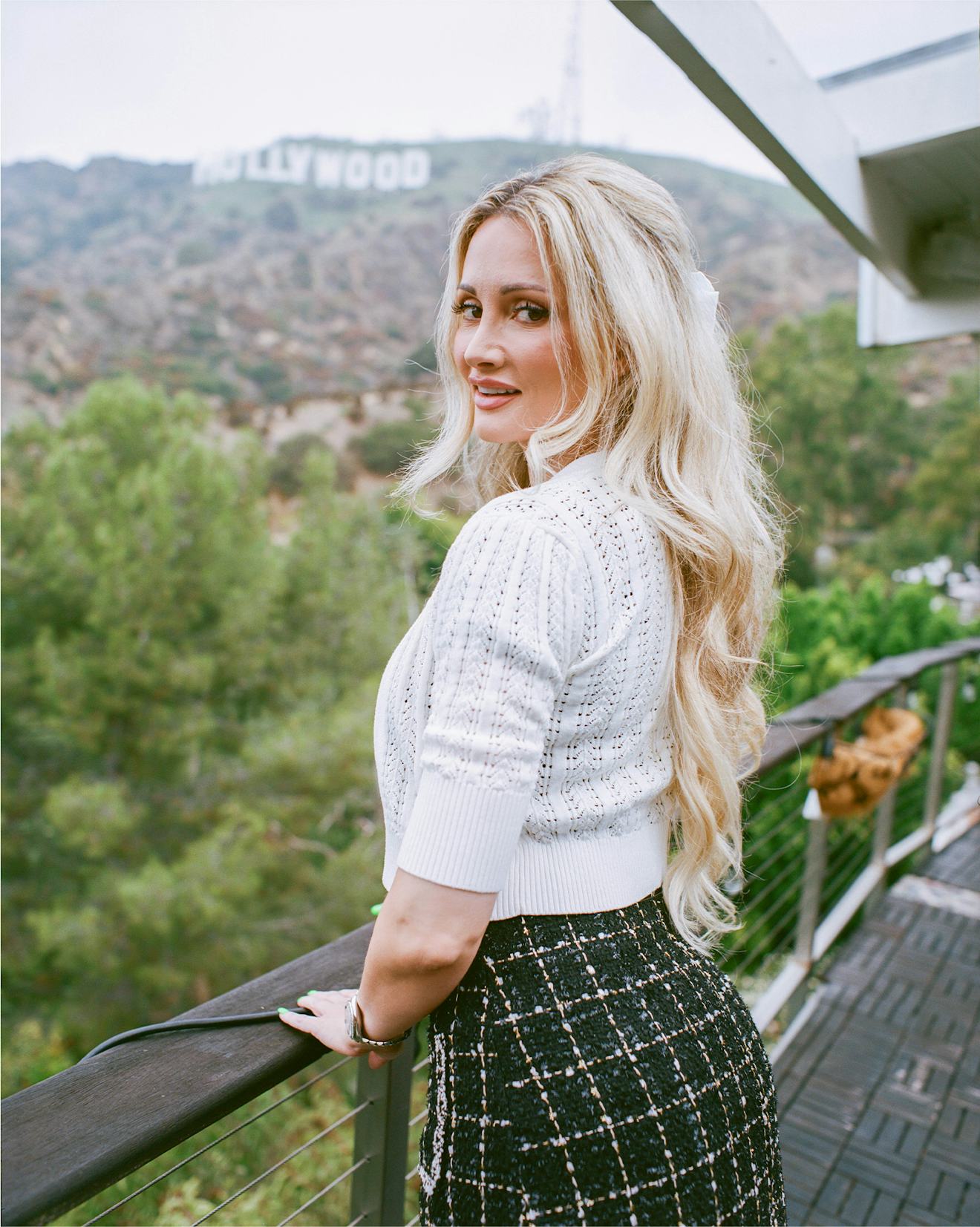 Pavielle Garcia/Bustle
Among a sea of tourists at the entrance to Disneyland, Holly Madison looks like a very different kind of princess. She glides across the theme park in a white tennis dress, big heart-shaped sunglasses, and a pink and green sweater tied at her waist — a little bit Clueless, a little bit Legally Blonde. A cloud of, well, Cloud by Ariana Grande practically announces her arrival. "Oh, I just got this on Instagram," she says in her honeyed voice, gesturing loosely to her outfit. Some park guests stare, but it's unclear if they know who she is or are just taken with the sight of a walking Barbie.
"No one really recognizes me," Madison says. Then, as if on cue, she is approached by a Gen X mom who wants to take a picture with her. As the woman walks away, her teen daughter asks: "Who is that?"
Madison, of course, is the former star of the foundational E! reality show The Girls Next Door, which aired from 2005 to 2010 and followed Hugh Hefner's age-inappropriate blond girlfriends — Madison, Bridget Marquardt, and Kendra Wilkinson — living in the Playboy Mansion. The show was a favorite among millennial teen girls who were drawn to its glamor-trash fantasy, even if it covered for the more insidious side of the Playboy enterprise, the details of which have been extensively revealed (in part by Madison herself) since Hefner's death in 2017.
But a new generation is also discovering Girls Next Door on streaming (all six seasons are on Amazon Prime) and TikTok, where clips of Madison's quick wit go viral. Beholding her look today, with waist-length platinum extensions that have the majesty of a My Little Pony mane, I'm reminded of one that made the rounds recently: "I don't get jealous of other girls because I was raised in a cloning lab to be the perfect woman for Hugh M. Hefner," Madison says in a confessional interview. "Other than the fact that my IQ is probably a little higher than he would like, I have nothing to worry about."
Madison's resurgence — she has almost 2 million TikTok followers — is happening on the heels of two cultural moments: a reclamation of early 2000s hyper-feminine aesthetics (see: the rise of "bimbofication"), and a post-#MeToo reappraisal of maligned women from that era, including Britney Spears, Paris Hilton, and Pamela Anderson.
But it's also a testament to the ways Madison, now 44, has taken control of her own story and challenged the public narratives — namely, that she was a calculating gold digger, ungrateful to Hefner for the fame he gave her — pushed on her by the show, Playboy, and the media. She's authored two New York Times bestselling memoirs; participated in the bombshell A&E docu-series Secrets of Playboy last year; and co-created Girls Next Level, a recap podcast she co-hosts with Marquardt that relives the highs and lows of that era. It has been downloaded 25 million times.
"I can't even watch any kind of reality TV just because I know how fake it is."
"Everybody wants to assume that every opportunity you have now comes back to that one person, which, in a way, it does," says Madison, who also hosts and executive-produces the Discovery true-crime series The Playboy Murders. "But when I left the show, I was on my own. It was up to me to make lemons out of lemonade. I don't get any credit for that."
Madison's interests, however, have always stretched far beyond the Bunny. In recent years, she's amassed a mighty audience as an influencer and content creator with a penchant for the geeky. Her videos about ghosts, Marilyn Monroe, Harry Potter, and Disney — she is a full-blown Disney Adult™, with a Club 33 membership — are a natural outlet for a woman who used to show up to Playboy parties in cosplay. And for a reality star who has long been defined by how other people look at her, content creation has been nothing short of revelation.
"I didn't feel like I could ever really be myself in front of the camera until I started doing YouTube during quarantine," Madison tells me over Zoom a week before our Disneyland hang. "That's the first time I felt like I could like look at a camera and connect with people on the other end."
"I always pick the wrong line," Madison sighs as we stall for a few minutes in a fast-pass lane for Indiana Jones Adventure. I'd asked Madison to take me on her favorite rides, but she's curious about what I want to do — she's already experienced it all countless times. Madison has been coming to Disney since she was a kid growing up in rural Oregon and Alaska, and a girlish wonder takes hold when she spots a princess character out and about ("In another life I would have been one," she says wistfully) or directs my attention to some easter-egg architectural details. To set up our visit and interview, Madison corresponds with me from a Disney-princess-themed Gmail address.
"It's literally wired into my brain to love Disney," she says. "Because no matter what kind of drama was going on at home or at school, anytime we went on vacation, everybody in my family was in a good mood." These days, she comes to Disneyland about once a month, mostly just to shop and eat.
That she would make Disney a core part of her brand after rising to fame through a company that deals in softcore porn may be surprising to some. But Madison has been a welcome addition to the mini economy of Disney content creators. "She really knows her facts and it's not just for show," says Heather Sievers, who runs the Instagram account @diningindisney and met Madison 13 years ago through a mutual friend. "She was into Disney way before Girls Next Door and honestly before there were even Disney influencers." Besides, are the two empires really that different? "There are some similarities," Madison says — the powerful iconography, the world-building storytelling, the emphasis on immersive experiences. "Hef used to compare himself to Walt Disney sometimes."
We make it onto the ride, where she sits calmly, hair flowing behind her, as if she is being chauffeured around a golf course, not bucked around in a jerky 12-person vehicle. The graying, middle-aged man next to me is screaming at the top of his lungs, but rides don't scare Madison anymore. "I'm afraid of humans," she says with a laugh.
Madison met Hefner when she was 21 and he was 74 at the Playboy pool parties, which she attended for a little over a year before asking to move into the mansion. It was an appealing proposition for a college student who worked at Hooters to pay rent. (She studied psychology and theater at Loyola Marymount University.) But once she became a girlfriend, the strict control exerted over her appearance and activities — she had a 9 p.m. curfew, unless she was required to be out — made going to Disney difficult, to say nothing of other freedoms. "There was this odd idea that I think a lot of people had back then that Hef was this helpless old man who was just looking for love and anybody involved with him was coming in and taking advantage," says Madison, who dated Hefner from 2001 to 2008. "Which wasn't really the case when I was there." (Playboy did not respond to Bustle's request for comment.)
Once we get off the ride, we pass a pink wall and Madison's content-creator brain gets to work. "It's weird this pink door hasn't become an influencer thing," she says, giggling. "I should start it — but it's bad lighting." Fans of The Girls Next Door know she's always had an eye for this stuff: One arc followed her begging Hefner to let her work on Playmate photoshoots, which he eventually agreed to, in part because she was so good at it: casting, coming up with concepts, scheduling, even picking the final photos. She found a certain relief in being on the other side of the camera.
"Going into Girls Next Door, on the very first day, I just knew they were going to try to shape me a certain way or start drama or embarrass me," she says. "I was always so scared being in front of the camera and so worried about what I was going to say. I was also worried like, 'Am I going to get in trouble with Hef at the mansion?'"
"People would ask, 'Oh, do you miss the Mansion?' and I would always say nice things. It starts to make you physically ill when you're living a lie like that."
We end up at one of her favorite parts of the park: a small resting place on the pier overlooking Tom Sawyer Island, hidden behind the clam chowder bread bowl window. She used to love coming here as a kid to rest in the shade. We walk around in silence until Madison notices there's room on the canoe "ride" — basically just paddling around the island with a group of strangers — and we decide to go for it. As a cast member hands us our oars, things quickly descend into chaos: The sun is mercilessly beating down, and no one in the canoe seems to have ever rowed before — a fact our captain gets good mileage out of for his comedy routine. But Madison doesn't appear to break a sweat, nor does she ever take a break to rest her arms.
It's early September when we visit Disneyland, so pumpkins are already dotting the park. Madison doesn't decorate her house for the season. "Because it always looks like it's Halloween," she says, laughing. She's obsessed with all things spooky, something she has in common with her boyfriend, Zak Bagans, star of the Travel Channel's Ghost Adventures. The purported ghosts of the Playboy Mansion are well-publicized, but Madison says she's experienced the paranormal in every home she's lived in since. Noises and voices you can't explain. Different apparitions, caught on camera. Doors opening in the middle of the night. "Weird shadow creatures" at the base of her property. When she married EDM events executive Pasquale Rotella in 2013, she wanted to do it on her favorite Disney ride, the Haunted Mansion, but the seasonal Nightmare Before Christmas overlay meant it was unavailable, so she had to settle for Pirates of the Caribbean instead.
"I felt I had to be very conservative and of the public eye to get respect. Now I don't really care so much about getting respect. I care about being authentic."
Madison splits her time between Los Angeles and Las Vegas, where she co-parents her two children with Rotella, Rainbow, 10, and Forest, 7. When the kids are with her, she is fully in mom mode. But when they're with their father, you can find her working late into the night, often editing the Girls Next Level podcast herself — a job she could presumably farm out. "I won't let anybody else edit it," she explains. "The whole point in doing the podcast is to tell our own story, so I don't want to hand it to anybody else and have them thinking they're making the right cuts."
Marquardt says Madison has always had that quiet work ethic. When they were filming Girls Next Door, they'd sit together and plot out world domination, knowing they had to make the most of their TV launchpad. On a recent Girls Next Level episode, Madison even busted out a planner from that era in which she had written a list of goals — from shooting her own calendar to getting her own TV spin-off — all of which eventually came true. (Holly's World, about her life leading a Vegas burlesque show, ran on E! for two seasons.) "Holly is very determined and always pushing to be a better version of herself and to have that next big thing," Marquardt says. "She's also very private. I think it has to do with her insecurity: She has goals, and some of them she's probably embarrassed about because she thinks that people will think that they're too big for her. But nothing's too big."
Of all the jobs she's had, Madison identifies most with her writing. "I used to want to be a writer when I was little," she says. "It was the first thing I ever wanted to do." With collaborator Leslie Bruce, she published Down the Rabbit Hole in 2015 and followed it up with The Vegas Diaries a year later. In the former, Madison describes her time living in the Playboy Mansion as "Stockholm syndrome" and paints a grim picture in which Hefner's sexual partners were often "going through the motions" and veteran girlfriends recruited new ones so they could stay in his good graces without having to sleep with him themselves. (In Secrets of Playboy last year, she compared the mansion to a cult and described rampant nonconsensual photography and videos.)
"I already felt like I was public enemy No. 1 and just didn't have anything to lose," she says of writing Down the Rabbit Hole. Though many waited until Hefner's death to discuss the darker side of Playboy, Madison did so a few years before the #MeToo movement galvanized public support for victims and survivors. "I'm just so tired of having to be fake," she continues. "Anytime somebody approaches me, which was like every day of my life, people would ask, 'Oh, do you miss the Mansion?' and I would always say nice things just because I don't want to get into it with strangers, necessarily. And because I just thought that was the nice thing to do. This gets to a point where it starts to make you physically ill when you're just living a lie like that."
As Madison worked on her books and became a mother, she also decided to leave show business. "I was like, 'I don't want to be in the public eye. I don't want to talk about Playboy ever again. I don't want people to think of me like that.' And I felt like I had to totally hide," she says. Madison figured the public would come calling eventually. "I remember the producer of the show was trying to get me to do a reunion back in 2012. And I'm like, 'It's too early! We've only been off the show for three years!'" she says. (Don't hold your breath for that reunion — she and Wilkinson don't have much of a relationship.) "I always knew it took like 15 to 20 years for things to fully come back around." (E! did not respond to Bustle's request for comment.)
"I didn't feel like I could really be myself in front of the camera until I started doing YouTube. That's the first time I felt like I could connect with people on the other end."
Everything changed during the pandemic, when Madison started posting on YouTube and TikTok. "I really felt like I was connecting with people and having fun with it. So I just kept doing it. And then you know, things I would do on YouTube led to the podcast idea, and now I've just come full circle to a place where I'm totally OK talking about everything and embracing my whole life," she says. "I don't feel like I have to go in the complete opposite direction of how people knew me in the 2000s to prove a point. For a while, I felt I had to be very conservative and very much out of the public eye to get any kind of respect. And now I don't really care so much about getting respect. I just care about being authentic."
Lauren Rodriguez, a soon-to-be 21-year-old from Austin, Texas, is at Disneyland to celebrate her birthday and can't help but scream Madison's name when she sees her walk by. Rodriguez and her friends recently discovered The Girls Next Door and have become obsessed with it. "It was crazy because I didn't really know much about Playboy and stuff like that, but I saw it on Amazon Prime and was like, 'I might as well watch it,'" she tells me later. "It was cool to see that they kind of sexualize women, but at the same time [the women] just feel sexy taking pictures and stuff." The ultimate lesson? "You can look like that and still be smart."
This is what Madison appreciates about her late millennial and Gen Z fans: They get that the costumes you try on don't have to dictate your whole life. "The younger generation," she says, "they're more open to listening to people." And the learning relationship goes both ways: Through spending time on TikTok, Madison has learned more about autism, which she's since been diagnosed with. She says the diagnosis has contextualized aspects of her personality after a lifetime of thinking she was just "extremely introverted." She's planning to document her journey on YouTube.
We finally make it to the Haunted Mansion, and Madison's excitement is palpable. "Dang, the line is so short!" she says, sounding more animated than she has all day. She used to be afraid of the ride as a kid, but she kept coming back for the Tightrope Girl, a character in one of the famous "stretching room" portraits who's perched over the jaws of an alligator. Madison loves her so much she even paid Disney to make her into a meet-and-greet character who appeared during her wedding.
We don't actually get to see the Tightrope Girl painting because — sigh — the Nightmare Before Christmas overlay is up. (Foiled again!) But no matter. Madison seems different on this ride. Looser, more relaxed. Less concerned with being a gracious tour guide. Just a woman having a little fun. As we come to the end of the ride, Madison holds up her phone to snap a photo of Sally, the Nightmare character who's chained up in a tower by the evil scientist who created her, until she escapes and reclaims her life.
Perhaps that sounds a bit too on the nose. But when I ask Madison about what's next on her career wishlist, she demurs. "Because of relationships I've been in, I tend to worry that I locked myself in a mental box and don't really think about what I really want to do," she says. Reality TV is definitely out: "I can't even watch any kind of reality TV just because I know how fake it is," she says. "I can't suspend my disbelief or get invested in any way."
She pauses to think about it, darting her eyes to the side. "You know what? I totally feel like there's something out there," she says. She perks back up. "When I really want to do something, I'm really good at accomplishing it and making it happen."
Photographs by Pavielle Garcia
Photo Director: Alex Pollack
Editor in Chief: Charlotte Owen
SVP Fashion: Tiffany Reid
SVP Creative: Karen Hibbert