Meg Cabot Revealed How The Princess Diaries Royals Would Handle An Oprah Interview
Queen Clarice and Queen Elizabeth would not see eye to eye.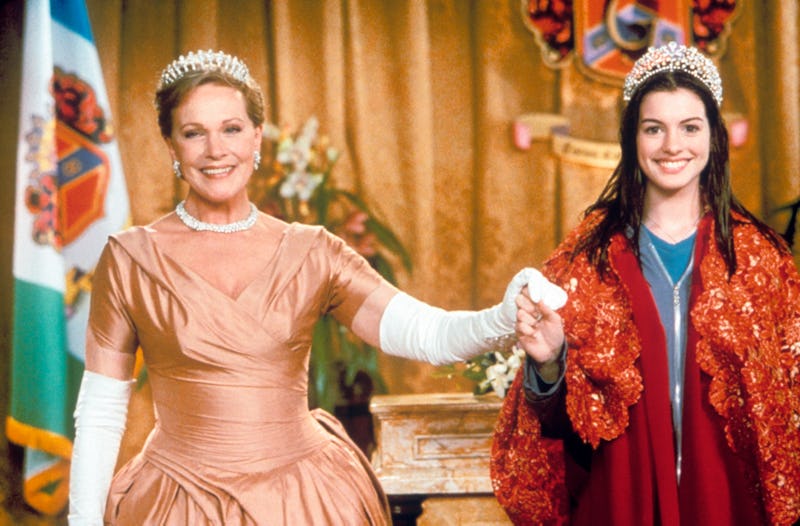 Mondadori Portfolio/Mondadori Portfolio/Getty Images
During their recent Oprah interview, Meghan Markle and Prince Harry made it abundantly clear that real-life royalty is nothing like the movies. Unless you count The Little Mermaid, that is. But that hasn't curbed curiosity for how certain fictional royals would navigate a major tell-all. In the wake of that speculation, The Princess Diaries author Meg Cabot shares how her characters would handle an Oprah interview à la Meghan and Harry's.
Cabot dished on her theories to Entertainment Weekly, referring to Queen Clarisse, Mia Thermopolis, and Mia's husband, Michael. [In the movies, Mia ends up with Nicholas, played by Chris Pine in 2004's The Princess Diaries 2: Royal Engagement, which is a departure from the books.] According to Cabot, Queen Clarisse "would love" an Oprah interview. "I mean, come on, she loves publicity," Cabot explained. "And poor Genovia gets no publicity, as you might have noticed. No one ever talks about it." Of course, that hypothetical reaction is so different from how the British royal family responded IRL.
As for the next generation of fictional royals, Cabot says their remarks would differ from the Sussexes'. "Of course, [Michael and Mia] wouldn't say the things that Harry and Meghan said because none of that's true for Genovia," she said, maintaining that Clarisse "would be thrilled. She would probably be, like, trying to push them down so that she could sit in the seat between them and be interviewed by Oprah herself. That would be her dream come true. She'd be like, 'Oprah, did you know?' She'd be so excited."
This isn't the first time Cabot has drawn parallels between her fictional royals and the real-life figures. When Meghan and Harry announced they were expecting a second child, Cabot passed along Mia's congratulations. "Her Royal Highness Princess Mia Thermopolis sends Meghan Markle and Prince Harry her warmest wishes," the author tweeted on Feb. 26.
During the couple's bombshell Oprah interview, Meghan disclosed that she received no formal royal training. "There were certain things that you couldn't do," Markle explained. "But, you know, unlike what you see in the movies, there's no class on how to speak, how to cross your legs, how to be royal. There's none of that training. That might exist for other members of the family. That was not something that was offered to me." In response, Cabot tweeted, "And on top of everything else, they didn't even give her princess lessons."
In lieu of a long-rumored Princess Diaries 3, I choose to believe that Meghan and Mia are having tea (and spilling some) in Genovia.