Yes, The Tricks In Magic For Humans Spain Are Real
There is one caveat, though.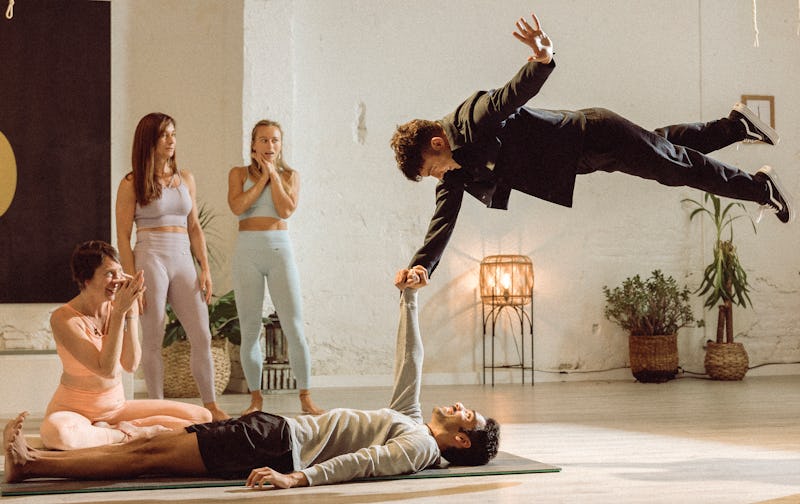 Cris Palomar/Netflix
A spinoff of Justin Willman's popular Netflix show, Magic For Humans, Magic For Humans Spain aims to bring the same kind of illusions and joy to the streets of Barcelona. The new series is hosted by famed illusionist Antonio Diaz, known by his stage name El Mago Pop (The Pop Magician). Diaz has won the Spanish National Award for Magic, and per 20 Minutos, he's currently the highest-grossing European magician in the world, having sold the most show tickets in the last three years. Today, he's the owner of Barcelona's Teatre Victoria, where he performs his show "Nothing is Impossible" every night.
Diaz has an established track record of being a skilled performer, and it's likely his Magic For Humans Spain tricks will be as real as those in Willman's show. "I'm proud to say that all the illusions in the show were accomplished without any camera tricks, and all of the reactions are 100% real," Willman told Bustle in a 2018 statement. "I'm aware that by the very nature of editing a show you're manipulating reality, so we went to great lengths to not cut away during any of the crucial magic moments throughout the series."
Of course, this statement comes with a major caveat; Diaz and Willman's magic is only "real" in the sense that they are deft performers who know how to misdirect people. The "realness" of the experience comes from audiences being genuinely shocked that the performer managed to pull off a sleight of hand in front of their seemingly watchful eyes. "Magicians have done controlled testing in human perception for thousands of years," Teller, of the magician duo Penn and Teller, wrote in a 2012 Smithsonian Magazine article. "At the core of every trick is a cold, cognitive experiment in perception. Does the trick fool the audience?"
Teller added that there are several things a magician can do to alter people's perceptions during a trick, like taking advantage of pattern recognition, making the trick seem a lot more trouble than it's worth, and getting the audience to laugh. "Laughter disables your ability to think critically for at least a moment," Teller told NPR. "So if I do some move that might be slightly suspect to the audience and immediately afterward there's a laugh, I can be pretty sure that they're going to forget any attention that they were going to give to that move."
As David Blaine told Interview Magazine, the realness of the trick all comes down to the amount the performer puts into practicing it. "Whether you're shuffling a deck of cards or holding your breath, magic is pretty simple: It comes down to training, practice, and experimentation, followed up by ridiculous pursuit and relentless perseverance," he said. "It's all about trying to defy what people think is expected and normal."
Diaz is poised to show off his tricks to an entirely new global audience, but some have expressed dissatisfaction with how he's built his magical empire. According to magician news website Genii Online, several magicians have alleged that Diaz copied their acts without permission. (One of the magicians was Joaquin Kotkin, who claimed that Diaz later messaged him to apologize.)
It's unclear if Diaz ever released an official statement addressing the allegations, and he speaks about performing illusions in more elusive terms than some of his peers. "Magic has survived thanks to being kept secret," he told El Mundo in 2017. "There is something of romanticism in that search for the great illusion ... There are conferences and we [magicians] like to share certain things, because it is good for the magic to continue growing, but we have to keep aces up our sleeves."