The Farmer Wants A Wife Cast Didn't Have To Apply For The Fox Series
The U.S. cast didn't even know the name of the show.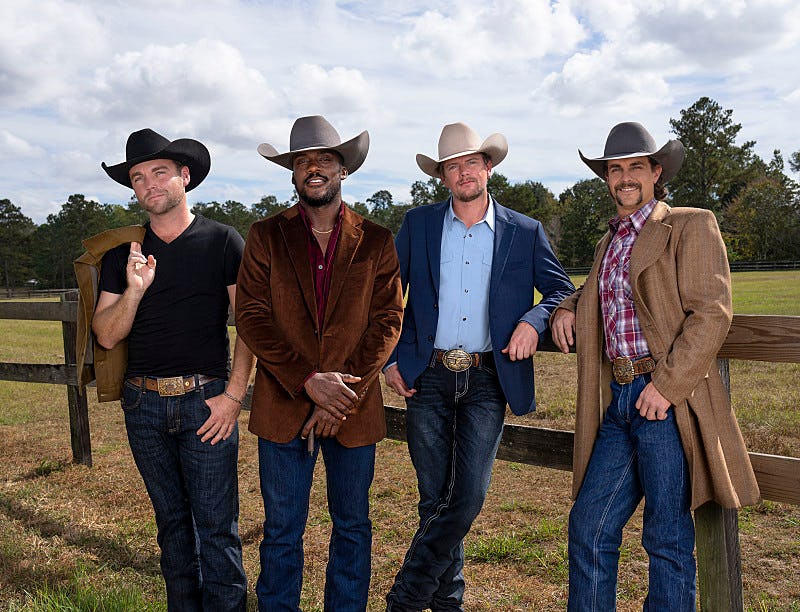 Michael Becker / FOX
Putting a fresh spin on an international hit, Fox's Farmer Wants a Wife aims to answer the question if opposites really do attract. In the United States version, "big city" women ditch dating apps in the hopes of finding love with one of four farmers from across the heartland. From feeding cattle to bailing hay, the rural farmers show their potential partners the ropes of farming to discover how much of their lifestyle they're willing to change for love. It seems to work, too: Fox has billed the Jennifer Nettles-hosted series as the "most successful dating show in the world," citing 180 marriages and 410 kids across 32 countries so far.
With such an impressive success rate, singles might be curious about how to apply for Farmer Wants a Wife in the U.S. As far as the most recent season goes, at least, the casting process wasn't quite so formal. Contestant Lily Bauer recently explained to Bustle that a producer contacted her via social media, but the show's title was secret.
"A DM was sent to me, and I responded. The first text was, 'How do you feel about Southern gentlemen?' And my response exactly was, 'Bring on the sexy cowboys!'" she shared. "I thought it was a fake account reaching out to recruit me for something I didn't even know existed. [But] we started talking, and it was legit. They told me how successful it had been in the past, without knowing the name — the cast was not allowed to know the name. . . . The whole point was that they wanted it all to be organic and natural — vs. if we had all discussed it beforehand, it wouldn't be authentic on camera."
Another cast member, Kansas City content creator Sarah Rulman also similarly revealed that she did not apply to the show but couldn't pass up the opportunity when someone reached out to her. "I started talking to casting and I was just like, why not? Let's give it a try," Sarah said on the local Fox affiliate's Great Day KC. "It kind of felt like if someone comes to you with such an interesting opportunity, maybe it's meant to be."
There could be a more formal process in the future, though, as other countries have held open casting calls and posted online applications for both farmers and partners. One Australian journalist applied to Farmer Wants a Wife in 2022 and shared the questions and her responses to readers. The application asked several basic questions, touching on topics such as relationship deal-breakers, personality descriptions, and romantic history.
Meanwhile, Fox is also already considering potential spinoffs, including the possibility of switching things up to bring in male contestants to date female farmers, or centering a show around an occupation other than farming. "This is a very different format in that the contestants put themselves forward to be with these individuals," Fox Alternative Entertainment president Rob Wade told Variety in September 2022. "It's tailored for each farmer, and we know that the women are interested in them specifically."