How To Stream Everything Everywhere All At Once
There are several ways to watch the awards season contender at home.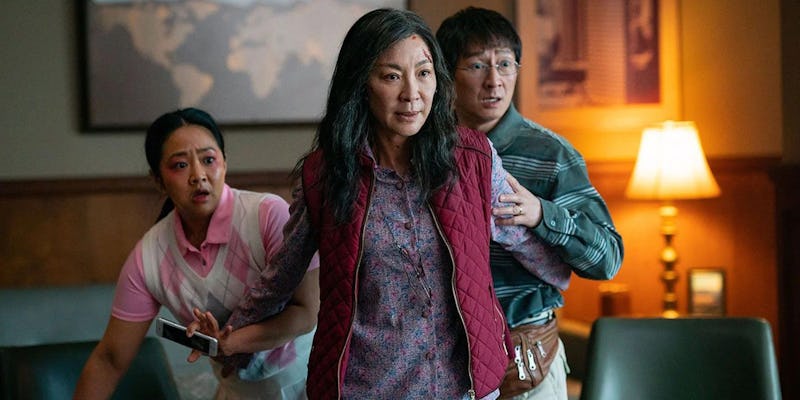 A24
Since Everything Everywhere All at Once's premiere at the 2022 SXSW Film Festival, critics have been hailing the wildly inventive film, as well as actor Michelle Yeoh's "virtuoso performance." Written and directed by Dan Kwan and Daniel Scheinert (collectively known as The Daniels), EEAAO is a "hilarious and big-hearted sci-fi action adventure" that follows Evelyn Wang (Yeoh), a stressed laundromat owner who leaps between parallel universes in an attempt to save the world — all while being audited by the IRS.
This awards season, EEAAO has been a surprise big winner, taking home top prizes like Best Performance by a Cast at the Screen Actors Guild Awards, Best Picture at the Critics Choice Awards, and both Best Actress and Best Actor at the Golden Globes. It'll all come to a head at the Oscars on March 12, when fans will find out which of the film's 11 Academy Awards nominations will turn into wins. So how can audiences watch Yeoh (once again) flex her martial arts skills from the comfort of home? Below, how to stream Everything Everywhere All at Once.
When Will Everything Everywhere All At Once Be Available To Stream?
EEAAO first premiered on VoD platforms — think Amazon Prime, Apple TV, Google Play, and others — on June 7, 2022. If you're interested in renting or buying the movie online, just head to your favorite VoD service.
More recently, EEAAO has become available to stream on subscription-based services. At the moment, Paramount+ subscribers can enjoy the film, as can Showtime subscribers (those who have a Hulu subscription with the Showtime add-on can also stream EEAAO on Hulu; viewers who access Showtime via Amazon Prime can do the same).
What Are Critics Saying About Everything Everywhere All At Once?
Everything Everywhere All At Once has received favorable reviews from critics, and Yeoh's performance is being singled out as "super human" and as "a winning card." In his review for The Wrap, critic Robert Abele writes that the 59-year-old actor "has been gifted a canvas worthy of her fierce, regal magnetism, which has always centered her as an action heroine and leading lady. She was born Ready Player One for this kind of physical, quick-change star turn."
Despite additional praise for the film's ensemble cast — including Jamie Lee Curtis, Ke Huy Quan, and Jenny Slate — Everything Everywhere All at Once has also been dinged for trying to do too much all at once. While some have hailed the way it interweaves a wide range of multiverse-based stories, Variety's Peter Debruge calls the film "an unparalleled sensory-overload experience," adding: "[T]he result is a mess, but a meticulously planned and executed mess … It's a hyperactive solution for today's attention-deficit audiences ... and whose real concerns boil down to the basics, like getting along with their parents or scrounging the money to pay the rent."
This article was originally published on