How To Stream Miley Cyrus' Endless Summer Vacation (Backyard Sessions) Special
See the first performance of Cyrus' new album.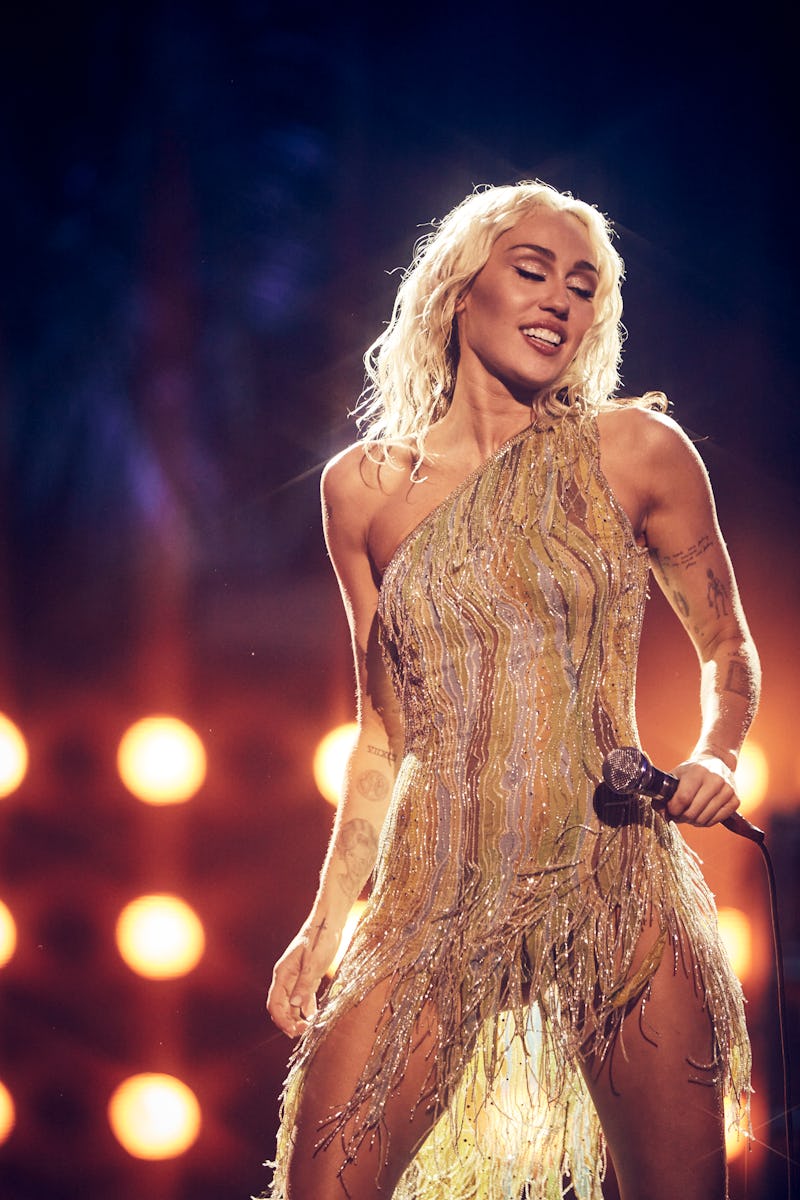 NBC/NBCUniversal/Getty Images
It's almost time for Miley Cyrus' new album, Endless Summer Vacation, to make its debut, but that's not the only premiere the singer's fans have to look forward to. A week before the record's March 10 release date, Cyrus revealed an original special is also on the way. The music event will be the first performance of her album and it's a "must-see," according to the official teaser. Here's how to stream Miley Cyrus - Endless Summer Vacation (Backyard Sessions).
The Hannah Montana vet went back to her Disney roots for the special. It arrives on Disney+ at 1 p.m. ET/10 a.m. PT on Friday, March 10. That's the only platform that will have it, so you'll have to be a subscriber. It sounds like it will be worth it: Cyrus teased it as a "celebration" of her record release and showed off performance clips in the teaser.
So far, "Flowers" is the only confirmed track, but the press release teased seven more tracks from the album. Because Cyrus has made so many great songs over the years, she's also going to dip into her catalog for a past hit. On top of that, she's going to bring out Rufus Wainwright for a special performance.
The event isn't just about the music, though that's obviously an essential part of it. Mixed in throughout, there will be footage from exclusive interviews with Cyrus. You'll recognize the house from her "Flowers" music video as the backdrop; it was once home to the music legend Frank Sinatra. The clips will give new insight into the album and who Miley is today, and she herself produced the special along with RadicalMedia, HopeTown Entertainment, Crush Management, and Columbia Records.
Three of Cyrus' collaborators from the "Flowers" music video have prominent behind-the-camera roles in the special: Jacob Bixenman and Brendan Walter direct, and Marcell Rév is director of photography. Disney+ teased that her performances are "cinematic" and the special is "a continuation" of her previous "Backyard Sessions," aka the intimate, outdoor performances she started shooting for fans in 2012.
Endless Summer Vacation has been highly anticipated since Cyrus dropped "Flowers" on Jan. 12. The catchy lead single is all about self-empowerment after a breakup, and it also caught fans' attention with references the singer's relationship with ex-husband Liam Hemsworth. Since then, "Flowers" has sparked countless theories, so fans will definitely be curious to hear straight from Cyrus during her upcoming Disney+ special.
If you plan to watch Miley Cyrus - Endless Summer Vacation (Backyard Sessions), look for it on Disney+ starting at 1 p.m. ET/10 a.m. PT on Friday, March 10.