How To Stream To Leslie
The film's lead Andrea Riseborough scored an Oscar nomination for her performance.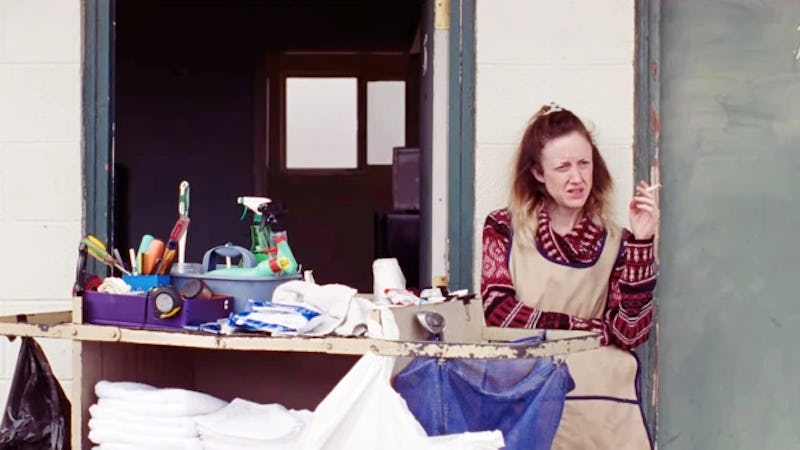 Bluewater Lane Productions
Before last week, it's likely that you hadn't even heard of To Leslie. The small independent film starring Andrea Riseborough follows an alcoholic Texan woman who wins the lottery, only to see those earnings disappear into her addiction. At awards shows in early January, Hollywood heavyweights like Cate Blanchett, Ed Norton, and more threw their support behind the film — especially Riseborough's performance — and on Jan. 24, her name was announced as a contender for Best Actress at the Academy Awards.
After the announcement, Riseborough told Deadline that she was "astounded" by the nomination. "It's such an unexpected ray of light. It was so hard to believe it might ever happen because we really hadn't been in the running for anything else. Even though we had a lot of support, the idea it might actually happen seemed so far away," she said.
So, now that the film is officially in awards contention, can you see To Leslie at home? Below, find out how you can stream the movie.
Is To Leslie Available to Stream?
The independent drama had its limited theatrical run back in October 2022 after which it became available to rent on-demand. To Leslie is still available to rent or buy on iTunes, Amazon Prime Video, Google Play, Vudu, and YouTube, but unfortunately hasn't hit a major streaming service yet.
What Are Critics Saying About To Leslie?
The film, which premiered at Austin's South By Southwest (SXSW) festival, currently holds a 98% on review aggregator Rotten Tomatoes, indicating critical acclaim. Most of that acclaim has surrounded Riseborough's now Oscar-nominated performance. Critic Matt Zoller Seitz wrote, "the character of Leslie and Riseborough's performance in the role are greater than the film that surrounds them" on RogerEbert.com, while Variety called her turn "nothing short of spectacular."
Speaking about the film at large, The New York Times praised To Leslie as "a complex portrait of the ways in which trauma and addiction haunt a working-class white family in the South." The Los Angeles Times noted that it's a "story often told, but this movie tells it well."