PSA: You Can Finally Watch Josh O'Connor & Jessie Buckley's Romeo & Juliet
Filmed in an empty National Theatre, the modern adaptation of the Shakespeare classic is coming to screens very soon.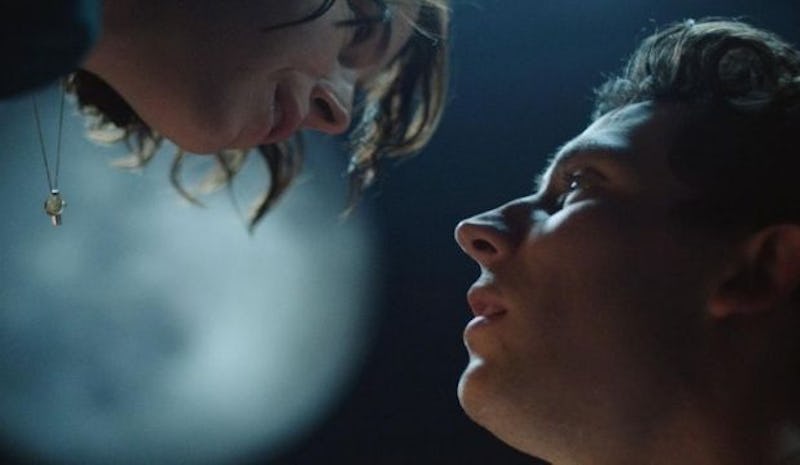 Courtesy of The National Theatre
Are you feeling it also? The severe thirst for a bit of romance? Well, Josh O'Connor and Jessie Buckley are here to save the day with their take on the all-time classic that is Romeo & Juliet. Ongoing lockdown restrictions meant that the National Theatre was forced to take its highly anticipated take on William Shakespeare's tragic play straight to film. And this April, it is finally coming to screens. But how to watch Josh O'Connor & Jessie Buckley's Romeo & Juliet?
Fresh from his award-winning portrayal as Prince Charles in The Crown, Josh O' Connor is back to his brooding best, as a suited, open-collared Romeo, while Irish actor, Jessie Buckley, best known for Wild Rose and Judy, is a modern and passionate Juliet. The trailer teases some intense romantic and sexual tension between the two. As you'd expect, there are lots of stolen looks, lusty kissing scenes and, of course, a very dramatic ending.
The film will be premiering at 9 p.m. on April 4 on Sky Arts in the UK and will be available on NOW. In the U.S., it will be broadcast on April 23 via PBS.
Both actors are 30 – a bit older than the teenage lovers from Shakespeare's original – however, this hasn't stood in the way of the retelling of one of the most devastating love-stories of all time. "If you think the reason they are willing to die for each other is because they are young and naive, that to me is the biggest problem of the play," said Josh O'Connor to The Times. "I don't believe that. I can believe they are willing to die for each other because they f***ing love each other. Let's play what love is, what that means."
"The age thing doesn't bother me," agrees Buckley, "I think love is love, and this play is about needing to love instead of hate. Whatever age you are, love sends you completely crazy and reduces you to a very vulnerable state."
Directed by Simon Godwin, while the production was originally planned for the stage, The National Theatre transformed Lyttleton theatre into a film studio during the pandemic. Speaking to The Irish Times, Buckley explained that regular testing during filming almost prevented the two from touching during the "world's greatest love scene."
"Once, Josh couldn't get tested for some reason. That was the day we were rehearsing the balcony scene. We looked at each other, like, 'You must be f**king joking,'" she said in the interview. "The world's greatest love scene! And we couldn't touch. We weren't allowed to go near to each other. Anything that I put my hand on, or Josh put his hand on, the stage manager had to run in with a bottle of Dettol and sterilise."
Romeo & Juliet's epic cast also includes Tamsin Greig as Lady Capulet, Deborah Findlay as the nurse, Lucian Msamati as Friar Lawrence, Fisayo Akinade as Mercutio and Adrian Lester as the Prince.