If Hunter Hayes Wasn't Making Music, He'd Be A Lego Master
The singer opens up about his artistic transformation and touring with Taylor Swift.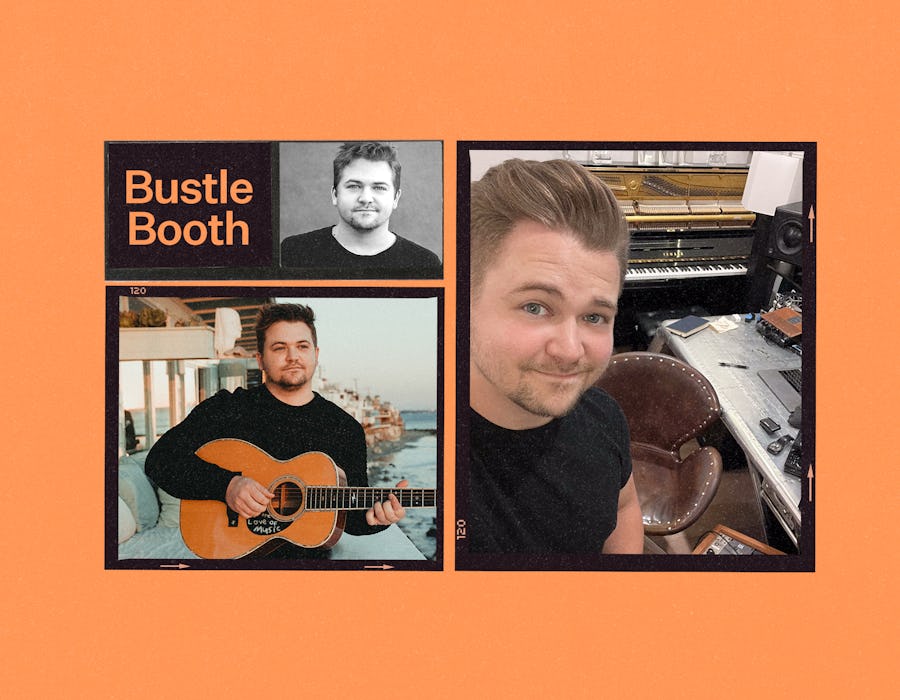 After making his mark in country music, Hunter Hayes went to dinner with an executive expecting some guidance. Instead, his artistry got torn to shreds. "It sort of felt like all the things that made me unique were problematic," Hayes tells me at Bustle's office on a recent Monday morning. "As an artist, I feel like that's something I should be leaning into, not trying to water down and paint over." Rather than take those words to heart, however, Hayes left the major label system and wrote about that meal on "Wallflower," a motivational anthem from Red Sky, his fourth studio album and first as an independent artist.
Not long ago, Billboard named Hayes the "leader of country's youth revolution," praising him for releasing crossover hits like "Wanted" and "Invisible," playing a whopping 30 instruments, and opening for Taylor Swift on her 2010 Speak Now Tour. ("Every single person was at the top of their game. It set the bar of what I wanted from my team moving forward," he says of the latter.) He has no regrets about his early career and says he'd happily sing his old hits for the rest of his life. But after more than a decade under country record labels, it was time to try something new. "I think anytime you're in a system, you can feel creatively limited, which in some cases is a good thing," he says. "But at some point, I realized that I was missing out on a large portion of what I do because of those limitations."
Hayes started working on Red Sky in 2020 and quickly realized that to break out of his box, he'd have to leave Nashville and find inspiration elsewhere. "I just felt like I kept having the same conversations around me," he says. "I needed shock. I needed to be scared." Eventually, Hayes found his way to Southern California, which informed the soundscape of his new album. The country twang is still there, but Red Sky displays the full scope of Hayes' musical ambitions, meshing expansive alt-rock soundscapes with catchy pop melodies.
Hayes always saw himself as an outsider in country music, but as shown in his folksy new single "Roses," he's stopped limiting himself by genre. "I think if you're doing it right as an artist, you're always going to feel like an outsider," he says.
Below, get to know more about Hayes, from his celebrity idols to the surprising TV show that's inspiring him right now.
In The Bustle Booth
What's your coffee order?
There's this place in Nashville, a lot of their proceeds go to building wells and giving clean water to communities. They are very experimental, the last thing was blueberry and basil [coffee]. It's either that or just four shots of espresso.
What are the saved weather locations on your phone?
Topanga, because that's where we made the album and that's where I lived. Malibu, because I'd go there all the time. Nashville and London, because I love London. And Hawaii, specifically Hilo.
What is your astrological sign?
Virgo.
What's your favorite overused movie quote?
Either "Did we just become best friends?" [from Stepbrothers] or "Let's just get on our bikes and just go" [from Family Guy].
What's one movie or TV show that you're currently obsessed with?
The Mandalorian.
What was your favorite cartoon as a kid?
I was obsessed with Mickey. Anything Mickey Mouse-related.
Who's your current celebrity idol?
Chris Martin comes to mind. I just love how kind and clear he is in interviews. But also Elton John. I did a tribute album for him, and he continues to be a mentor. He checks in once or twice a year.
What's your go-to karaoke song?
I'd probably do a Michael Bublé song, like "Home."
What's something that's been inspiring you lately?
The group of people who make The Mandalorian. We talk a lot about how to create an environment for creatives that's more community-based and allows everyone to offer their resources, strengths, and work together in a less competitive environment. We all have something different to offer, and we're often put in a competitive sort of race for who can achieve the most.
If you had to be on a reality TV show, which one would it be?
Lego Masters.