Idris Elba's James Bond Easter Egg In Luther: The Fallen Sun, Explained
It involves 007's drink of choice.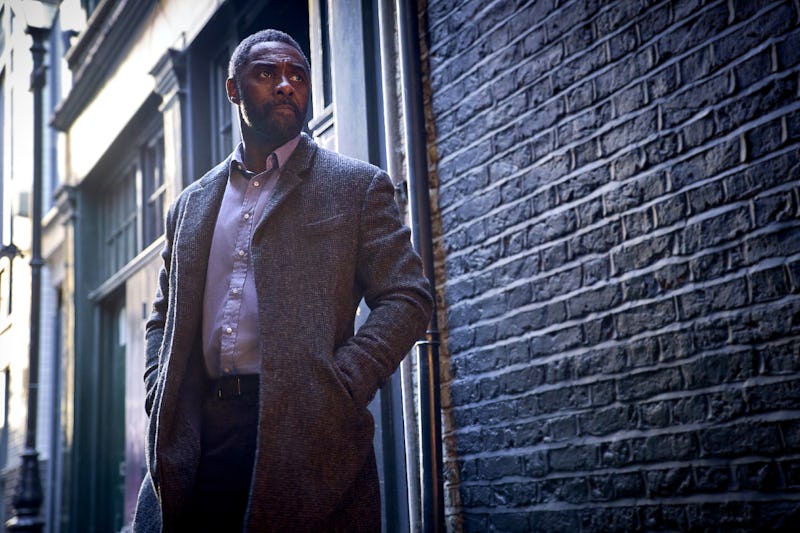 John Wilson/Netflix
For the better part of a decade, Idris Elba's name has been part of James Bond conversations. The idea of him succeeding Daniel Craig as the next 007 picked up steam at least as early as 2014, and fans haven't let it go since. Elba has had to address casting rumors repeatedly over the years, but an Easter egg in his new film, Luther: The Fallen Sun, may be his best response yet.
The crime thriller continues the BBC series Luther, which Elba starred in as the titular detective from 2010 to 2019. He returns in The Fallen Sun as John Luther, and amid his latest adventure, there seems to be a joke alluding to the never-ending James Bond rumors, as Deadline pointed out. In the scene in question, Luther gets the chance to have a martini — famously Bond's favorite drink (shaken, not stirred) — but he turns it down.
After the film debuted in theaters on Feb. 24, some fans who noticed the moment took to Twitter to weigh in. Their interpretation was that Elba was indicating he will not play England's most famous fictional secret agent. One moviegoer wondered if Luther's "Martini decline" was "a cleverly scripted nod to Idris not being the next James Bond." Another, who "absolutely loved" The Fallen Sun, wrote that they caught "the easter egg when the bartender offered John a martini" and argued Elba "doesn't need Bond" because he's John Luther.
Elba hasn't confirmed anything about the possible Bond Easter egg at this point, but he has stated that he isn't going to be 007. "You know, a lot of people talk about another character that begins with 'J' and ends with 'B,' but I'm not going to be that guy," Elba said at the World Government Summit in Dubai on Feb. 14, per the Associated Press. "I'm going to be John Luther. That's who I am."
The topic came up again during an interview with The Guardian published on March 3. The actor wouldn't answer if there were ever any discussions about casting him, but he did say it was "nowhere" close to happening. "I love the Bond franchise, I'm very close to the producers," he said. "We were all kind of laughing about the rumours because they are just that."
While he seems to have felt comfortable with this particular James Bond jest, Elba previously vetoed a crack that would have gone in Fast and Furious Presents: Hobbs & Shaw, according to his co-star Dwayne Johnson. In the action flick, Elba's cyber-genetically enhanced villain character, Brixton Lore, calls himself "Black Superman." He was originally asked to say "Black James Bond," Johnson told Variety in July 2019. Given how widespread the rumors were, though, Elba reportedly opted not to because it was "too close to what everybody's talking about."
Luther: The Fallen Sun makes its Netflix debut on March 10, so you can keep an eye out for the sly joke when you stream it.