Lorde's Sisterly Advice To Indy About The Music Business
The singer's debut EP was guided by her sibling's indie-pop mastery but infused with some New York City edge.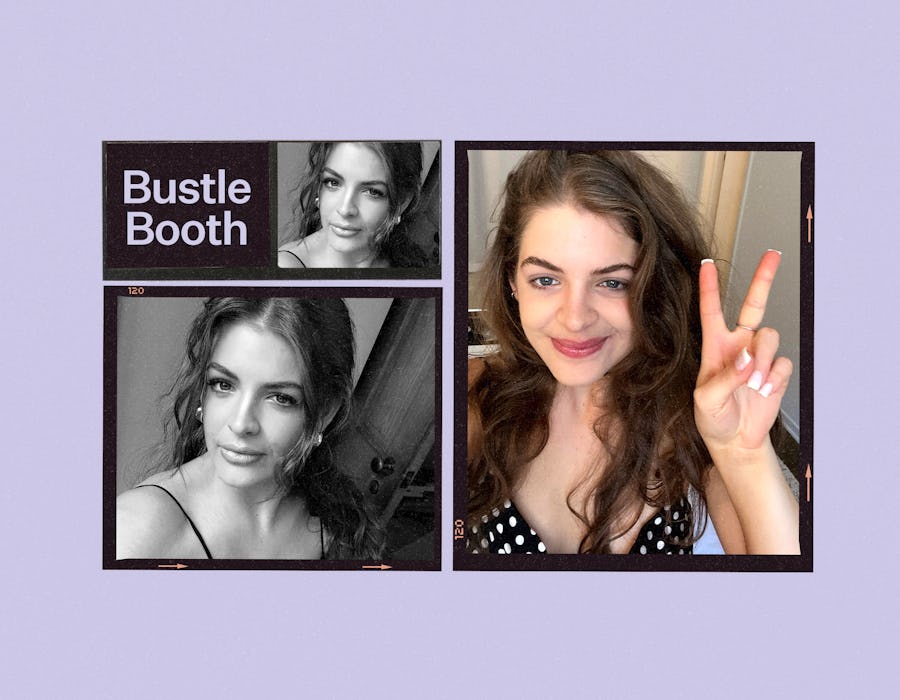 Indy Yelich-O'Connor has a warning for everyone in her life: She might write a song about you, and "my friends, family, and relationships" aren't off-limits, the 24-year-old singer tells Bustle with a shrug. On her debut EP, Threads, Indy makes good on that promise, staking her claim in the music world with fizzy, hypnotic indie-pop jams about her former friends, ex-lovers, and hometown.
Growing up in small-town New Zealand, Indy was constantly surrounded by music — and not just because Grammy winner Lorde is her big sister. She sang in Battle of the Bands competitions and picked up the clarinet as a teenager. But first, inspired by the career of her mother Sonja, a poet, Indy dabbled in poetry, publishing her first collection of poems sticky notes in 2018. The experience ended up being a useful tool for refining her songwriting.
"Poetry helped me carve what I was trying to say out a little bit more," she says. Now, after over four years of tinkering, Indy's EP catches fans up on what's been going on in her life since leaving the stability of her hometown for the excitement of living life as a 20-something in New York City.
Each of the five songs on the EP captures a pivotal moment in Indy's life, from the title track, in which she worries about losing herself in a relationship, to "Freeloader," which plays like a breakup anthem but was inspired by a friend who overstayed their welcome. "They smoked my weed, drank all my alcohol," she recalls. "You know what a New York apartment is like, you can't have someone stay there for more than four days. I threw their clothes out the window in a bag, and we had a fight."
"[Lorde is] just really helpful to have in my back pocket ... her advice is just really to have a thick skin and just write music that you want to write."
They're the kind of evocative anecdotes about making mistakes, taking stock of how you were raised, and learning to grow up that similarly fueled her sister's early albums. Yet unlike her sister, whose career took off when she was still a teen, Indy waited until her 20s to begin releasing her music. "I didn't want to be 20 and put out stuff I didn't like," she says. "I felt like it had to be accurate to who I was and who I actually am. Now, I'm a lot more sure of what I'm trying to say."
That's not to say she hasn't been inspired by Lorde's music along the way. "When I was in New York, the soundtrack to my life was Melodrama," she admits, adding that her favorite songs are "Perfect Places," "Ribs," "Liability (Reprise)," and, "Secrets from a Girl (Who's Seen It All)." "She always said it's important to forge your own path, but I call her up a lot looking for advice," she says. "She's just really helpful to have in my back pocket when there's a situation that I don't know how to deal with that I feel like she could. I think her advice is just really to have a thick skin and just write music that you want to write."
Learn more about Indy in the Bustle Booth questionnaire below.
In the Bustle Booth
What's your coffee order?
An iced oat milk latte.
What are the saved weather locations on your phone?
Auckland, Melbourne, Sydney, London, Bergen, New York, and Paris.
What's your sign?
Scorpio.
Favorite overused movie quote?
"Life moves pretty fast. If you don't stop and look around once in a while, you could miss it." — Ferris Bueller's Day Off
What was your favorite cartoon as a kid?
The Wild Thornberrys and Phineas and Ferb.
What's one movie or TV show you're currently obsessed with?
The O.C. is my new fave dramatic teen show. I just saw Aftersun, and cried and cried.
Who is your celeb idol?
Julia Roberts! Perfect hair and style icon forever.
If you had to be on a reality TV show, what would it be?
Married at First Sight 😅
What's your go-to karaoke song?
"Valerie" by Amy Winehouse.
What's something that's inspiring you lately?
My sister Jerry. She's been studying for eight years, has three degrees, and now she's a lawyer. I'm obsessed with her and my other siblings tbh.
What is something you would want people to say about you?
That I'm a music nerd! I love finding new artists, and I work tirelessly to get a song right, from start to finish. I feel like I have strong instincts when it comes to harmonies, and production especially piano. Also, the mix has to be perfect!