Wait, Is Barney Stinson Related To Sophie On HIMYF?
That Neil Patrick Harris cameo, explained.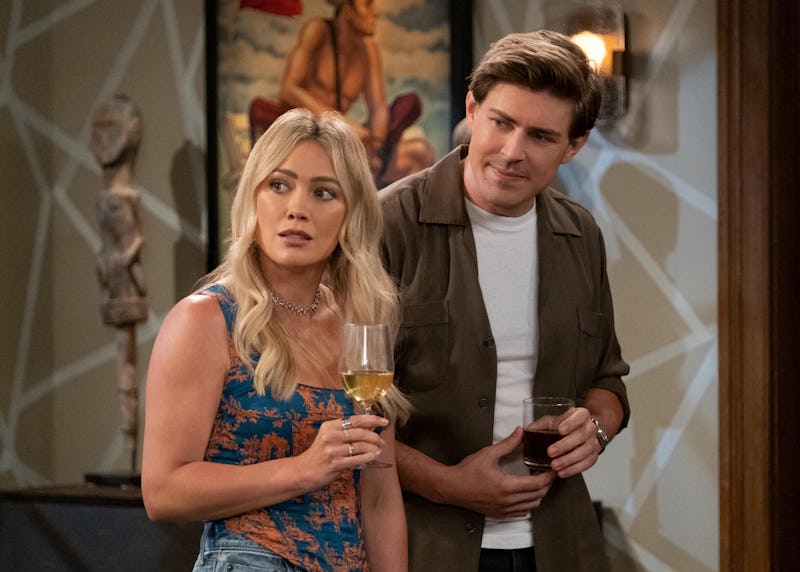 Patrick Wymore/Hulu
Spoilers ahead for How I Met Your Father Season 2 Episode 1. How I Met Your Father is back, and the new season features another legen—dary cameo. Last season introduced How I Met Your Mother's iconic apartment, and it ended with Sophie (Hilary Duff) meeting Cobie Smulders' Robin, who encouraged Sophie not to make decisions out of fear. Season 2 opened with a similarly impressive cameo, with Sophie bumping into Barney Stinson (Neil Patrick Harris) in a very literal way.
How I Met Your Father pays homage to How I Met Your Mother more than anything, but that hasn't stopped fans from trying to solidly link the two sets of characters. This is especially true of Neil Patrick Harris' character; since the series' debut, fans have theorized that Barney Stinson is Sophie's dad. These theories suggested that Sophie's mother, Lori (Paget Brewster), had a one-night stand with Barney and had a secret daughter. (To date, How I Met Your Mother has only confirmed that Barney has one daughter, Ellie.) Fans guessed that How I Met Your Father would eventually feature Barney and Sophie reconnecting.
That theory was quickly debunked though, as Barney would've been too young to have Sophie, who turned 30 in 2022. Harris' How I Met Your Father cameo did poke fun at the fan theory though. The end of the premiere episode sees Sophie's romantic life hitting the rocks at Sid and Hannah's wedding reception. Ian walks away from Sophie after she confesses she still has feelings for Jesse, moments after she also admits to Drew that she got with Jesse right after breaking up with him.
"I blew it with three guys in 48 hours, and now I'm doing the electric slide. Think this is my rock bottom," Sophie says to Valentina. But Kim Catrall's future Sophie reveals that she was wrong, adding mysteriously that "rock bottom wouldn't come until later that year." The scene then cuts to Sophie panicking on a phone call with her mom, announcing, "I think I'm dating my dad!" She then crashes her car into a parked SUV and out steps Barney Stinson in a suit, looking none too happy.
When her son asks who that is, future Sophie simply says, "We'll get there soon enough."
The truth of who Barney is to Sophie — if anything at all — likely won't be revealed until the end of Season 2. But the phone call with Lori right before meeting Barney suggests that he's likely not her dad. She wouldn't drive back around just to crash into his car, after all, and she didn't seem to recognize Barney at all when he stepped out of the car.
It's not yet clear who else he could be. An uncle? Just a random neighbor? A college friend of Lori's?According to People magazine, in his own Wondercade newsletter Harris told Duff that he wouldn't want Barney to be on the show unless he had seriously changed. "As for coming on your show (insert joke here), I worry," Harris said. "Barney's antics, his overt delusions of grandeur, would likely get everyone in trouble. So, unless he's changed his ways or joined a nunnery (insert an insert joke here), not sure if it's in anyone's best interest."
Duff, meanwhile, agreed that Barney would have to be different to fit into the world of How I Met Your Father. "I'm not sure how you feel about this, but I'm pretty sure Barney would … be in jail in 2022," she joked to Harris.
But we'll have to wait and see if Barney truly has changed for the better. Robin gave Sophie life advice at the end of Season 1, so perhaps Barney will do the same for her at the end of Season 2.