Is BEEF Based On A True Story?
It follows a road rage incident that keeps escalating.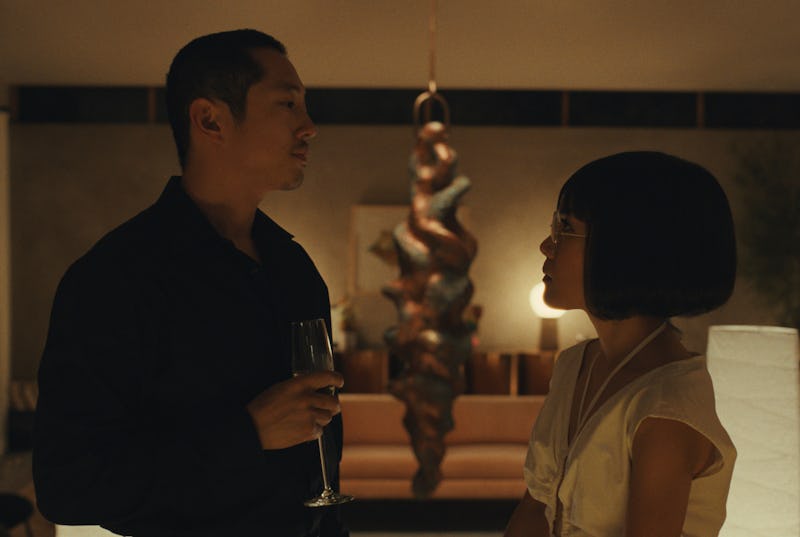 Netflix
Steven Yeun and Ali Wong go head-to-head in A24 and Netflix's dramedy BEEF. Strangers Danny Cho (Yeun) and Amy Lau (Wong) engage in a road rage incident, and what ensues is an increasingly bizarre and violent escalation of events as the pair insinuate themselves into each others' lives to exact their revenge — even if doing so unravels their lives and the lives of those around them.
It's intense, with their feud taking Danny and Amy to dark — but also philosophical and introspective — places. As creator Lee Sung Jin told Complex, BEEF is based on a true story. "Yeah, I had a real-life road rage thing that happened to me [that was] very similar. Not in a parking lot but the light turned green and I didn't go so this white SUV, a BMW, started honking at me," Lee explained. "This driver I actually saw who it was because they pulled over, rolled down their window, and said a bunch of stuff and drove away. And on this day I was like, 'Eh, I'm gonna follow you.'"
Lee admitted he didn't know why he did it, and he definitely didn't have a plan. "But I was like, I'll just see where this goes. And in LA, we got onto the 10 from La Brea and I, at the time, lived in Santa Monica on 4th Street and he happened to be exiting all the way to 4th Street. So in my mind, I'm like, I'm just commuting home and I happened to be behind him the whole time," Lee said. "And I'm sure in his mind he was like, 'Oh fuck, this guy is following me onto the 10.' So I thought there was something interesting there."
Thankfully, Lee said their confrontation "didn't end at all like the show. It was very anti-climactic." But it still served as inspiration for the 10-episode series.
According to Netflix, Lee said at the South by Southwest premiere that BEEF got a straight-to-series order before he even wrote the pilot. He said that was likely due to Yeun and Wong's involvement, who weighed in on all aspects of production and bonded with Lee about cultural issues. "Having that back and forth allowed us to really fill these characters fully before we took it out," he said.
And Lee said the characters ultimately drew from his own life. "I was quite poor and had a lot of Dannyisms constantly and was very sad inside," he said at SXSW. "Now here I am at South By with this show and I'm probably still sad inside. This feeling never goes away. So you have to try and figure out how to accept it and live with it. That's why I wrote the show the way I did."
Yeun added, "This whole show is about every character's shadow self, and we all have that."